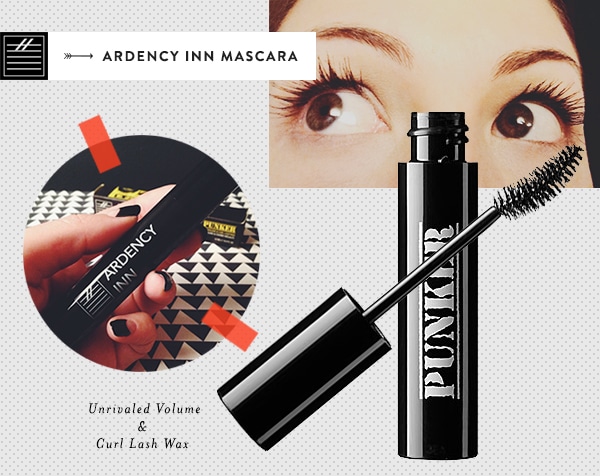 Something big has happened: I found a new mascara to love. Considering the last time I felt a mascara was worthy of blogging about (Max Factor Volume Couture, now discontinued) was a full five years ago, this is a real cause for excitement! Five years of reading reviews, buying tube after tube with the hope of finding just the right formula, only to be disappointed time and time again. I've been settling, something you should never do where eyelashes are concerned. And so, without further delay, I present to you…
Ardency Inn Punker Unrivaled Volume & Curl Lash Wax (a.k.a. "mascara")
I first saw Ardency Inn (founded by Gilles Kortzagadarian and Stephane Siboni and promoted by James Vincent) mentioned in the New York Times Style Magazine last spring. The packaging caught my eye, but the products weren't widely available at the time and the name slipped from my mind. Then last month I was poking around the Sephora site trying to figure out how to update my email address, and there it was! Ardency Inn! Such an unusual name, no wonder I forgot it.
Bad news first, good news last. Right? OK…
Cons:
✚ For now at least, the Ardency Inn line is only available in-store at select Sephora locations (and online, of course), so if you run out and need a fresh tube, you'll need to plan accordingly.
✚ As much as I like their logo, that distressed stencil typeface (not to mention the word "Punker") is causing me small degree of emotional pain. I try to only look at the other, less offensive side of the tube when I'm applying it. That helps considerably.
✚ $24 is a lot to spend on mascara. But hey, it's still a buck less than Diorshow!
Pros:
✚ The entire Ardency Inn line is cruelty-free, as are their suppliers.
✚ The tube is chubby and easy to hold.
✚ After so many years of using mascara with now-commonplace silicone brushes, it initially felt strange to go back to a classic curved bristle style. The shape of the wand is perfect, though, and I find that as long as I let the curves of the brush follow the curve of my lash line, it's very easy to hit even the tiniest hair without also getting mascara globs on my skin.
✚ There is absolutely NO flaking or fallout whatsoever, even after 14+ hours of wear. I also am not seeing any transfer to my eyelids, which has always been an issue for me with mascara.
✚ IT HOLDS A CURL!!! My number-one complaint with mascaras is that they go on too "wet," and as a result I wind up losing all of the curl and having droopy lashes. That's not the case here! I've actually found that it seems to add curl even if I skip the lash curler (which really only happens if I'm out of silicone pads).
✚ The formula dries really nicely, leaving my lashes feeling soft, not hard or brittle.
✚ I get really good volume and clump-free separation without having to use a lash comb.
✚ No allergic reaction!
✚ I can apply multiple coats if I want to, but one coat actually seems to be enough.
✚ The removal process is pain/tug-free: I don't need an oil-based remover, it comes off completely with my nightly face wash. Less lash loss and less undereye trauma, hooray!
✚ My eyelashes look like JAZZ HANDS crossed with a house centipede! In other words, perfection.
So there you have it! Ardency Inn Punker Unrivaled Volume & Curl Lash Wax (such a mouthful…), my mascara dream come true. I'm also trying out a few other Ardency Inn products right now (Ultra Lightweight Skin Perfecting Primer, Custom Coverage Concentrate and Smooth Ride Supercharged Eyeliner), but I need more time with them to decide if they're life-changing. I'll let you know!