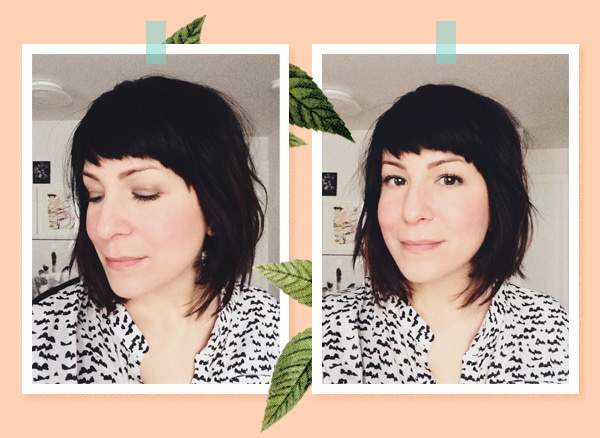 My last face makeup post was more than two years ago, so it's definitely time for a new one, right? I probably should have made an effort to wear a different shirt than I did in my haircut photos, haha. I swear I own more than one shirt. More than two shirts, even.
It's not sweltering in New York yet (it's kind of chilly today, in fact—this has been a weird June so far, weather wise), but we all know it's coming. Cutting my hair off was move #1, and switching to a light, simple makeup routine is always move #2 for me in preparing for summertime humidity. I cannot deal with smudgy eyeliner, any kind of foundation, or touching up a sweaty face in the summer. I just cannot. I love makeup and feel much better wearing it than not wearing it, but I don't want to be aware that I'm wearing it. You feel me?
So, here's what's on my face in the photos above. (Plus some gentle Photoshopping, because if you can't look better on the internet than you do in real life, what's the point in having a blog?)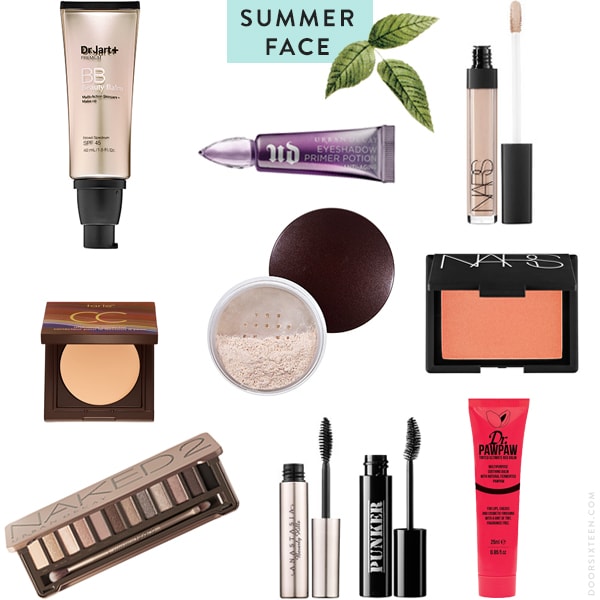 ✚ Dr. Jart+ / Premium Beauty Balm
After a few disappointing experiences with BB creams made by American brands, a couple of years ago I figured I'd give one of the original Korean lines a shot. The difference is night and day, frankly, and I've been using Premium Beauty Balm ever since. In winter I do need to later another light moisturizer underneath, but the rest of the year, it's all I need. I wouldn't rely on it for sun protection if I expected to be at the beach all day, but since the chance of that happening is about as likely as me quitting makeup altogether, it's almost always a win in the SPF department, too. (Yes, I do use a physical, powdered sunblock on my face in addition if I'm spending extended periods of time in the sun.) The coverage Dr. Jart+ provides can be described as sheer, but somewhat buildable. There's no confusing it with foundation, but it's not the same as a tinted moisturizer, either. It's just enough to soften uneven skin tone. Personally, I'd rather spot-conceal anything it doesn't hide than glop on another layer.
✚ Urban Decay / Anti-Aging Eyeshadow Primer Potion
I used the original formulation of this lid primer for years, and last time I ran out, I switched to the anti-aging formula. It performs just as well, but it's gentler on my eyelid skin. I don't think it actually has an anti-aging properties, it's just less drying. I'll take it! I really can't wear eye makeup unless I use a lid primer, especially in summer.
✚ NARS / Radiant Creamy Concealer
I don't like the way this liquid concealer performs under my eyes (too drying), but for any redness or discoloration that remains after putting on my BB cream, it is fantastic. NARS has a great color range, and theirs is one of the few lines that has a perfect match (I use vanilla) for my fair, neutral-toned skin. I pat on teeny, tiny dots with my ring finger, and it stays put for at least 12 hours without touch-ups. Impressive. Less impressive is the leaky messiness of the tube, but I solved that problem by decanting a small amount at a time—enough for a week or so—into a small plastic pot.
✚ Tarte / CC Undereye Corrector
I have no idea why I bought this, but it's working out really well for me. I've fallen in and out of love with SO MANY undereye concealers over the years, and the reject pile…it is large. This is a keeper. I've been using it for six months now (at the rate I'm using it, I expect it to last about a year), and I have no complaints. It's not super-full coverage, but it's enough—and I'm starting to accept that enough is good enough when it comes to my undereye area. I really hate obvious undereye concealer or having to reapply throughout the day, so if the trade-off is a little less coverage, that's fine. I apply this with Sephora's Pro Airbrush Concealer Brush using a very light hand and gentle stippling motion. It does need to be set with a tiny bit of powder, but once that's done, it's locked in place for a full day. Good stuff.
✚ Laura Mercier / Translucent Loose Setting Powder
This is another product I've been coming back to for years. One jar lasts a very long time (over a year) with daily use, and it does exactly what it's supposed to do—sets my makeup without adding any color, and without leaving a dry, powdery finish. I prefer to apply loose powder by pressing (not wiping) it in with a velour puff, but I just use the cheapies from the drugstore that come in a 2-pack and toss them when they start to look a little icky. No need to spend $12 on an LM-branded puff!
✚ NARS / Blush, Orgasm
I will never stop hating the names of NARS blushes, but this one is a classic for a reason. It gives just the right amount of shimmer, the peach tone is universally flattering, and it has great staying power. I always come back to this blush, no matter how many others I try.
✚ Urban Decay / Naked2 Eyeshadow Palette
I have mixed feelings about makeup palettes. One one hand they're a good way to try out a lot of shades without buying a bunch of separate products, but on the other hand, what are the chances you're actually going to use all of those shades? The Naked2 palette stands a good chance of being used up, but only because the shades it contains are, well…pretty similar to each other. I've had this palette for a about two years now (UD shadows last forever), and I honestly can't really tell the difference in how different colors look on my lids. The only two I never use are the ones with a matte finish, because who wants to use matte when you can have shimmer? Not me! Next time, though, I'll just buy four individual shades (Bootycall, Half Baked, Snakebite, and Busted) and put them in this hideous palette box together. (Why must your packaging be so ugly, Urban Decay? Sigh.)
✚ Anastasia Beverly Hills / Brow Gel
I manage to pick up a brow pencil maybe 10 times a year, and while I will concede that my brows do look better with a touch of a fill-in, it always seems like too much effort. I always use this brow gel, though. It keeps my brows looking neat but not stiff all day long. I've been using this gel for about a decade—highly recommended.
✚ Ardency Inn / Punker Lash Wax Mascara
I've already written at length about this fabulous mascara, so I'll direct you to that post for my review rather than rehashing it all again here!
✚ Dr. PAWPAW / Tinted Ultimate Red Balm
This was an impulse buy for me at the UO register when I was buying a rug on clearance a couple of weeks ago, and I LOVE IT. I don't usually like a lot of color on my lips unless I'm feeling fancy and it's hot pink, but I don't like to have my lips totally bare, either. So many sheer lip colors seem to be weirdly drying, and the ones that hydrate never have enough color. This stuff is just right. It doesn't have any real staying power, but that's OK with me. I apply it throughout the day like I would any lip balm, and it keeps my lips feeling really soft and hydrated, with just the right amount of reddish tint. The tube is cute, and it doesn't leak out or get messy in my bag. Winner!