Every few years, I get it in my head that I want to grow my hair out really long. Then, after a couple of years of letting it grow, I remember that I don't really like how I look with long hair, and I cut it all off. This has been going on since I was about 9 years old. Seriously. I don't know why I keep thinking I'm going to love my hair when it's long, because I never do. It's a pain to take care of, it gets tangled and frizzy, it feels hot on my neck in the summer, and in the winter it's a static-ridden mess.
I just am not a long hair person.
I'd had a hair appointment scheduled for a couple of months and didn't really know what I wanted to have done, but on Monday morning I hit my breaking point. This was just WAY too much hair (for me). Also, change is good. Who wants to have the same haircut for years on end? Hair grows!
Inspiration: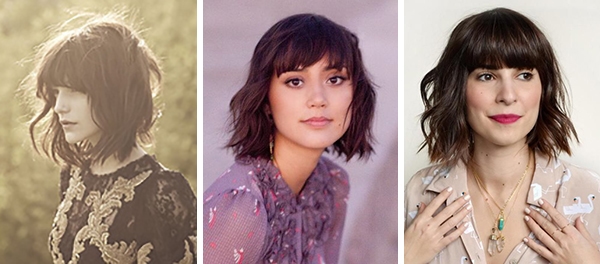 Photos from (L–R): Lula via Rubi Jones; Dia Frampton; Hello it's Valentine
These are the photos I took with me to my haircut appointment on Monday evening. I like my bangs shorter than this, but the overall style is what I wanted. A short bob, parted on the side, with lots of layers and texture. For the past year or so I've been getting my hair cut (and colored) by the amazing Danielle Peters at Fox & Jane in Brooklyn, and she really nailed it. Getting 8″ of length cut off is a big deal no matter how open-minded you are when it comes to haircuts, but Danielle understands my hair type and my personal style and my grooming habits—so I trust her with my hair completely.
Speaking of grooming habits…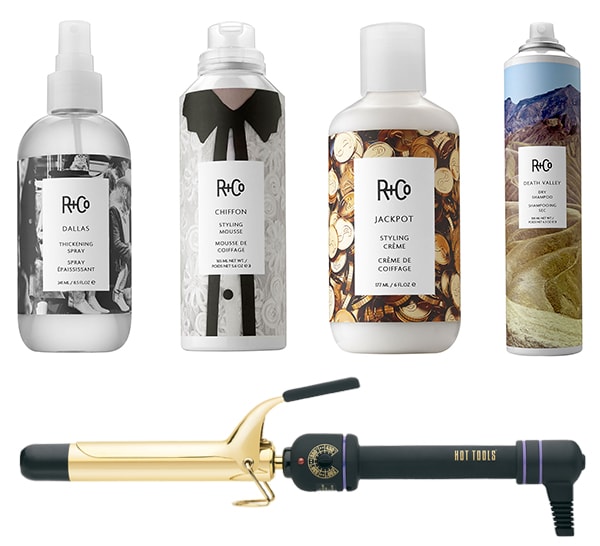 Fox & Jane recently started using the R+Co. line exclusively in their salons, and as a packaging design enthusiast, I cannot stop ogling all of these tubes and bottles. I inclination is to always choose styling products based on how they'll look in my bathroom (heh), but Danielle steered me toward four products from the line that will help give my hair the beachy, textured, messy look that I like. In order of application: Dallas thickening spray, Chiffon styling mousse, Jackpot styling creme, and Death Valley dry shampoo. That might seem like a lot of stuff to be putting in my hair, but I'm a product-lover. My hair is also pretty fine and fluffy, and it needs a boost in order to look like it has substance. I've tried going days on end without washing in order to get that effect naturally, but unwashed hair and I just don't work together. New York City can be gross, so I want to wash New York City off of my head at least 4 or 5 times a week. My hair is in relatively good condition, so I'm not worried about it being too much. For me, dry shampoo is more about getting texture and thickness than it is putting off shampooing.
See that curling iron? That's an optional item, and I think I'm starting to get the hang of it! I have a Hot Tools 1-inch barrel iron, purchased after taking note of what Danielle uses in the salon. On most days I just blow-dry my bangs and let the rest dry naturally, but if I want a little extra wave, I can throw in a few curls here and there. Danielle showed me the trick: Alternate directions (under/over) as you work your way around your head, only curl the top layer, and let the ends hang out of the clamp so they stay straight. That's it!
p.s. While looking through my "haircuts" tag, I just noticed how similar this cut is to one I had in 2008. A little looser, though, which I think flatters my (fuller/aging) face a bit better. Also, allow me to quote myself from 7 years ago: "I don't think I am a long-hair person, though I keep trying it out every few years." HAH! HAH! I am such a broken record.