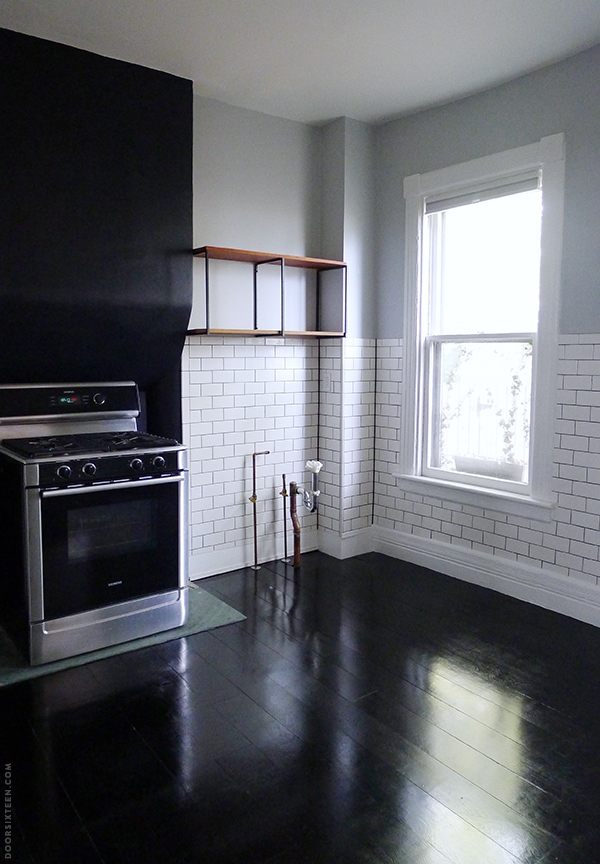 YEAH. Painted. A couple of weeks ago, I posted part one of my plywood plank kitchen floor installation, and since then I've been trying to get the second part together. The second part is the fun stuff, because it's really just paint.
As you can see, I decided to just go with black. I know, I know…the old VCT floor was black, and I had all of these grand ideas about painting crazy patterns on the floor, but in the end simplicity won out — as it often does (and often should). That's not to say that at some point in the future I won't come back and decide to paint a pattern on top of the black, but not now. It's 27° out. We need heat. We need to not be washing dishes in the bathtub.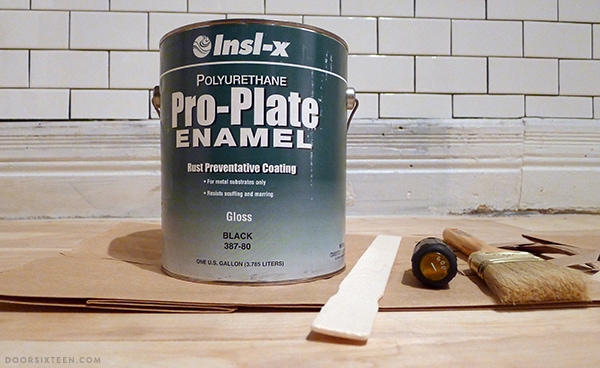 After reading this post and having a conversation with the knowledgeable guy at the paint store, I came to a few conclusions about how to proceed with painting the finish-grade maple plywood:
1. Use a good-quality, oil-based paint. Paint Store Guy recommended I use Insl-x Pro-Plate Enamel, a super-durable paint made for use on metal but also rated for use on wood and masonry. It comes in 8 colors, all of which you can imagine being used to paint a utility room in the basement of a hospital, but fortunately one of the those colors is black — yes, just straight up "black," not tinted to match a Benjamin Moore swatch or anything like that — so that's good enough for me.
2. Don't use primer. Obviously this approach could be an issue with lighter floors because of the potential for tannins from the wood to bleed through, but with a black floor, Paint Store Guy was in agreement that skipping primer would allow the paint to seep into the porous, never-finished wood, making for a finish less likely to chip or peel.
3. APPLY THIN COATS and let your paint dry completely. This is crucial. Thick coats of paint are more likely to peel. I did the first coat with a roller, which went on beautifully and evenly without a glob in sight. I used a large brush for the second coat because I don't like the way rolled finishes look on wood surfaces, and I was very careful to go slowly and use a light hand. I was prepared to do three coats, but two was enough in this case. I let the paint dry for a full week between coats, and then allowed an additional full week of curing time before I even considered walking on the floor. Yes, that's a long time to have a room out of commission, I know.
4. Sand between coats. Nobody wants to do this, including me. "Sand between coats" resonates with me the same way the advisory on a box of Q-Tips to not insert in the ear does, which is to say it goes in one (swabbed) ear and out the other. This time I did it, though, and I'm glad I did. The photos I took between coats are too crappy to be worth sharing, but the first coat dried to a very matte finish because of the wood's porosity, and the finish was anything but smooth. I spent 30 minutes with my trusty Bosch random-orbit sander, a face mask and a whole lot of plastic taped over everything (doorways, shelving, stove…), and then it was done. I then followed with a thorough vacuuming and mopping of the floor before diving into the second coat of paint.
✚ Side note: My method for painting the white floor in room above the kitchen was considerably different, and that's still what I recommend doing if you're not looking for a super high-gloss black finish in a high-traffic room like a kitchen. That white floor has held up like a champ and it still looks great nearly five years (!) later, but it's a very different look and a very different substrate. As with most things in life, there is more than one solution for a task depending on the circumstances!
A few other notes about the process…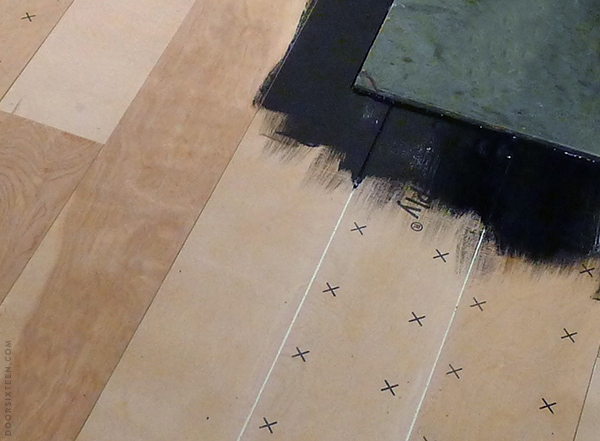 Prior to both the first and second coat, I spent some time filling in the larger gaps between the floorboards with caulk. I thought I'd hit all of the crucial areas on the first pass, but once the black paint was down I noticed more gaps that really should have been filled. The caulk sinks down a bit into the gap, so the boards still look like boards — no big thing. I also caulked around the entire perimeter of the room, of course. I'll take any opportunity I can to make the house less drafty!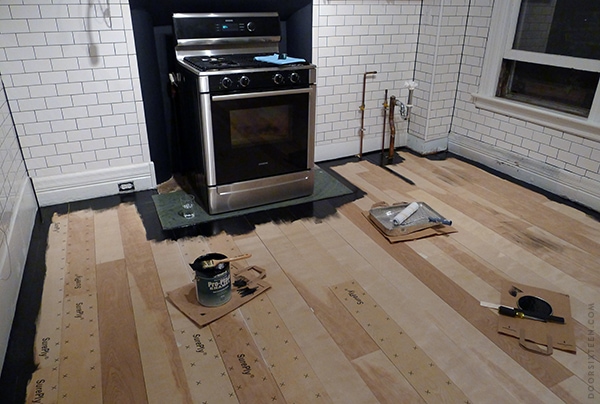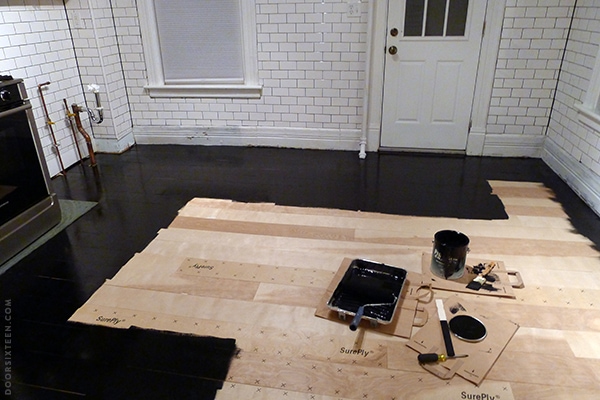 For the first coat I did all of the cutting in with a brush, then switched to the roller to fill in. As I mentioned, the entire second coat was done with a brush — much, much more time-consuming, but a brushed finish on wood is just so much nicer.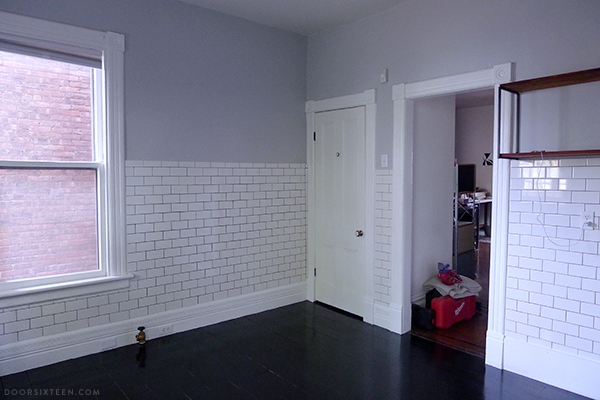 Ta-da! I love how reflective the floor is. You can see it better in the top photo, but the grain is still slightly visible, too — just enough for the floor to still look like it's made out of wood, which is what I wanted. Once the black paint was completely dry, I gave the baseboard moldings a fresh coat of white (Benjamin Moore's Simply White in a satin finish, same as the rest of the woodwork in my house) and did my best to keep the edge as crisp and neat as possible. The moldings in the kitchen are pretty beat up so it's definitely not perfect, but it's good enough.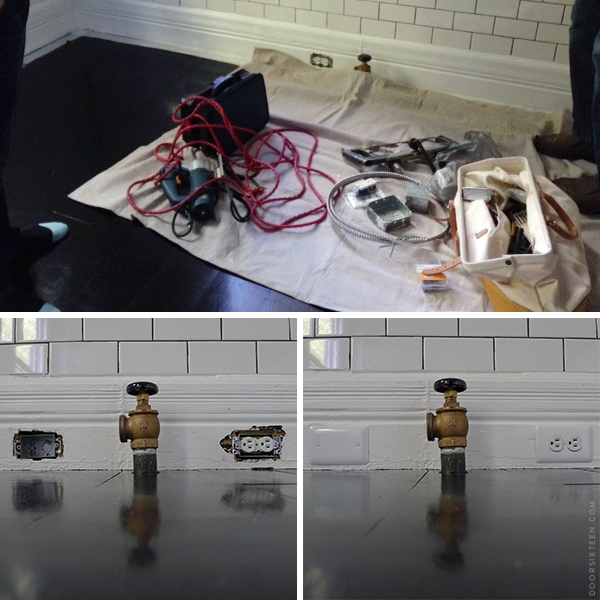 This isn't directly related to the floor, but it was absolutely essential to get it done — with the help of our Electrical Fairy, we moved the refrigerator outlet. Several weeks ago we had the supply line for the radiator moved about a foot and a half to the right so the radiator could be centered under the window, which meant the outlet would have been totally inaccessible. The old hole won't be visible, so we just covered it with a blank metal plate rather than bothering with a proper patch job. Again, good enough!
I'm a couple of weeks behind on kitchen updates, and a LOT more has happened in there since these photos were taken. I wanted to give the floor its own post, but I promise more updates are coming very soon!