A couple of weeks ago, the 8th anniversary of our home-ownership came and went. I realized it later while I was looking for a before picture of the dining room, which led to feelings of regret over not having taken the time to better document those days, in both photographic and written forms. We bought our house during a time when I wasn't blogging publicly. I'd shut down my old blog, and while I continued posting in my private LiveJournal (oh, LiveJournal), I had no plans to do…well, this. That was the right decision for me at the time, but I'm sad now that I don't have a good record of that time in our lives. Then, as if on cue, I got an email from the real estate website Trulia asking if I'd be interested in writing a post about some aspect of my home-buying experience for part of a series of postcards they're compiling. Pretty perfect timing, no? So I said yes.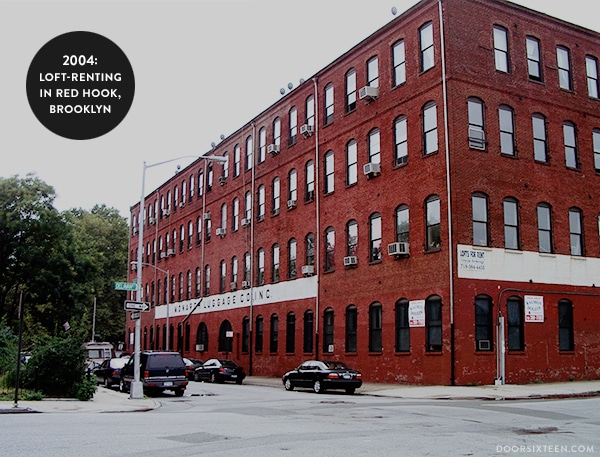 It's hard to know where to start with the whole saga without this turning into a third of my eventual memoirs (working title/epitaph: Why Am I Wearing a Cardigan? A Life in Sweaters), but I feel like a little back story is necessary. When Evan and I got married in 2004, we were living in Brooklyn. We'd had to apartment-hop three times in three years, thanks to landlords who decided to sell their buildings. We moved further south in the borough each time, eventually winding up in the beautiful but desolate Red Hook neighborhood (this was before IKEA and Fairway came to town, mind you). Our commutes became hour-plus journeys by bus and subway, grocery shopping felt impossible, the walls of our illegal loft were paper-thin, and it was just time to go.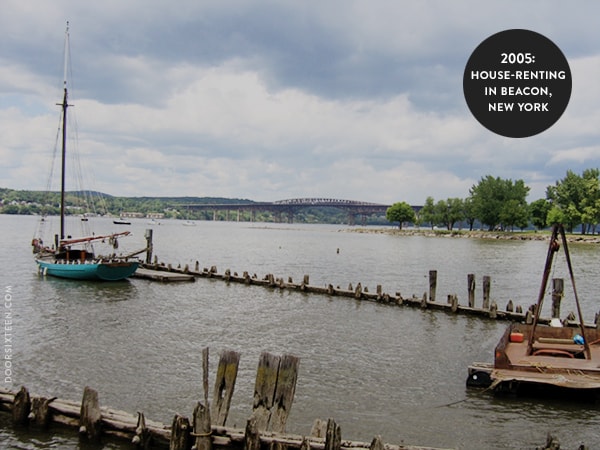 Based on little more than my love of Pete Seeger and a few day trips to Dia:Beacon, I suggested we look for a place to live in Beacon, New York. There's a Metro North station there, which would have us to Grand Central in not that much more time than we were spending traveling to work from Red Hook. We rented half of a two-family house in the village, and we started our new life as Beacon-dwellers who took the train to and from Manhattan every day for work.
I'm not sure what prompted our decision to look for a house to buy, but after about six months of renting, we started looking at houses for sale in Beacon. This was in March 2005, nearly the peak inflation point of the real estate bubble. Home-flipping and renovation shows were taking over reality TV, and mortgages were being passed out with wild abandon. In cities like Beacon, where gentrification had been taking place for several years already, house prices were going up, up, up. I don't think we really even considered whether we wanted to live in Beacon—we just felt like we had to do something. So we tried. And we failed.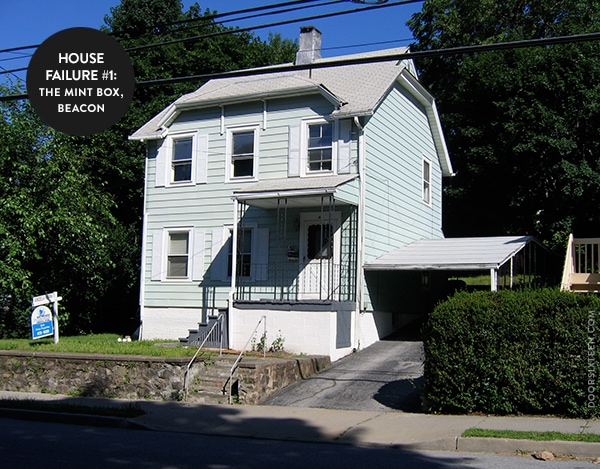 We looked at every house for sale in Beacon that was close to being in our price range, which I think totaled about four houses, tops. Others that had been listed in our range immediately went into bidding wars and sold for much higher prices. Only one of the ones we managed to visit seemed like what we were looking for (if we even knew what we were looking for—in hindsight, I'm not sure that we really did). That was the one we called the Mint Box: built in the late 1800s, covered in green vinyl, and wreckovated in just about every way possible—right down to a slapdash side addition that was sinking due to a faulty foundation. I don't think we were in love with it, but we were blinded by the idea of buying a house. It wasn't about finding the right place, it was just about finding any place. We'd lost all sense of perspective. I think this happened to a lot of people around that time—that desperate sense of needing to buy a house. Fear of missing out taken to extremes.
We made an offer. We had the house inspected. We hired a lawyer. The seller made a counteroffer. We made a counter-counteroffer. And so on. There were lots of problems, things that needed to be negotiated and repaired and cash that needed to be put in escrow—it was complex and it was messy. The house had been vacant for a long time, and the children of the previous occupant were the sellers. Communication was slow. In the midst of all this, we found out that there had been a leak in an outdoor oil tank, which is a big deal. A very expensive cleanup had (supposedly) already been done, but it was paid for by the the seller's insurance company…who in turn would have forced the sellers to accept a very low offer on the house in order to recoup their costs. Then the sellers refused to produce documentation from the EPA that the cleanup had actually occurred, and also refused to allow our lawyers to speak to each other. It was a disaster, simply put, not helped by the fact that our real estate agent was not doing her job. She didn't seem to fully understand the home-buying process, or even really care much about whether or not we bought a house at all. We felt like we had no allies to represent us, and we were in over our heads with something we clearly couldn't resolve ourselves. As much as we wanted to believe our real estate agent and attorney and mortgage broker and inspector and everyone else involved had our best interests at heart—and legally, they're supposed to—that wasn't always the case.
So…we walked. I don't think this gets talked about much because everyone imagines the home-buying experience being like House Hunters, but knowing which house is "the one" is as much about knowing when to let go and move on as it is being aware of your must-haves and wishlists.
Instead of feeling defeated after losing the Mint Box, we were relieved. Yes, we'd lost the cost of the inspection, but we were given a strong dose of healthy perspective on the whole endeavor, and we finally took the time to do what we should have done from the beginning: We spent time talking about why we wanted to buy a house, what kind of house we wanted to own, and where we wanted the house to be. We set a budget based on what we wanted to spend, not how much we could afford if we stretched our financial limits to the max.
Perhaps the most important thing we figured out was that we didn't have any particular attachment to Beacon. I grew up in the Hudson Valley and we both felt connected to the Hudson River, and we knew we had to be able to commute to work every day. So what about Newburgh? Why hadn't we been looking on the other side of the bridge?!
My stepfather, Bernie, has lived in Newburgh for about 70 years, and my mother moved there 20 years ago, so they of course proved to be an invaluable resource when we started looking at houses. Bernie was more than happy to educate us about the City of Newburgh, and to point out significant buildings and their individual histories. We saw block after block after block of majestic Victorian mansions, Arts and Crafts bungalows, and modest, turn-of-the century brick row houses. We saw families hanging out on their front porches, talking to the their neighbors and looking out for each other. We also saw a lot of abandoned properties and all of the classic indicators of urban blight. It was the combination of these things—the architectural beauty, the feeling of a welcoming community, and the desperate need for care-taking—that made us fall in love with Newburgh. We wanted to be a part of the city, and to make a home for ourselves there. It felt right.
The house search in Newburgh was very different than it had been in Beacon. For starters, we wound up with a great real estate agent this time. He was a property owner in the City of Newburgh, and he was relentless when it came to pulling listings for us to check out. He understood what we were looking for, and he wanted to find the right house for us. At that time, many of the house listings in Newburgh showed little more than a tiny, exterior thumbnail image, so we really had to rely on his familiarity with the various properties.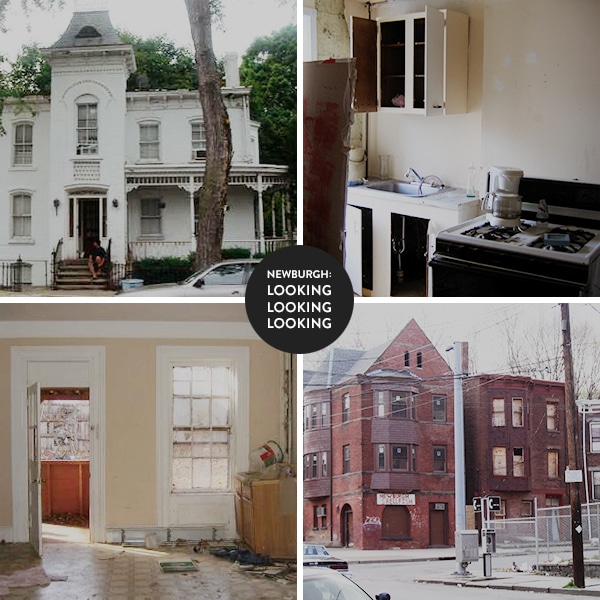 We were not prepared for what we'd see when we started to enter those properties, however. Unlike in Beacon, where the housing stock was primarily being turned over by owner-occupants, the houses we looked at in Newburgh were mostly a combination of abandoned, bank-owned foreclosures and single-family houses that had been converted to multi-unit rentals. Many of those houses were fully occupied, often by large families with children. And there we were, a young couple looking to swoop in and buy the whole place just for ourselves. It was upsetting. We didn't want to uproot those families, who in many cases were completely unaware that their homes were even for sale until we walked in the front door. Did we want to be a part of that? Or did we want to try to make Newburgh better for everyone, including the people who already lived there? These weren't things we'd ever had to think about before—certainly not when we were getting priced out of neighborhood after neighborhood in Brooklyn. When it came to abandoned and condemned properties, we not only felt overwhelmed, we also knew it would be a losing battle trying to get a mortgage that would make sense for us.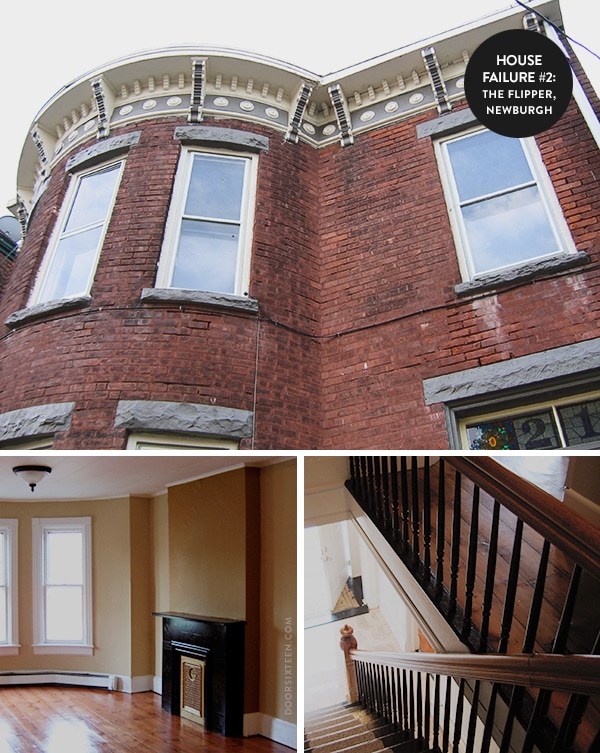 We refocused our search, and eventually found a very nice Victorian row house that had already been renovated! It was a flip project, a formerly-derelict building that had been bought and totally rehabbed—a rarity in Newburgh. The renovations weren't our taste, but that was all cosmetic. A lot of the original details had been removed over the years, but it was still full of character. The idea of moving into a place right away was very appealing. Remember, at that point neither one of us knew ANYTHING about renovating houses, so we didn't know what we were capable of. The house was within walking distance to the new commuter ferry that was about to start running to Beacon, too, which was a huge plus. It was listed higher than all of the rehab projects we'd been looking at, of course, but the price was still within our budget (and still much less than the would-be nightmare we'd run away from in Beacon).
So: Offer made, offer accepted, inspection done and paid for, mortgage broker involved, mortgage secured, attorney hired, deposit made…closing date set! YAY! Except not "yay" at all.
The day before our expected closing, our mortgage broker called to tell us there was a problem. Apparently the bank he'd secured our loan with had waited until the last possible minute to pull comps (prices that other similar houses in the area had sold for recently), and they'd rejected our previously-approved mortgage. See, this house was a rarity. It had already been renovated, but it was being held up against unrenovated houses that had sold for half or even a quarter of the price. The bank appraiser wasn't interested in seeing the house in person or considering the extent of the renovations. They were not going to approve a mortgage that high for any house in that location. Period.
The mortgage broker assured us that this was no problem, and that he'd hook us up with a new bank right away. And then the same thing happened again.
So there we were, having made a deposit on a house that we were not going to be able to buy. It was awful for the seller—who we had met and liked, and who was not at fault and was probably going to wind up having to sell the house at a loss—and it was devastating for us. We had to fight to get our deposit back (we finally did, months later), all the while feeling very sad and hugely disappointed that we were losing another house. This time we really felt it, too. This was in October, the week of my 30th birthday, and I remember lying on the floor in the living room of our rental and just sobbing. The lost money, the stress, the anticipation, the worry, the disappointment…it was too much. It's easy now to look back and say, "Oh, it was just a house," but when we were all caught up in the moment, it was crushing. At some point, the seller called us directly and offered to rent the house to us with an option to buy under the terms of our current contract after one year. He was confident that the real estate market in Newburgh would've caught up by then, but we weren't willing to take that chance.
Thinking we were about to close on a house, we'd obviously already given notice to our landlord in Beacon. So where would we live? Well, fortunately for us, my mother and Bernie very generously invited us—including Bruno, two ferrets, and a gerbil—to live in their basement while we figured out what the hell we were going to do. Were we going to move back to Brooklyn? Were we going to look for another rental? We were still in love with Newburgh and we still wanted to own a home there, so we decided to keep looking. We also got smart and hooked ourselves up with a local credit union, whose policy is to pull comps on houses at the beginning of the mortgage process, instead of the day before closing. Smart, right?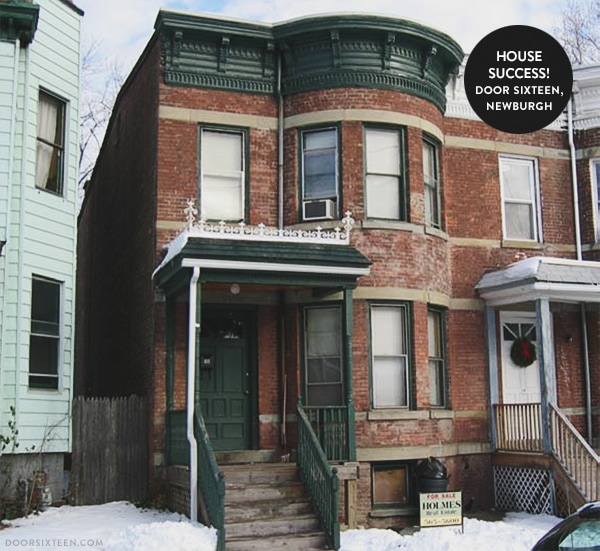 On Halloween 2005, we went to look at two houses. One of them was a vacant, grand Victorian that was way out of our budget (it was later condemned and eventually purchased at auction by some of our amazing neighbors, who gave it the love it deserves), and the other was its back-door neighbor—a two-story brick row house virtually identical to the four others attached to it. House number sixteen.
It had been a HUD house for a while, and then it was bought by a guy who thought he'd renovate it and sell it for a bunch of money. Instead of doing that, though, he rented it to some friends of his and let it fall further into disrepair. I guess he got tired of them asking to do things like fix the boiler, and eventually they found another place to live and he put the house on the market.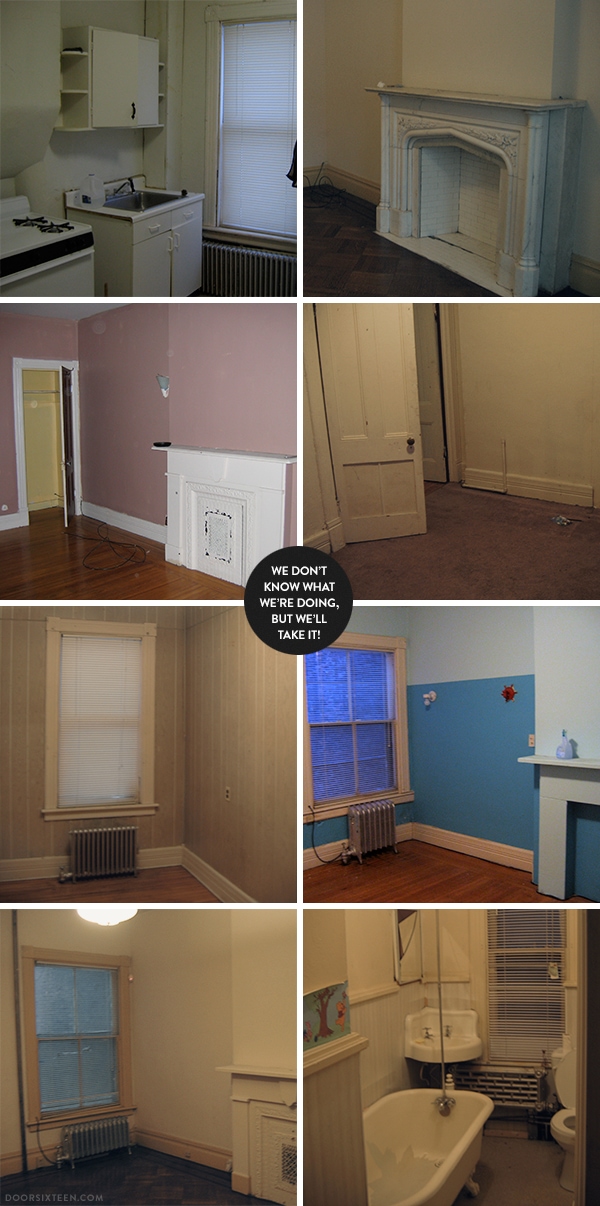 (With the exception of the kitchen photo, I don't think I've ever shared any of these before! They are terrible quality, I know, and wish I could go back in time for an hour or so and take better ones. Alas, this is the best I can do. Incredibly, these photos make the house look like it was in much better condition than it was…)
We were only about two steps into the house when we saw the white marble fireplace for the first time. I remember Evan and I shooting looks of excitement back and forth to each other. The more we saw of the house, the more we knew it was THE ONE, all-caps. It clearly needed a lot of work, but almost everything original was still intact. All of the rooms were perfectly proportioned. The backyard was a mess, but it was a good size and had so much potential. Cast iron radiators, original windows and doors, a big clawfoot tub, ceiling medallions, 10″ baseboard moldings, pocket doors, fireplaces in every room…yes. YES! And it was below our budget.
We made an opening offer. We waited nervously. And then the next day (THE NEXT DAY!) a huge article about Newburgh appeared in the Sunday edition of the New York Times entitled, "Finally, a Confirmation of a Rebound." ARE YOU KIDDING ME?
I don't really have a word for what we felt when we saw that article, but there was definitely panic involved. And, of course, the seller also saw the article—as did some mysterious "investor" who supposedly wanted to buy and flip the house. Of course. So we upped our offer and continued to wait…and…our offer was accepted! (I mean, obviously, otherwise you wouldn't be reading this blog. Spoiler alert!) Yay! Mortgage approved! Comps approved! Yay! Yay!
Nope, still not "yay." Here's the part in the story where I resigned myself to living in my mother's basement forever. I mean, there are worse things (she is a really good cook), but things were feeling pretty bleak. The seller had decided to not sign the contracts because his girlfriend told him he could get more money if he waited longer.
SERIOUSLY, MAN? Yeah, seriously. And then the seller disappeared.
A month or so of teeth-grinding frustration later, the seller materialized and we were allowed back into the house to do our inspection. During the inspection, all kinds of Bad Things were discovered, but none of them were surprising—except, of course, the fact that there was an active carbon monoxide leak and a broken boiler in the basement that was supposed to have been replaced so his friends/tenants didn't die. Sigh. (He later tried to accuse our inspector of breaking the boiler.)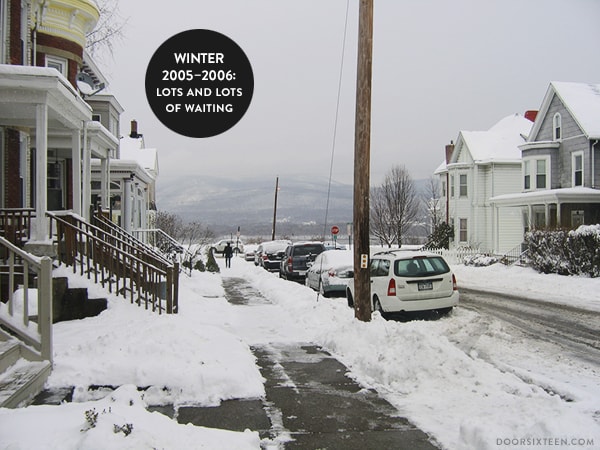 Yet another month passed. Clearly there had been no other interest in the house, but the seller continued to drag the process out longer and longer. We still don't know what was going on, exactly, but we continued to hold out hope because we loved the house so much. We didn't care about it being an investment for us—we cared about taking care of the house and doing our part to improve Newburgh. At this point it was vacant in the middle of winter, and we didn't want it to suffer burst pipes or a roof collapse and be condemned like so many other houses in Newburgh.
On February 28th, 2006, we got a call from our attorney letting us know that the seller had finally signed all of the necessary documents, and that our final walk-through and closing would be on March 2nd. We celebrated a little bit, but not too much—after all, a lot can happen in two days.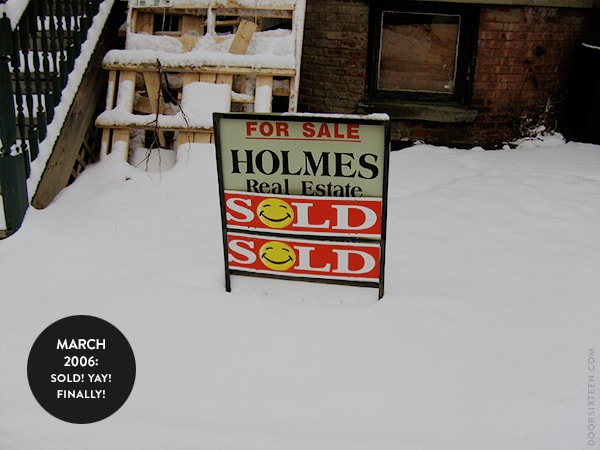 Almost exactly one year from when we started looking for a house, the big day arrived, and, in the middle of a snowstorm, we drove to our credit union for the closing—which was attended by no one other than our agent, who didn't even need to be there—and signed away our bank account for what we would come to call Door Sixteen. On the way home (home!) our car died—which is exactly what you want to have happen on the day you make the biggest purchase of your life, right? I'm pretty sure we just laughed, because we couldn't handle any more crying.
Then we ran upstairs and ripped out all of the revolting, moldy carpeting in the back bedroom, because ewwww.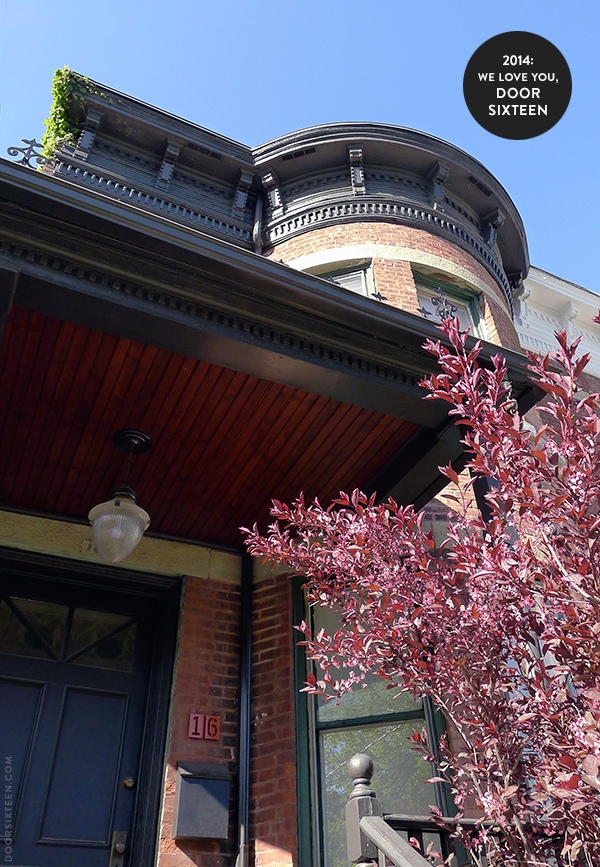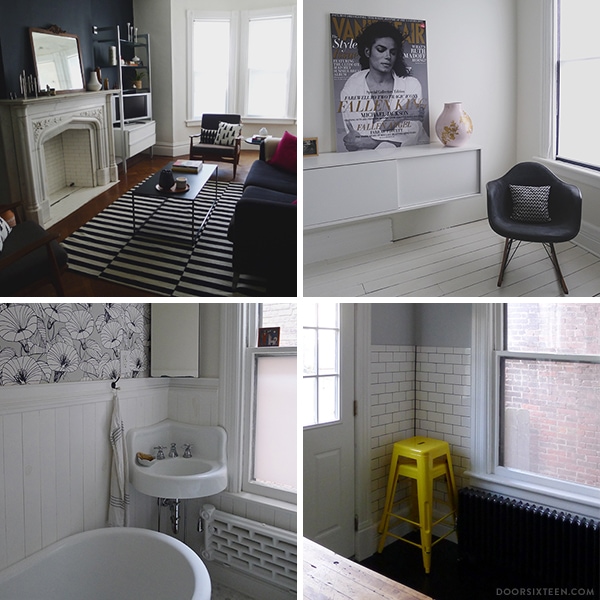 So here we are, eight years later, still in love with our house and with Newburgh—and each other, plus another dog who joined the ranks. Our house has not proven to be a blockbuster investment monetarily. Maybe it will be someday. We didn't have any reason to think it would be, and since we have no intention of selling our house, that's A-OK. By 2010, the New York Times had decided that the confirmed rebound of 2005 had become "Newburgh, Where Gang Violence Reigns," and then in 2013 they said Newburgh "Seeks Renewal Without Gentrification"—which, thankfully, is the most accurate of the three articles (gentrification, of course, is a rather massive subject in and of itself; one that I haven't even really begun to touch on here). We invested in the City of Newburgh's future and in the well-being of our community, and we feel very responsible for the care of our own little piece of it all. Our house is in a wonderful neighborhood where we're surrounded by a mix of multigenerational Newburghers going back a century, families who moved there in the past decade, and everyone in between.
I'm so glad we hung in there and didn't give up. I think about that every single time I look at the living room fireplace. Door Sixteen is our house, our home—it will outlive us, and we are so lucky to be a part of its history. Everything we do to improve our house is as much about protecting its future as it is enjoying our present.
So, your turn, assuming you made it through this beast of a post: If you've bought a house, what was the searching process like? Were lots of tears involved? If you're searching for a home now, are you pulling your hair out in anguish? I mean, feel free to share even if you had a good old time, but everyone knows drama and anguish is more exciting.
I am blogging on behalf of Trulia, but the views expressed here are solely mine, not Trulia's. To learn more, visit: http://on.trulia.com/postcards.