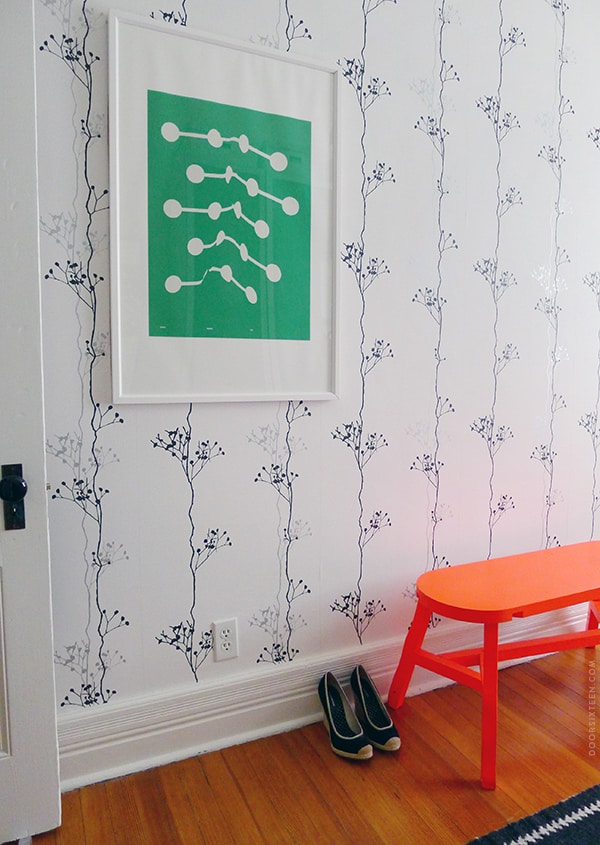 This is going to sound silly, but I've never hung anything on a wallpapered wall before. Considering the amount of wallpaper in my house, that eliminates a lot of possibilities when it comes to hanging art! I'm not usually so precious about stuff, but the thought of making a permanent hole in something that's bonded to my walls fills me with panic. I got over myself this weekend, though, and I'm so glad. The dressing room looks so much more finished now!
The print that got me to finally pick up a hammer is Animal Sounds 002 by Matthew Korbel-Bowers. I recently did a styling project for Society6 (I think it's going up on their site today–I'll update this post when that happens), and this was one of the pieces I chose. I ordered it pre-framed (Vector White, 26×38″) since I didn't have much time, and it looks great. I really love the design combined with the wallpaper pattern, and the way that bright green looks with my crazy orange bench.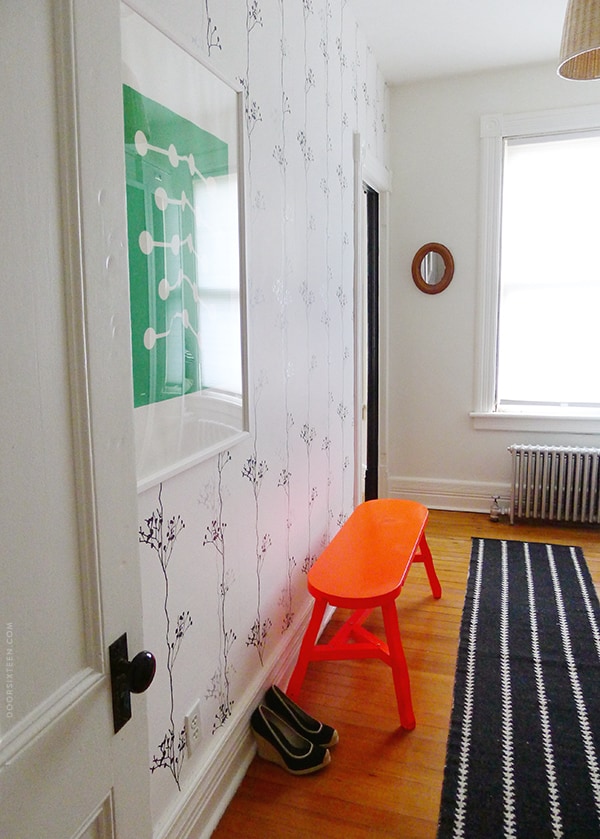 Long view! The dressing room is really narrow and difficult to photograph, but you get the idea. Oh, and the wallpaper (installed five years ago) is Berry Black from Ferm Living, the fluorescent orange Offcut bench is from Tom Dixon (discontinued, sadly, but you can still get the Offcut stool), and the rug is by Nate Berkus for Target (also discontinued, argh!).
I'm still feeling really hesitant to start hanging stuff all over my wallpapered walls, but this was a great baby step. Assuming I don't hate it a year from now (I won't), I'll consider the hole worth it. Otherwise, I'll take down the frame and point out the miniscule, barely-noticeable hole to every single guest who gets a house tour, because that's just what I do.