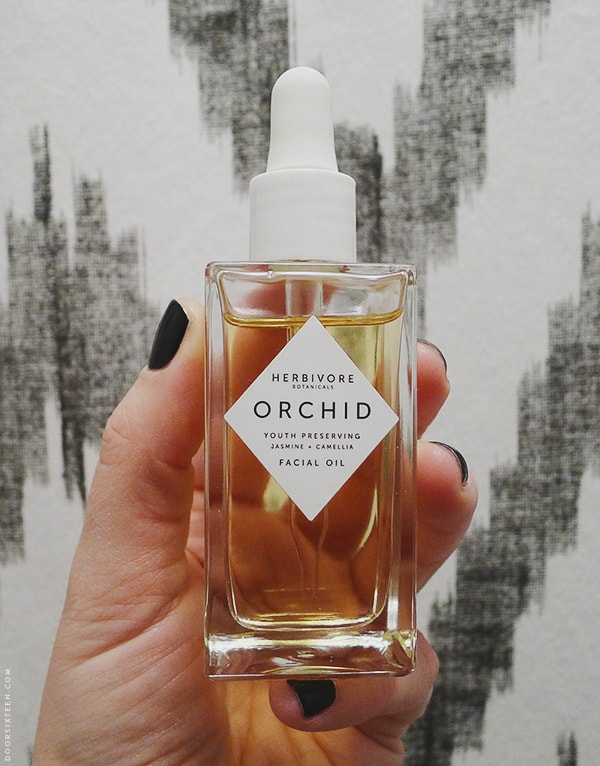 A couple of months ago, the nice people at Herbivore Botanicals contacted me asking if they could send me one of their soon-to-launched facial oils to try out. Uh…YES, that would be just fine. I fell in love with Herbivore's products earlier this year when I bought their Coconut Bath Soak, which got me addicted to taking relaxation baths on a regular basis. Since then, I've ordered a number of other products from them, and all have been wonderful. Evan is a devotee of their Mens Face Elixer, and is currently on his third bottle (!).
My bottle of Orchid Facial Oil arrived on November 12 (about 5 ½ weeks ago), and I've been using nightly it ever since. My friends, this stuff is heaven.
My skin has not looked this good since…I don't know, since I was a child? I'm not kidding. As I've mentioned in previous posts, I've spent a long time trying to find a combination of products that works well for my sensitive, dry, adult acne-prone, and generally cranky skin, and while the prescription medications I use (Retin-A Micro and Aczone) have gone a long way toward keeping breakouts at bay and reducing clogged pores, I've still had issues with texture, discoloration, and dryness. I've had good results from Huile Prodigieuse and Kiehl's Midnight Recovery Complex, so I wasn't actively looking for anything else, but I am so glad that this stuff made its way into my life. I had no idea my skin was capable of improving so drastically, and in a relatively short period of time.
And, of course, the packaging is gorgeous. The square bottle is heavy and solid, and feels noticeably more luxe than their other products. It looks great on display in the bathroom, and yeah, that matters to me.
Herbivore's full line of facial oils includes three different blends: Orchid (youth preserving/normal skin), Phoenix (cell regenerating/mature or sensitive skin), and Lapis (oil balancing/combination skin). I didn't choose with variety to try, but Orchid seems to be the exact right choice for me. The directions say to use it twice daily, but I've only been using it at night—as nicely as it absorbs into my skin, I haven't yet done a test drive to see if it would play well with my face makeup during the day. I apply it immediately after washing my face, before the Retin-A and Aczone. It provides a really nice buffering layer, preventing dryness while still allowing the medications to do their jobs. My skin feels so unbelievably soft and looks clear and luminous. I'm happy.
Since I was sent my bottle at no cost, I wasn't sure of the price until I started writing this post. Turns out it's a bit spendy—$80 for 1.7oz. Judging by how much I've used in 5 ½ weeks, though (I took the photo above about an hour ago), I estimate this bottle will last me the better part of a year. Taking that into account, it's not so bad…and I will definitely be purchasing a second bottle when the time comes.
Oh, and! There are also miniature-sized, roller ball versions of Herbivore's facial oils available—both singly and as a set with the larger bottle. Perfect if you want to do a trial run, or if you're traveling and don't want to deal with packing a large glass bottle of oil in your carry-on. So smart.
Disclaimer: Herbivore Botanicals sent me this product at no cost, but they did not ask for anything in return. This review was written entirely out of my own enthusiasm and remarkably positive experience with said product. Thumbs up.