Yesterday I took a peek at all of the new things coming to IKEA next month (some of these things have been available in Europe for a while, but we're slow to get new stuff here in the US sometimes), and I am so blown away that I almost don't even know where to start. I'm sure lots of other blogs will, of course, be showcasing the new lines in their entirety, so I'm just pulling a bunch of my favorites. There's so much good stuff. Sometimes IKEA just really nails it, you know?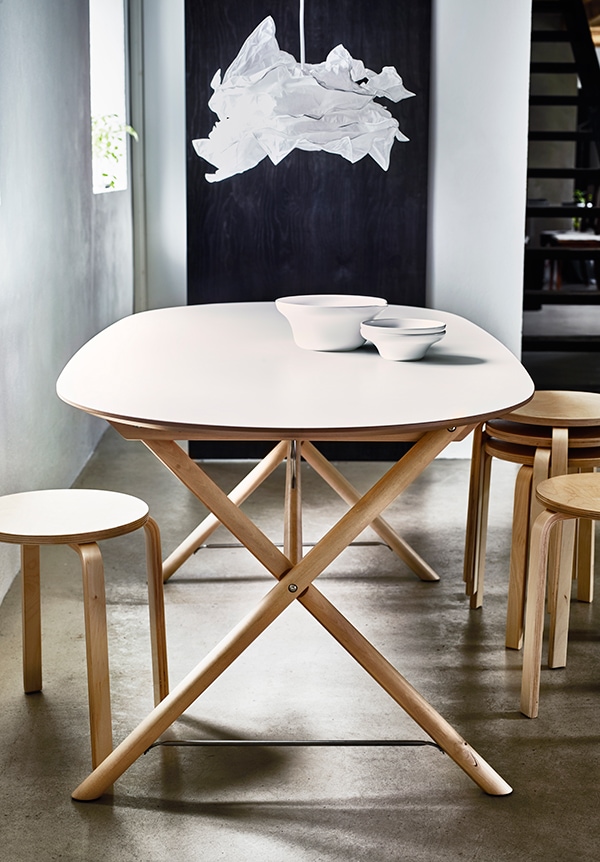 ✚ DALSHULT/SLÄHULT table, $189 Solid birch with white laminate top
✚ KRUSNING lamp shade, $9.99 Paper / design by Sigga Heimis
I adore this dining table. The trestle base is so quintessentially Scandinavian, and immediately brings to mind Hans Wegner's classic X-leg design. The shape of the top makes me think of Piet Hein's Superelipse tables. It's a gorgeous combination. I really wish I had somewhere to put this table to use.
The lamp is the work of Malmö-based designer Sigga Heimis, and it's made of paper. It can be shaped however you like!
Because I know it will come up, let's talk about the much-beloved FROSTA stools pictured here. They're clearly heavily inspired by Alvar Aalto's Stool 60 (years ago, I modified a pair to make them even more Aalto-esque), but they've also managed to become an IKEA classic over the years. Sadly (some might say traumatically), IKEA discontinued FROSTA in the North American market a couple of years ago. They made a comeback of sorts in 2014, but only with tops painted yellow and red. It's really a shame, because the banded-ply edge of the unpainted version is really what made it so nice! It's still available in the European market, though, so if you had to cram a couple in a suitcase…
IKEA, if you're listening, bring the original FROSTA stools back to North America!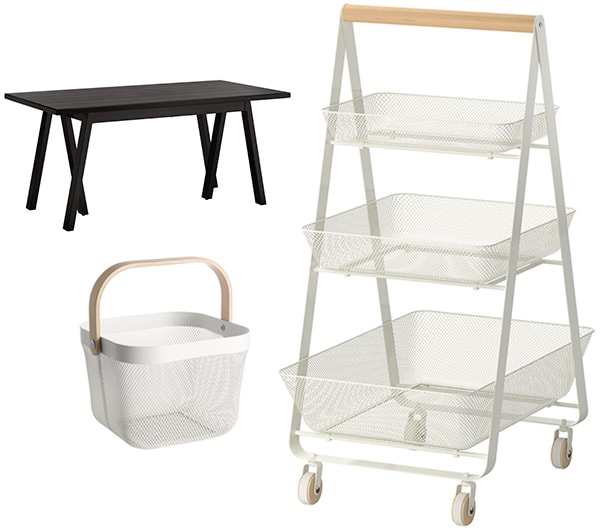 ✚ REBBESTAD/RYGGESTAD table, $179 Black-stained solid pine
✚ RISATORP kitchen cart, $59.99 Steel & solid birch handle / design by Wiebke Braasch
✚ RISATORP basket, $12.99 Steel & bent birch veneer / design by Wiebke Braasch
Another great dining table with nice legs! I'm really happy to see IKEA incorporating more true black-stained pieces like this and the OLOFSTORP cabinet I hung in my dining room. It's a very nice change from that weird brown-black color that's been prevalent on their darker furniture for so long.
I'm really digging the whole RISATORP line. That combination of birch and powder-coated white steel gets an A+ from me. I can see using that cart in any number of rooms, from kitchens to bathrooms to art studios to entryways.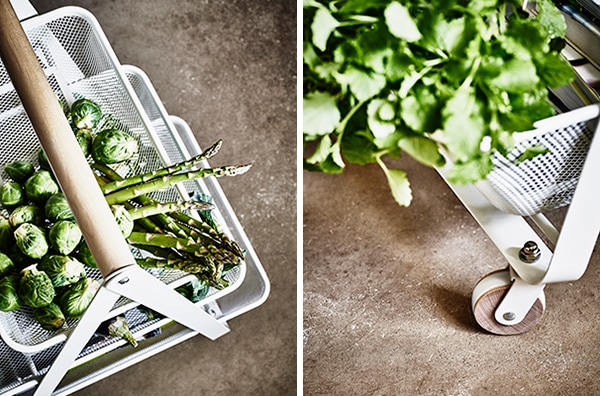 Another look at the RISATORP kitchen cart. Those wheels are beautiful!
Side note: Mmmmm, Brussels sprouts. I'm going to have to make my mapled Brussels sprouts recipe this weekend!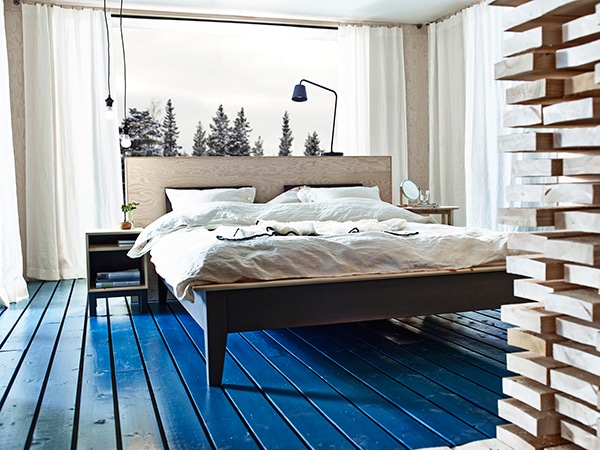 ✚ NORNÄS queen bed frame, $299 Lacquered solid pine
✚ NORNÄS nightstand, $89 Untreated solid pine
First of all, hats off to the stylists who put this room together. The combination of bare plywood walls and a painted floor (that blue!) is perfection.
The solid pine pieces in the NORNÄS collection (seen here and and the next two photos) are the work of brother and sister design team Marianne Hagberg and Knut Hagberg. All of the wood used to manufacture this line is sourced in the far north of Sweden, cut in a waste-minimizing manner from well-managed forests. IKEA has received a lot of criticism in the past for deforestation practices, and I am glad to see them taking some steps in the right direction. It may not be everything, but it's something. (I'm also pleased to see even more solid wood in IKEA's collection, since those are the pieces that can absolutely last for generations!)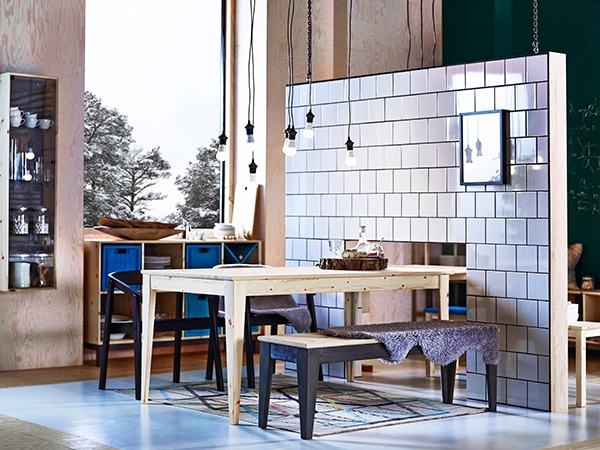 ✚ TNORNÄS table, $199 Untreated solid pine
✚ NORNÄS bench, $89 Untreated solid pine
Like many of the pieces in the NORNÄS line, both the bench and table seen here arrive unpainted, made of untreated wood—the legs of the bench have been painted black for this shoot. Yes, that means you'd have to treat the top of the table with something (wax, poly, whatever works best for your purposes), but it's so nice to have the option to easily paint or stain this type of furniture. I personally love the look of pine, but imagine that table with the legs painted white, or the bench painted entirely yellow. They'd take on a whole new feel.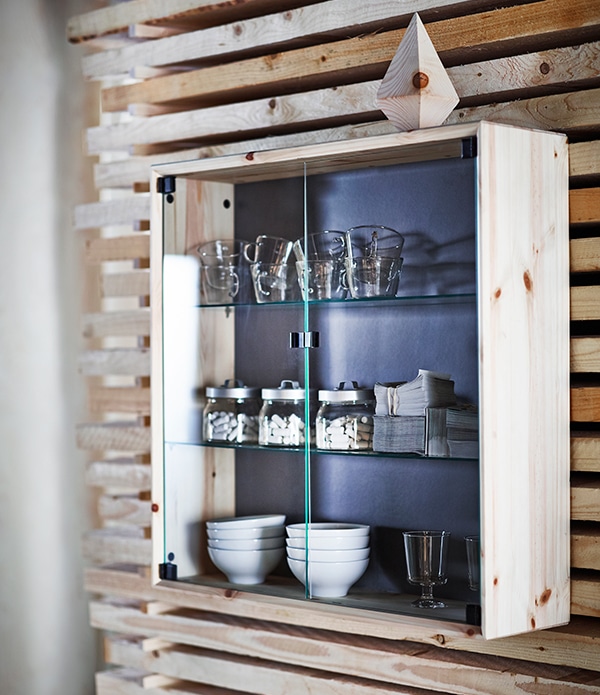 ✚ NORNÄS wall cabinet, $79 Untreated solid pine & tempered glass
Man, how I love a good wall cabinet. There are several good glass-front pieces in the NORNÄS line, three of them wall-mounted and one with legs. All have really nice beveled, mitered corners, and again, the untreated wood allows you to paint them however you wish.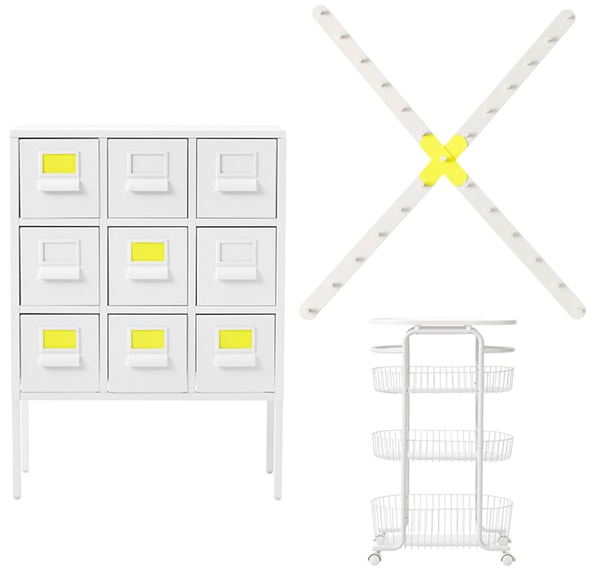 ✚ SPRUTT cabinet, $89.99 Powder-coated steel / Design by Marcus Arvonen
✚ SPRUTT knob rack, $24.99 Powder-coated steel
✚ SPRUTT cart, $39.99 Powder-coated steel & plastic
The SPRUTT collection is so much fun, and fits right in with other great powder-coated steel IKEA stuff like their ubiquitous PS locker and the cork-topped KVISSLE office storage series, a personal favorite of mine.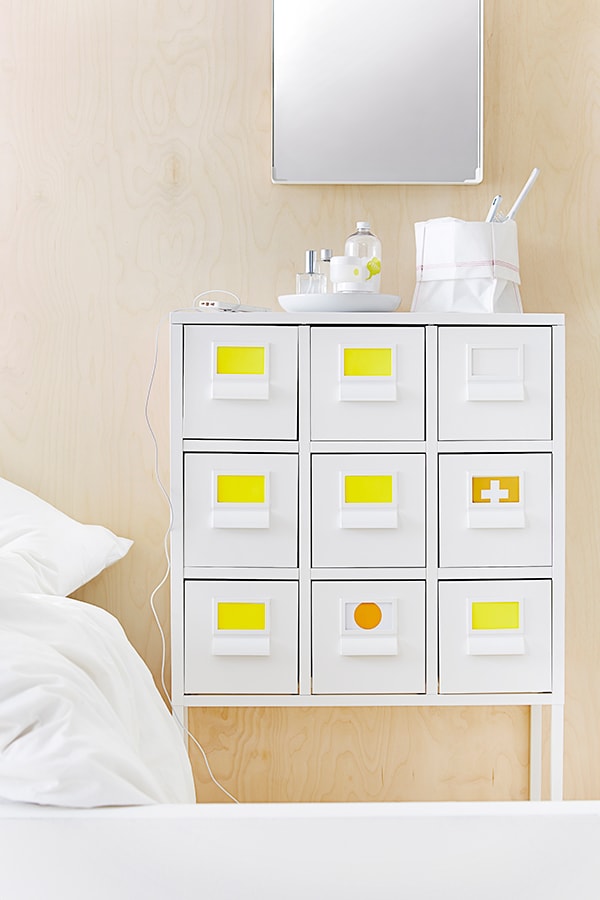 The SPRUTT cabinet is particularly cool. What is it about things that resemble card files?? I guess it's the promise of being SO organized that you require not just one or two separate drawers, but nine. And labels. To be honest, labels kind of stress me out, so I like that they've just used colors and shapes in this styling shot. I can get behind that. Where do you think you could use a cabinet like this? It's pretty substantial at 12″ deep, so it could even work in the kitchen for storing extra flatware, napkins, jars of spices…it's a great piece. So many possibilities!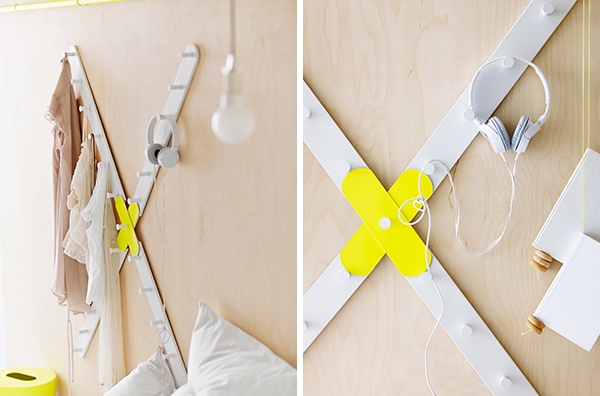 And finally, the SPRUTT knob rack. How can you not love this?! Ahhhh, that bright yellow. So good!! Keys, necklaces, dog leashes, scarves…this thing would be great in an entryway where you don't have much clearance since it's less than 3″ deep—but at 63″ wide, it'll still add visual interest. I could even see just mounting it on the wall as a decorative object, honestly.
Also, I now need white Swedish headphones.
All images courtesy of IKEA