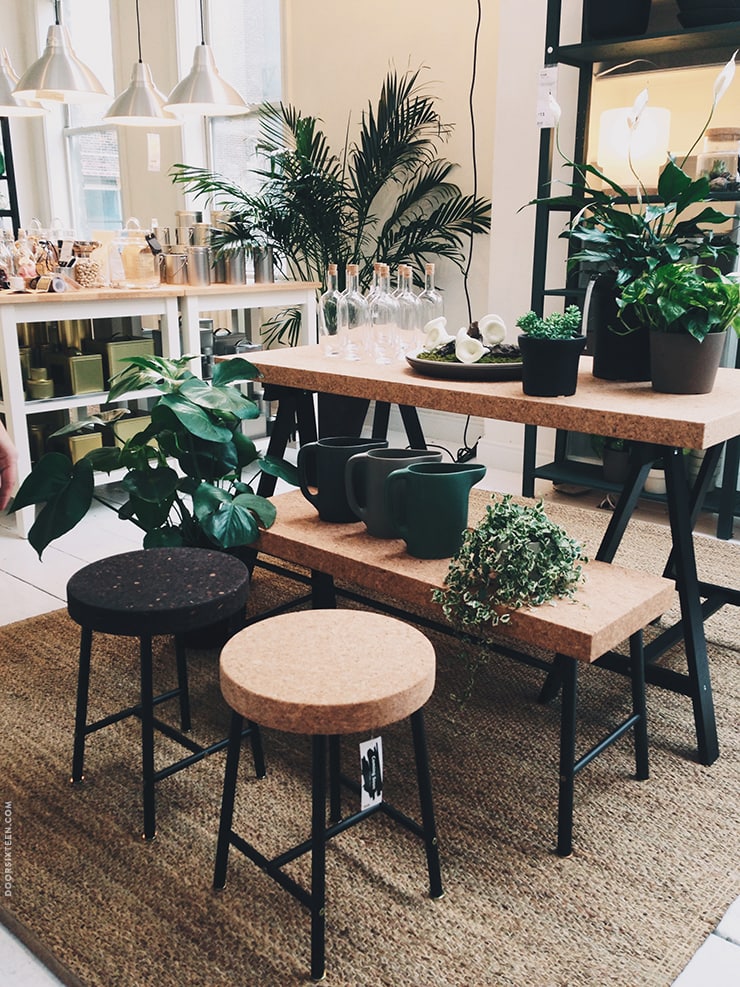 On Wednesday night I went to a press event thing for the launch of the 2016 IKEA catalog. It was held in a really cool event space near the Empire State Building called Gary's Loft. I don't know who Gary is, but his loft and roof deck are very nice!
The main thing I wanted to see at the launch was the much-anticipated SINNERLIG collection, designed for IKEA by Ilse Crawford and coming to US stores this October. I was so blown away by the line that I am going to have to do a separate post just about all of the different pieces, but my photo above is a little sneak peek. Look at all that cork!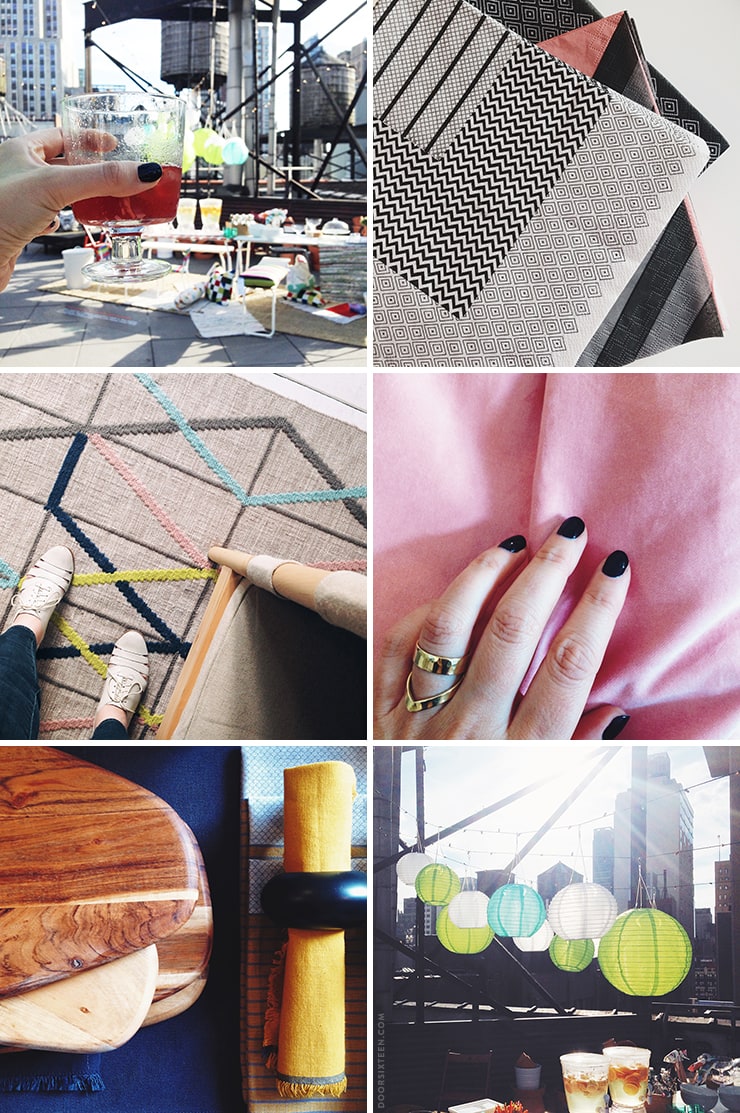 I always feel kind of weird when I get invited to media stuff, as though I've somehow infiltrated a secret group and I just need to try and pretend I know what I'm doing and hope that nobody figures out that I'm just a book cover designer with a blog and not, like, an actual reporter who takes notes and writes articles that don't use the words "stuff" and "thing" in every other sentence. I also always notice that I'm taking more photos than everyone else, and that I'm taking them "blogger style"—getting my feet and hands in some of the shots so they feel more personal, doing top shots of table settings, and taking photos of the space itself, especially if there's an awesome view involved.
By the way, that water with the oranges in it was just a prop. Hah! Thank goodness I was warned immediately, because otherwise I would have gone straight to it and filled up a glass. Fortunately there were none-prop cocktails provided, a mix of lingonberry juice, Aquavit, soda water, and fresh mint. Very nice!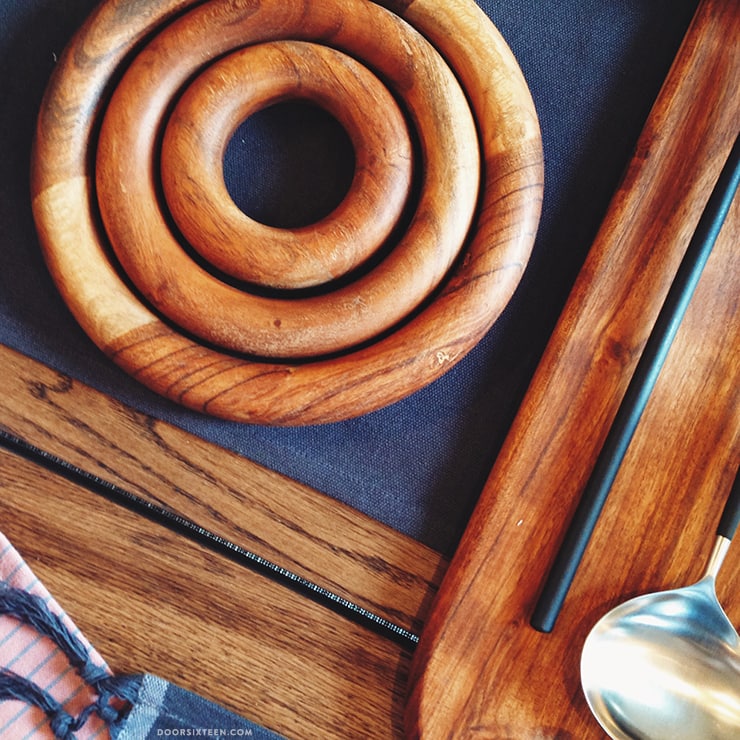 Aside from SINNERLIG, I was really impressed by the SITTNING collection. Rich colors, thick, heavyweight cutting boards, iron serving cutlery, and my personal favorite, these beautiful acacia wood ring trivets. A lot is going to be made of the fact that placemats in the SITTNING line have a little pocket for stashing your iPhone, but there's a lot more going on than just a funny gimmick. I'm really looking forward to the line hitting US stores in September.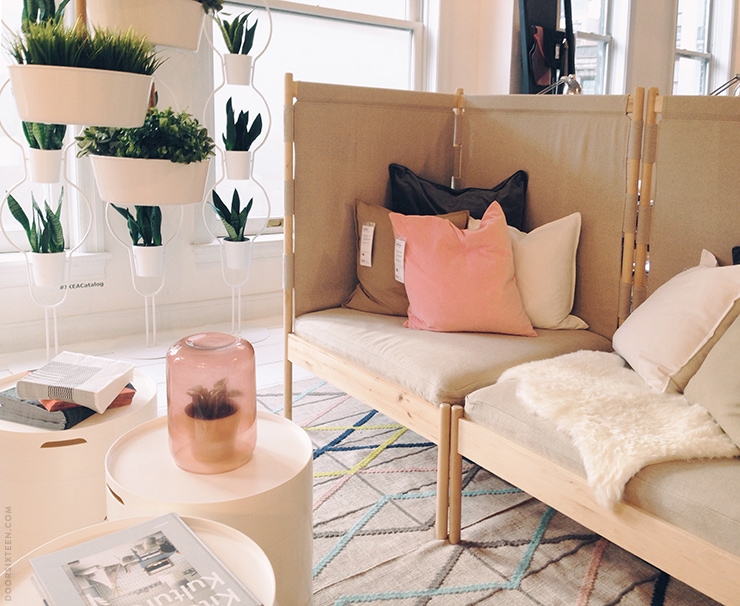 Finally, these corner chairs (and the rug) were actually part of the 2014 PS collection, but this was the first time I saw them in person. The corner chairs are really comfy, and putting two of them together makes a very nice small sofa that doubles as a room divider. They'd be great in a loft/studio apartment—I could even see the back doubling as a headboard for a bed on the other side.
The 2016 IKEA catalog will be in US stores in a few weeks, but you can view it online now or request to have a printed copy mailed to you.