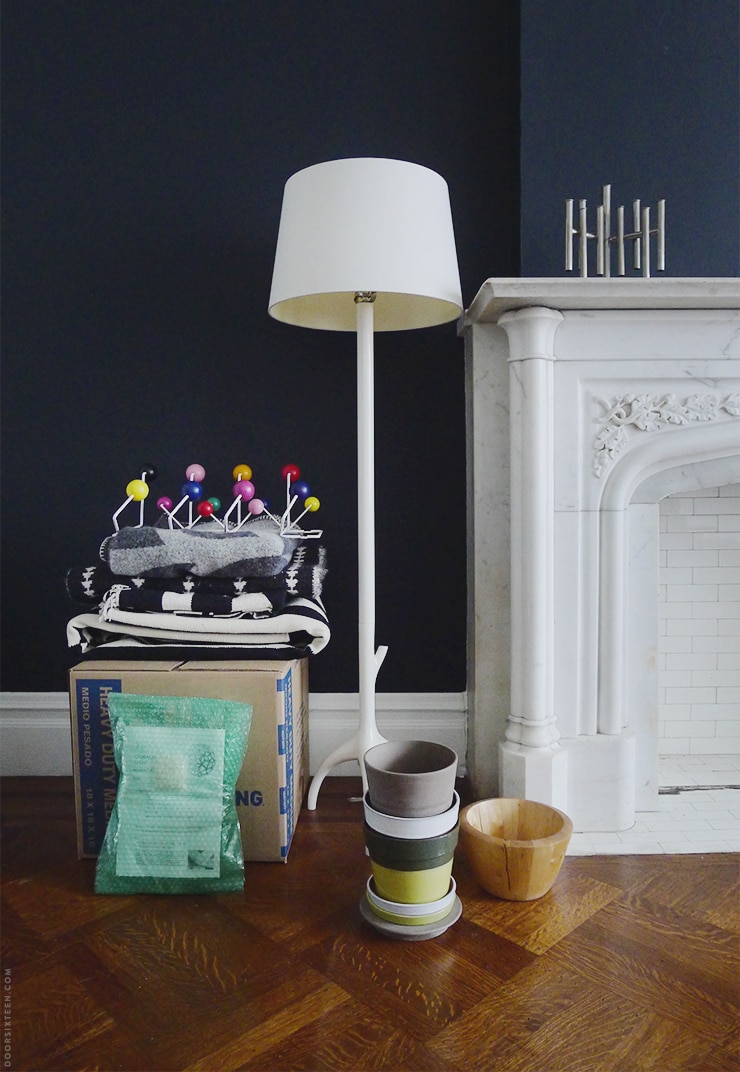 It was never my plan to document the process of selling the house, and that's primarily because I knew I'd want to respect the privacy of the buyer, but also because…well, because packing up an entire house is exhausting. If you noticed that my post volume last week was on the slim side, that's why. I'm tired. I've taken a couple of days off work, but mostly this is all getting crammed in on the weekends and late nights if I'm able to take the train up after work.
But let me back up a little, because I never actually said anything here on the blog about there even being a buyer. It all just kind of happened. Evan and I kind of thought we'd put the house on the market, I'd write a blog post, and maybe six months later someone would be interested and maybe put in a low bid. HAH! That is not at all what happened. Within a day of the listing going live, there were multiple offers—some from people who hadn't even seen the house in person—in place. Within a week, we'd watched bids compete for the top spot to a point far beyond what we'd even dreamed of the house selling for (that number won't be public until after the closing, so don't bother trying to sleuth). My real estate agent had his hands full, and he did an amazing job.
So yeah, there's a buyer, and we're in contract. We don't have a specific date yet, but the closing should be happening in the first half of September, which is really soon. The word "bittersweet" gets overused, I know, but that's exactly what this is. We are lucky to have been able to sell our house so quickly in a tough market (a house we bought at market peak, by the way), but man oh man is it hard to say goodbye.
A few things I've learned in the course of packing:
✚ Taking apart a David Trubridge Coral pendant sucks. Of course, assembling them also sucks. It all sucks. Good thing they look incredible hanging up!
✚ I'm good at letting go of things. I've gotten rid of (either by donation, loan, or sale) maybe 80% of my possessions during this process, and it hasn't been a struggle. If anything, it's been liberating.
✚ IKEA is awesome. OK, I didn't just learn that. But seriously…considering I'm only holding on to the items I love the most, it's cool how much of that stuff is from IKEA. I don't think of IKEA as a source for "temporary" things. I shop there with an eye for quality of construction and design, and I've had very few letdowns.
✚ Fritz and Bruno are adaptable little guys. I don't give them enough credit, but much of it is due. Fritz in particular has a tough time when things are "off" (Daniel once witnessed him cry for an hour straight because there was a light fixture sitting on the dining room table), but they've both been super solid even when there are strangers in the house and everything is totally out of order.
✚ OMFG, POSTERS. I have a poster problem. I always have. I thought it might be "fun" to unroll all of my old Cure posters just to see what was there, and sdlfjhsdfhoskdjfhsukdbf!!!!!! GUESS HOW MANY CURE POSTERS I HAVE? I don't know, but I stopped counting at fifty. FIFTY!!!!! What is wrong with me?! (Yes, I kept them all.)
✚ I'm so proud of the renovations we did here over the years. I remember really clearly what this house looked like empty on Day One, and as it empties of its furniture and rugs and so on, I can truly see the house for what it is without all the nice décor. The difference between now and 9½ years ago is pretty amazing.
So that's where I'm at. Please bear with me for the next few weeks, OK? I'm going to try and keep up with posting since I've really been having a lot of fun with the increased volume, but I'm also going to try and not die from exhaustion.