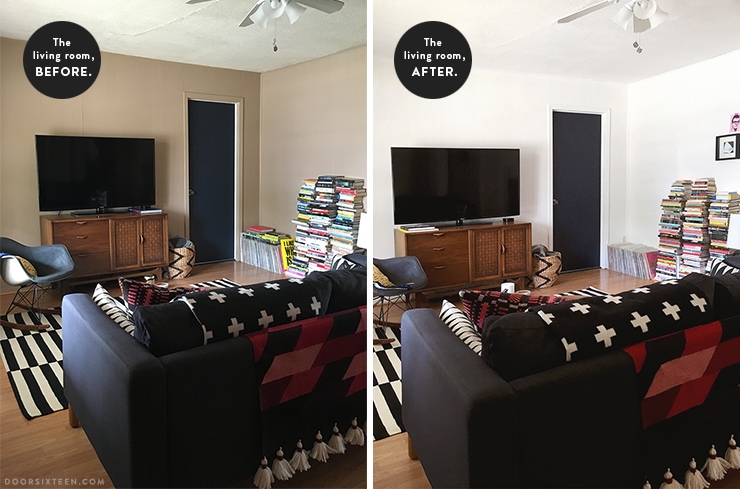 OH, HEY THERE! What's up? I'm sorry. I'm like the blogger version of a magazine that starts out as a monthly, then becomes a bi-monthly and then eventually a quarterly. Or an annual. Ugh. I swear, though—I've been busy with other stuff, not just sitting around drinking iced coffee and painting Fritz's toenails. Freelance life is a weird thing, man. I'm almost 10 months into it, and I'm just starting to feel like I know how to schedule my days to have some structure.
So, do you remember the living room? The one I promised to have after photos of "really soon"? Two months ago? Yeah, that's the one. Well, it's looking goooooood.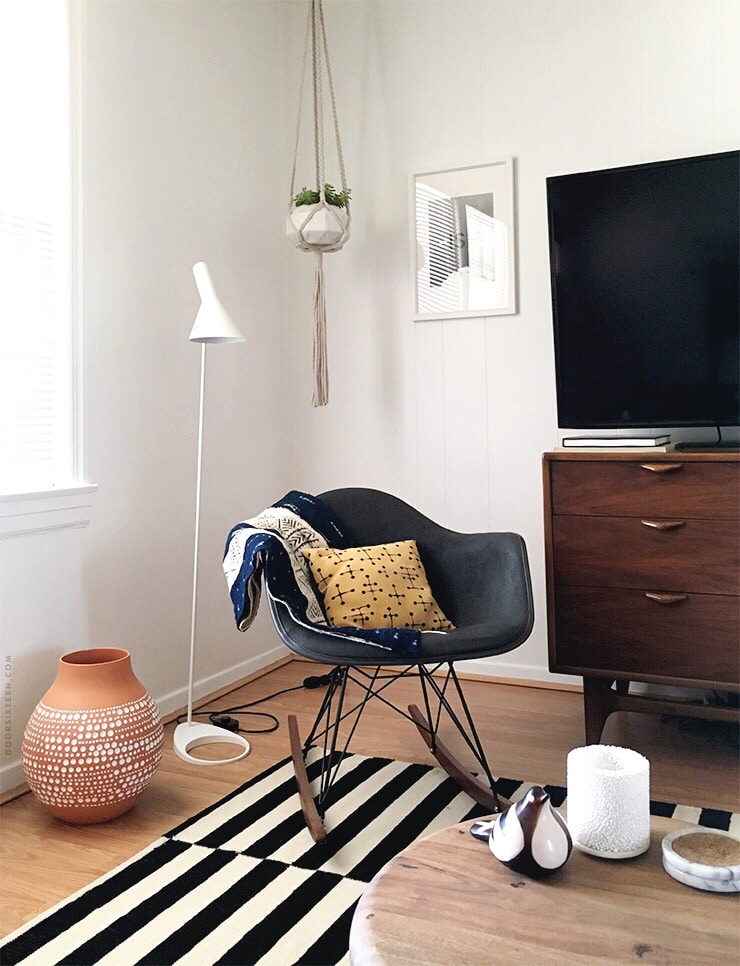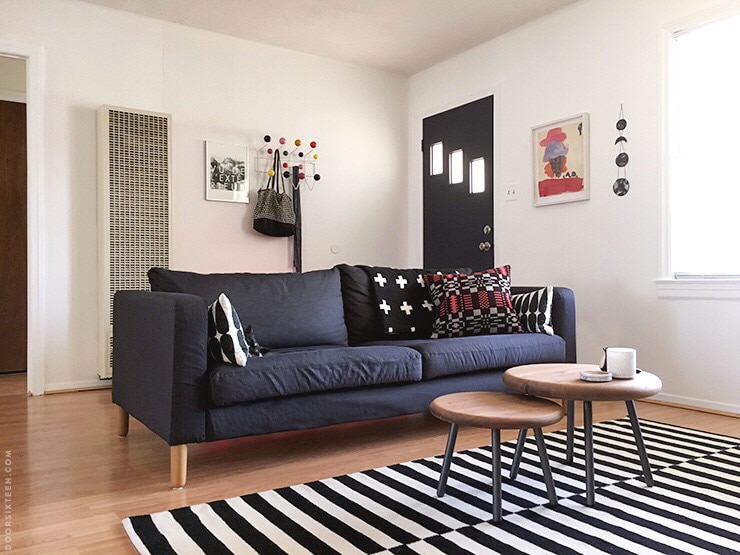 It's not as dramatic a transformation as the bedroom was because I already had all of the furnishings in place, but still, getting rid of those shiny tan walls and the dirty ceiling is a massive improvement. The room feels so much bigger and fresher and more open!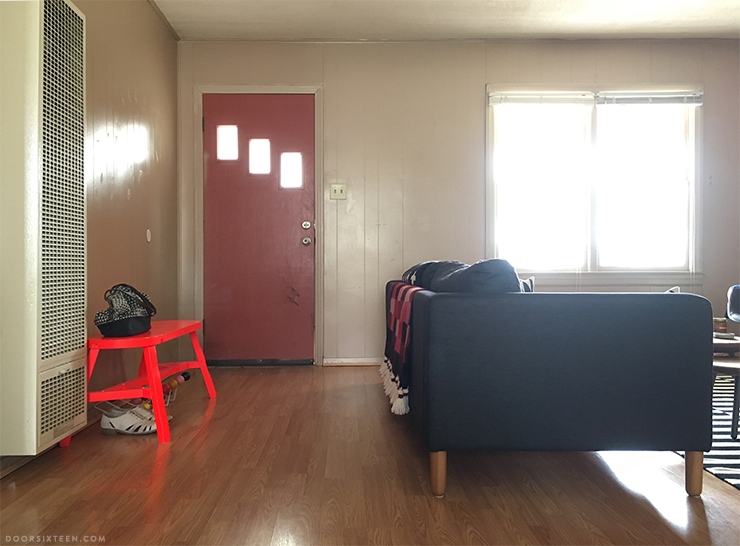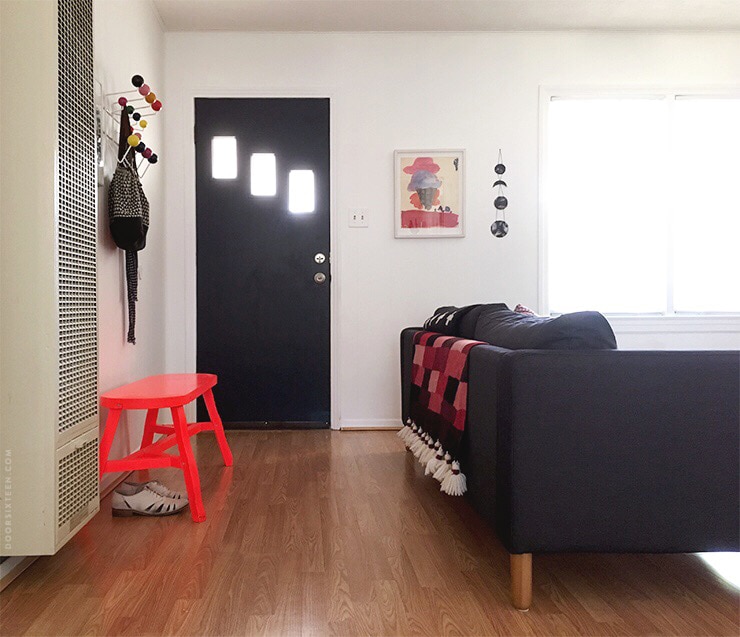 The difference between these photos is pretty remarkable, right? And it's all about the paint! As in the bedroom, the walls are Valspar Swiss Coffee in a flat finish, and the front door is now Valspar Royal Navy in satin. My beloved neon orange bench no longer looks like it's fighting for its life.
It definitely helps that the living room has laminate flooring instead of brown carpet like the bedroom, too. I've never been a fan of laminate, but I'll take it over worn-out carpet. Aside from things like textured walls, gas-powered wall heaters and swamp coolers, this is one of the weird things I've noticed about rentals (or maybe all houses?) in this part of the country: NO WOOD FLOORS. I kind of assumed that there might be ceramic tile or even brick, but it seems to be mostly carpet. I dunno, man. I can see the appeal of carpeting if it's, like, good quality and made of wool and you take really good care of it and nobody wears shoes on it ever, but in a rental? Wood floors still look good even when they're shot to shit, and NYC landlords know all they have to do is slap a coat of poly down in order to "refinish" them. Isn't carpet a losing game? Anyway, I'm rambling. You hear me.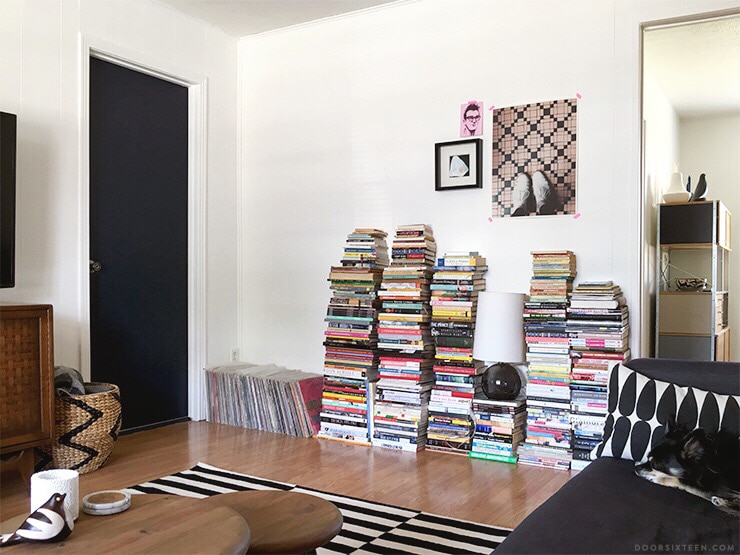 Nope, still no bookcases. That's OK. I had hoped to install two Helix bookcases from CB2, but after discovering that the walls seem to be made of some sort of chipboard (?) paneling over thin drywall (??), I'm hesitating to do anything wall-mounted. I don't want to have to rely on hitting four studs perfectly, you know? Anyway, I'm fine having the books piled up for now. I did a nicer job of stacking them up after I painted, and even though it sucks when I need something from the bottom, I can deal.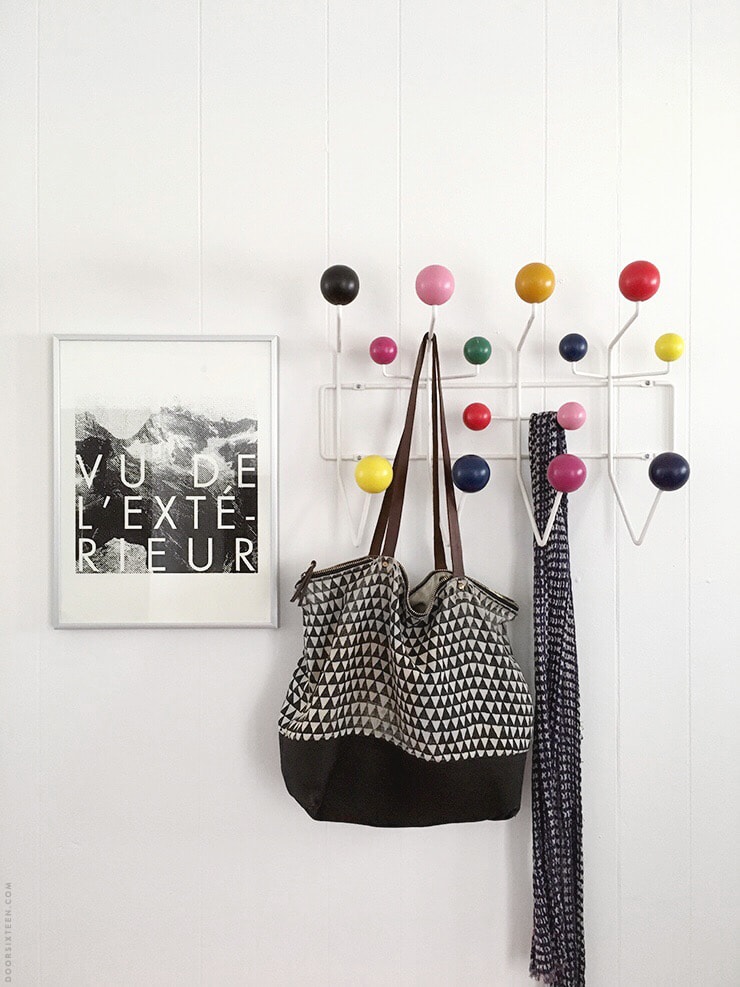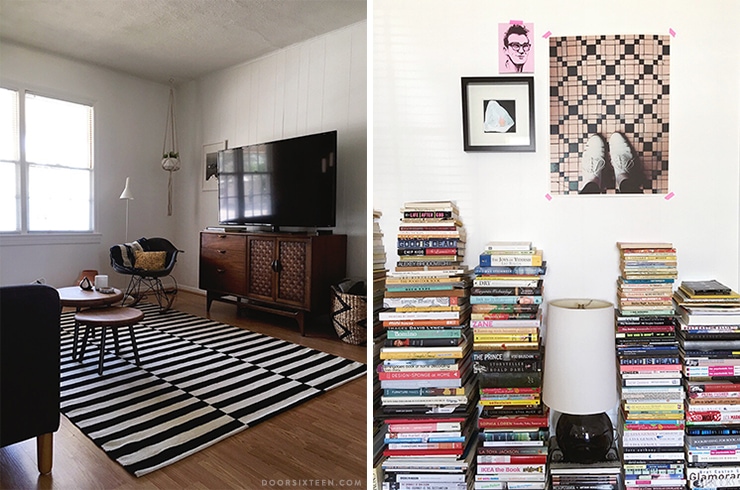 The television is still huge, but it honestly doesn't bother me. I think once I hang more stuff on that wall, it'll be even less intrusive. Ideally it would be sitting on a credenza double the length of this one, but I'm working with what I've got.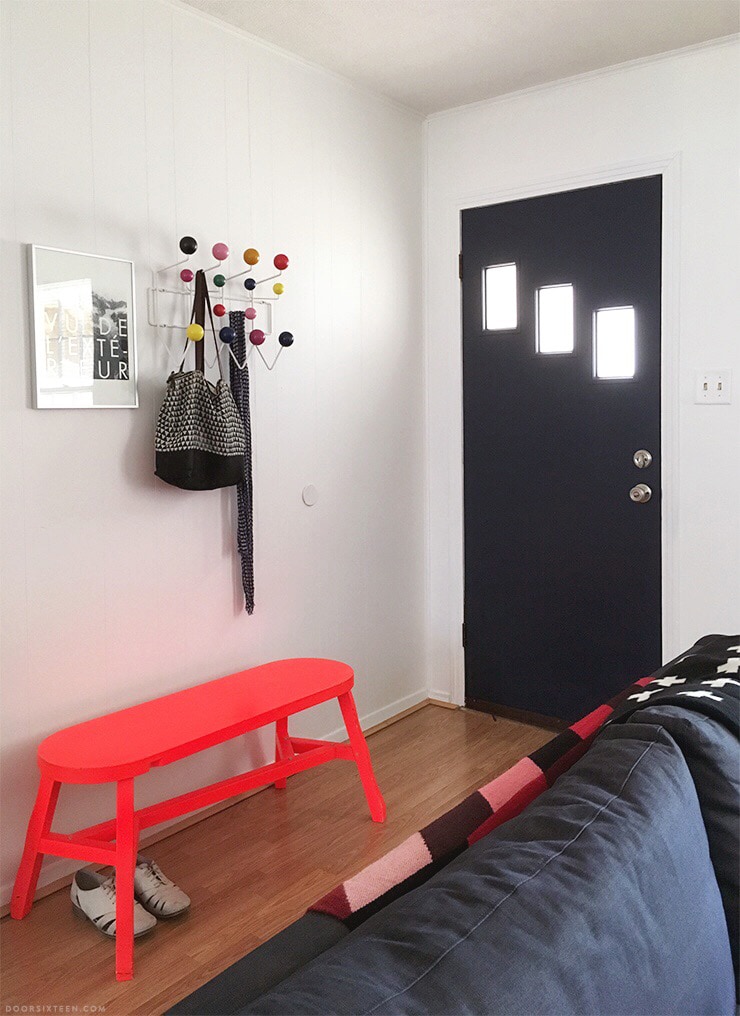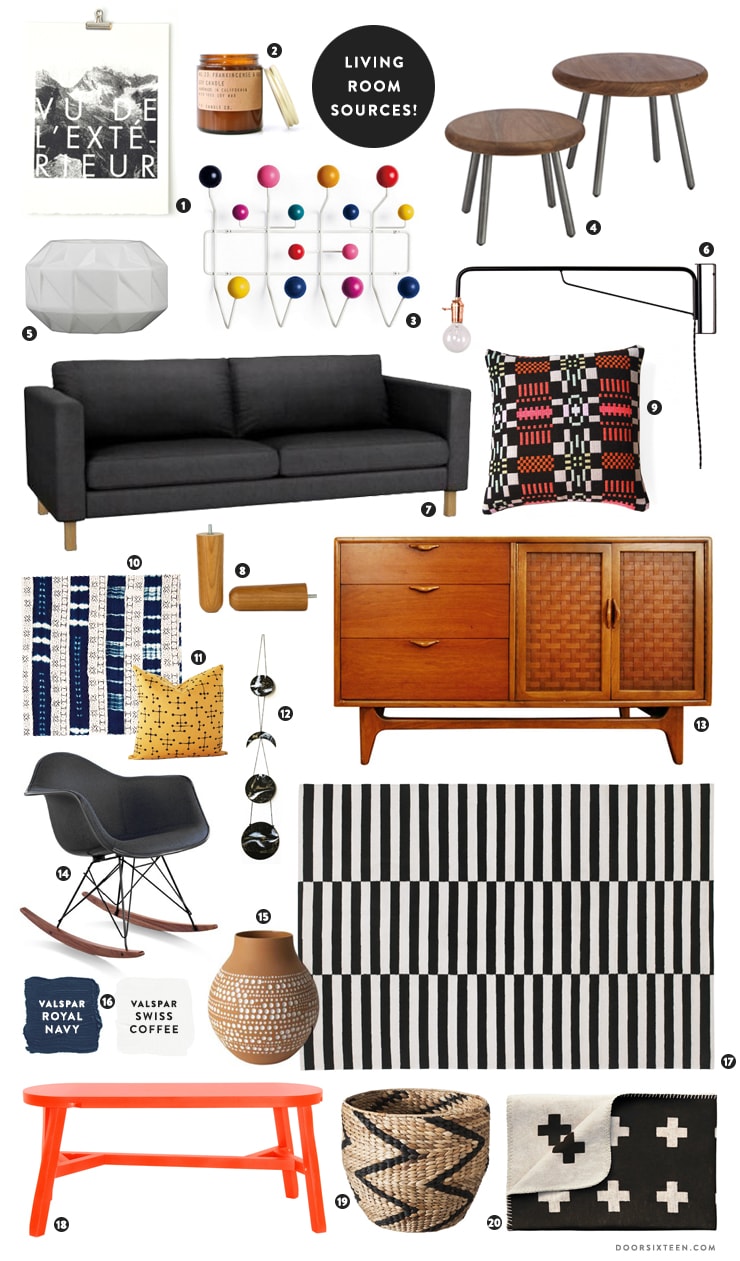 You want to know what I've been doing for the past month? WORKING ON THIS COLLAGE OF PRODUCT IMAGES. No. That's a lie. But it did take a long time. I like seeing everything together, though! It's satisfying, and it makes putting together a source list much easier.
1. vu de l'extérieur print, Fieldguided
2. Frankincense & Oud candle, P.F. Candle Co.
3. Eames Hang-It-All, DWR
4. Wafer Table set, CB2
5. Bennie planter & macramé plant holder, CB2
6. Otis lamp, onefortythree
7. Karlstad sofa, IKEA
8. Svea 150 sofa legs, Pretty Pegs
9. Nos Da cushion, Donna Wilson
10. Indigo mudcloth, vintage
11. Eames Small Dot cushion, Upstyle
12. Slow Drop wall hanging, JLB & Co.
13. Lane Perception credenza, vintage
14. Eames RAR, vintage
15. Hella Jongerius PS Jonsberg vase, IKEA
16. Swiss Coffee & Royal Navy paint, Valspar
17. Stockholm rug, IKEA
18. Offcut bench, Tom Dixon
19. Nate Berkus storage basket, Target
20. Cross blanket, Pia Wallén