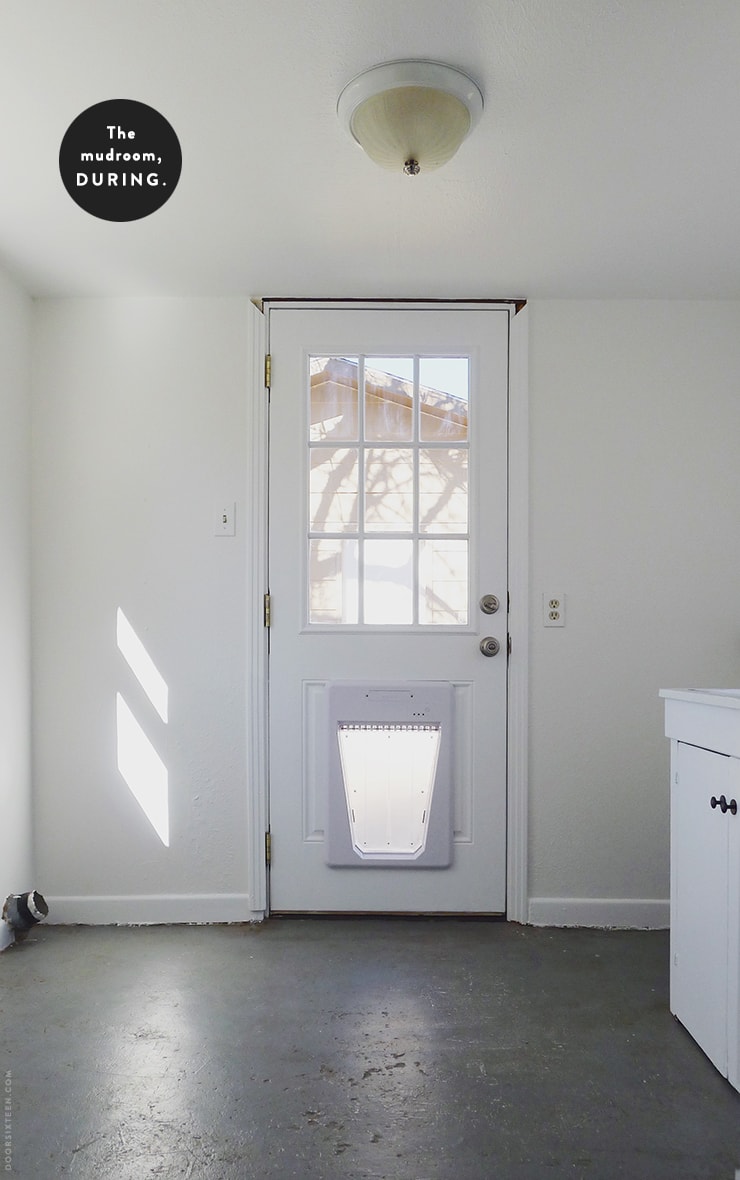 It's been more than TWO MONTHS since I posted my plans for giving the mudroom in my new rental house a makeover, and I am only just now (well, last week) getting started on the project. I had really hoped to get moving on it sooner, but here's the thing about being newly self-employed: I'm so nervous that if I slow down at all with taking on whatever book cover design work I can get, then I'll some how slip off the axis of income and never get another job again. I guess I should save that topic for another post, but it's all tied together. You know? So I waited until I felt confident using some free time to work on the house.
I went to Lowe's a couple of weeks ago and bought the essentials: TSP substitute, a big bucket, sponges, sandpaper, caulk, a new caulk gun (I left my old caulk gun behind in New York—it seemed silly at the time to pack something that costs $6, but now it seems silly to spend $6 on something I could have taken with me), primer, paint, brushes, rollers, trays and a putty knife (see: caulk gun). They don't carry Ready-Patch—my spackling/patching compound of choice—at the Clovis Lowe's (quelle horreur!), so I need to cross my fingers and look for it at the Ace Hardware stores in Portales. I really do not want to start mail ordering Ready-Patch. Ordering shipments of fresh bagels from New York is one thing, but getting quarts of spackle in the mail seems over the top somehow. In the mean time, I'm settling for some sort of wood patch in a tube that's totally fine…I guess.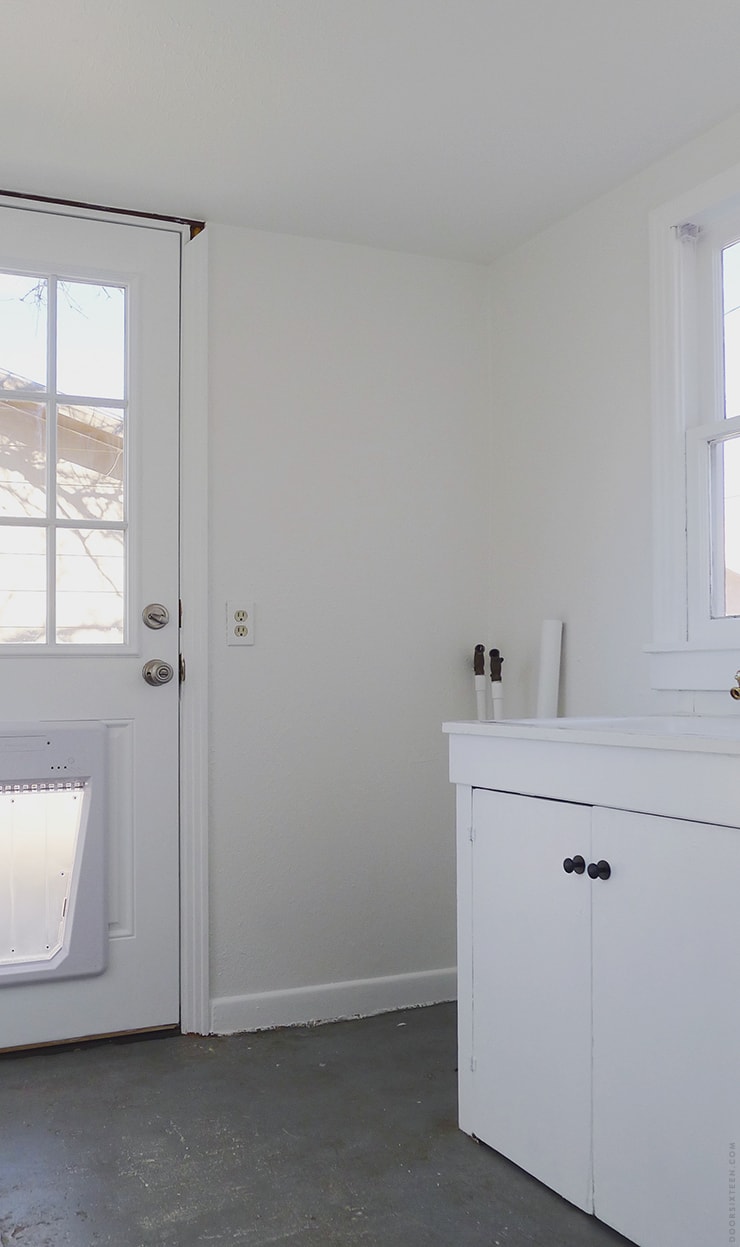 I spent about three hours scrubbing down everything—including the ceiling—with hot water and TSP substitute. Good grief, those walls were filthy. I patched all of the holes in the walls and window casings (SO MANY holes in the casings! Doesn't anyone ever fill them in when they take down old curtain/blind hardware?!), caulked every gap in sight, and got to painting. I'm using Valspar Reserve, which technically doesn't require primer, but because the all of the walls in this house are glossy, I think it's best to take the time to prime. My favorite primer is still good old Zinsser Bulls Eye 1-2-3. It ain't cheap, but it really gets the job done.
You'll notice that there's a different exterior door now, as well as a doggy door! The doggy door isn't for Fritz—it's for my housemate's dog, since she likes to go in and out of the backyard as she pleases. We didn't want to cut into the homeowner's door, so I found a used standard-size door for $40 (!!), and swapped it in.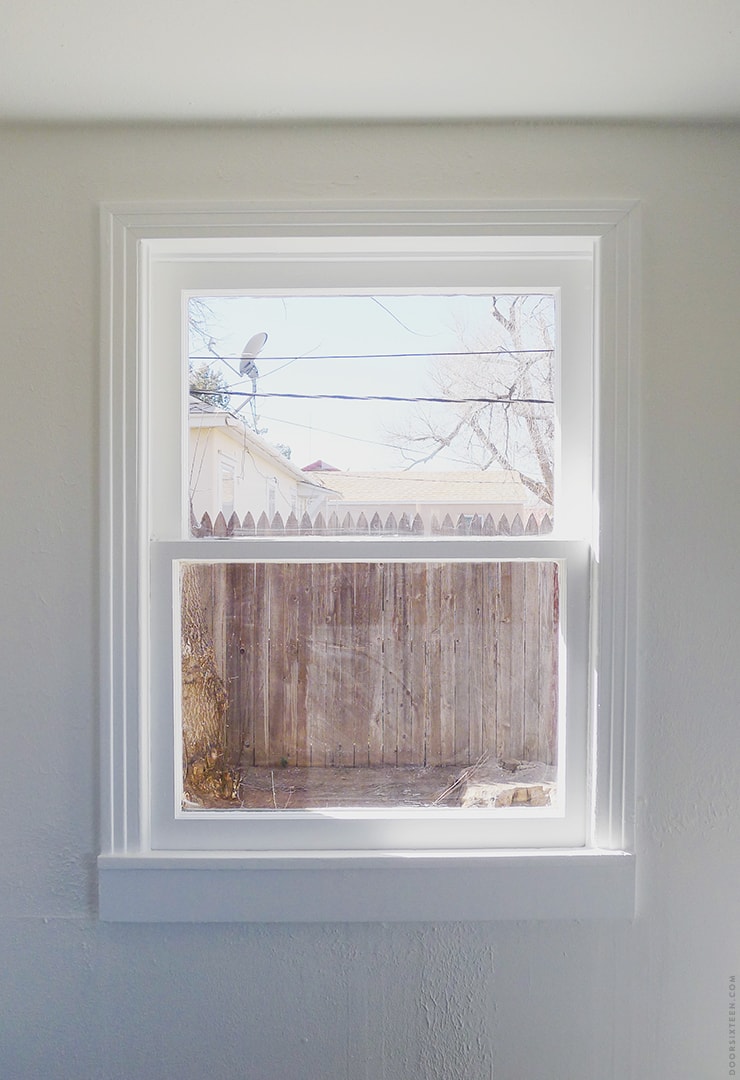 Ahhhhhh. It's so nice to see wood windows cleaned up and freshly painted! I still need to scrape off some old paint that's on the outside of the windows, but aside from that, they're looking good.
After a lot of deliberation, I decided to paint the walls/ceiling Valspar Swiss Coffee, and the trim Valspar Ultra White. Swiss Coffee is a very "gentle" white—it's soft, easy on the eyes, and it pairs nicely with other whites. All of the walls in this house are either textured or paneled. A soft white like this in a flat finish is going to make both of those surfaces look so much less sad! The trim paint is satin finish, my personal preference.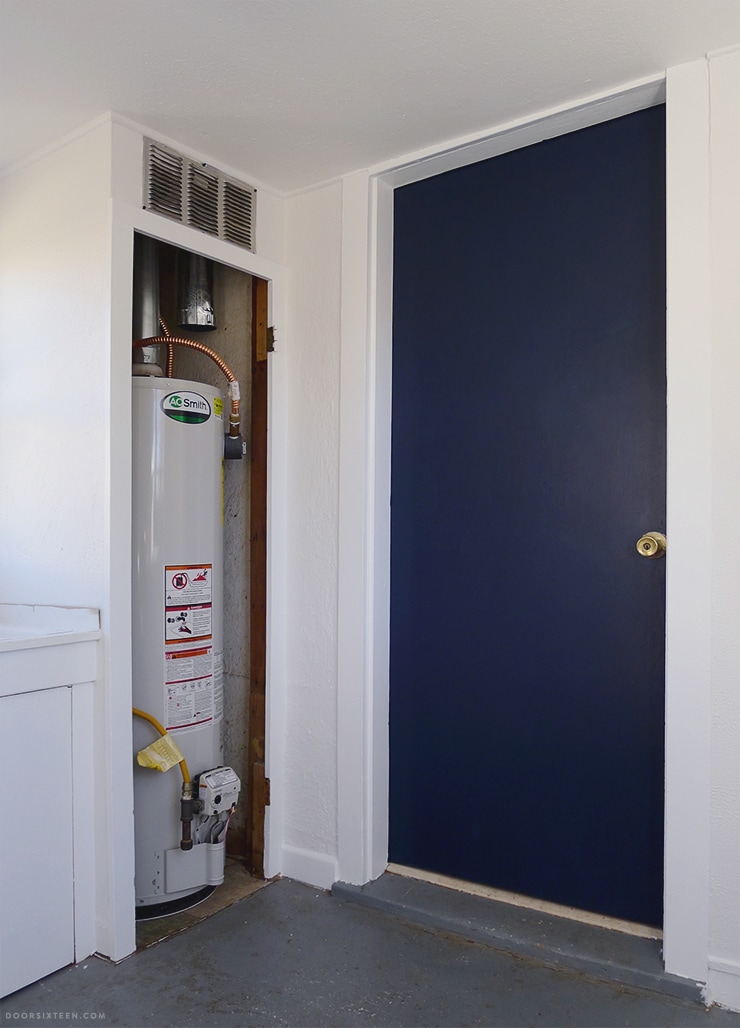 Ooooooh. DOOR DOOR DOOR!!! I mentioned in my previous post that this door (which leads to the kitchen) was really badly gouged and stained, so it needed to be painted. I initially painted it white, but it just looked so…I dunno, so white. I love white, don't get me wrong, but when you're not working with pristine spaces, you kind of need to break it up a bit here and there so you have a distraction from the flaws. I chose a really deep blue, Valspar Royal Navy. Usually the word "navy" makes me want to curl up in a pile of sensible suits and pantyhose and die, but this? This is a really good blue. DOOR!!! Compare this to the before photo—holy mackerel, what a difference. Paint! Amazing!
Oh! I found the vented door that used to hide the hot water heater in the garage. I'm sure it was taken down when a new heater was put in, because the current one is juuuuust a little bit too deep for the door to close properly. I think the thing to do is just build out the frame a little bit and reattach the door.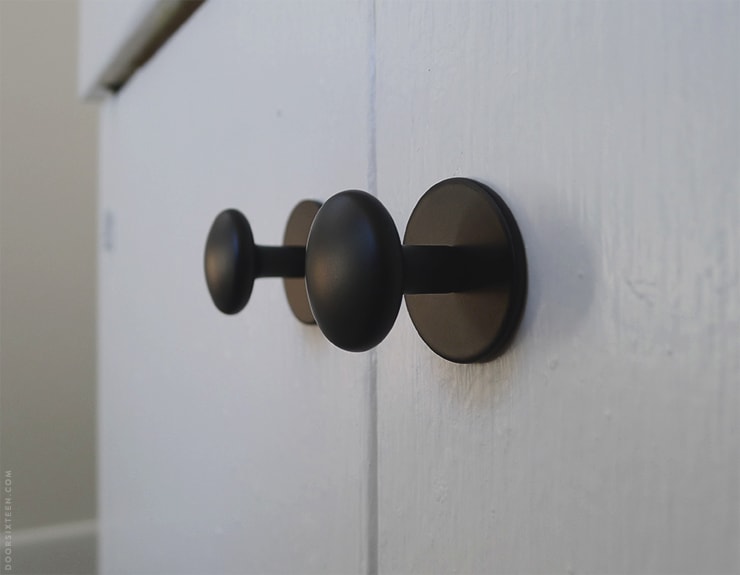 I attempted to remove the paint from the existing cabinet handles, but what was underneath wasn't cute—dingy aluminum, not worth saving. I patched up the bottom holes, and replaced the handles with these cute ULVSBO knobs from IKEA. I think these are the best knobs I've seen at IKEA since the late, great SNODD (which I used in my Washington Heights apartment—gosh, what a cute kitchen that was). I picked up a bunch of them when I was in New York during Christmas, just in case I need them for another project. Three bucks for a two-pack!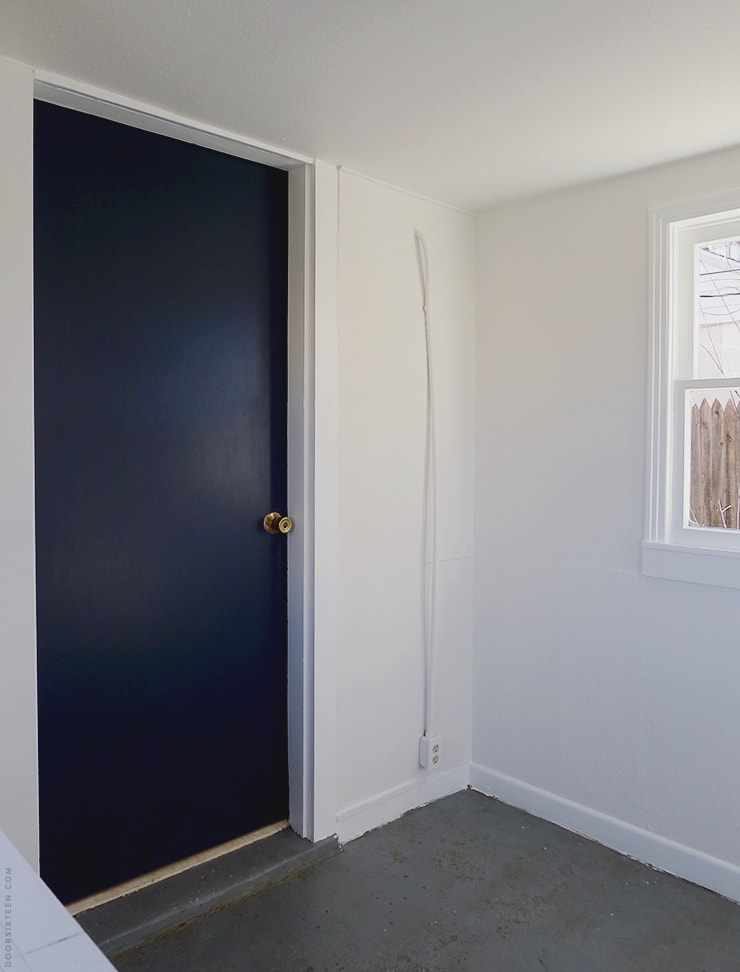 Well, I guess this house is starting to look like every other Anna/Door Sixteen house! Haha! I'm such a one-trick pony, I know. But it's a good trick, and I like ponies.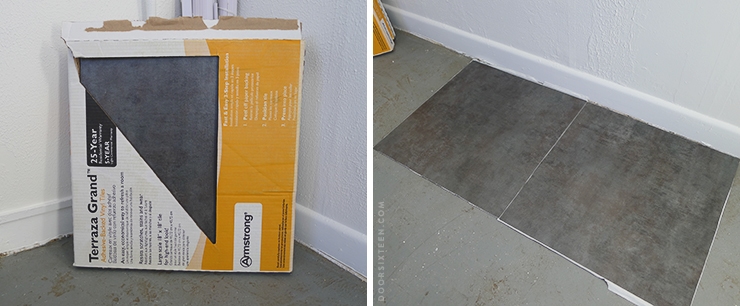 Up next, the floor!! Yes, I wound up buying those "stained concrete"-effect vinyl tiles I mentioned. They're going to look great, I swear! Once I saw them in person, I knew they were the right choice. Also, $40 for the whole floor? Sounds good to me! I am going to have to do some patching to smooth out the concrete, but once that's done the whole thing should go down pretty quickly.
And then…it's WASHER AND DRYER TIME!!!!!!!!