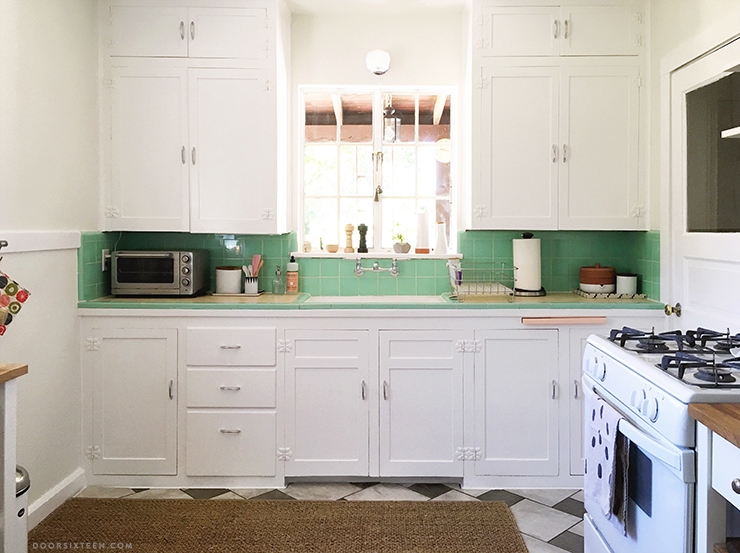 You know that feeling when you're looking for a new place to live, and you see something—even the smallest feature—in a house or apartment that just screams out, Hello! It's me. I've been waiting for you! and you just know it's the right home for you? That's the feeling I got when I walked into the kitchen in what is now my new house in Albuquerque and saw that green tile, intact and going strong since 1939. Almost exactly a year ago, I wrote a post about mint green bathrooms, and now here was a kitchen that struck exactly the same chord in me. Nobody else could have that house, because the kitchen was clearly mine.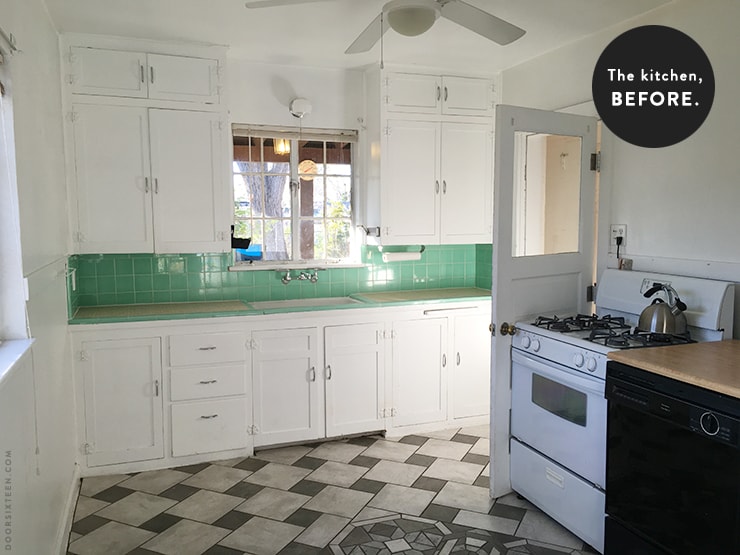 So yeah, the kitchen was cute as hell from the get-go, but there were definitely some issues that needed to be addressed. The floor tile is totally wrong for this sweet vintage kitchen, for starters. Someone definitely spent a long time cutting and installing these tiles and they're in good shape, but they completely overwhelm the room. Since I don't own the house and replacing the floor isn't an option, covering it up as much as possible was my game plan. The other thing that was immediately apparent was that despite the kitchen being a good size, there was precious little counter space—just a couple of feet on either side of the sink—and not enough room for storage.
In choosing IKEA products for the kitchen, my main goal was making sure that everything would complement the form of the original vintage elements of the kitchen without sacrificing the functionality needed in a room that is by its nature largely utilitarian.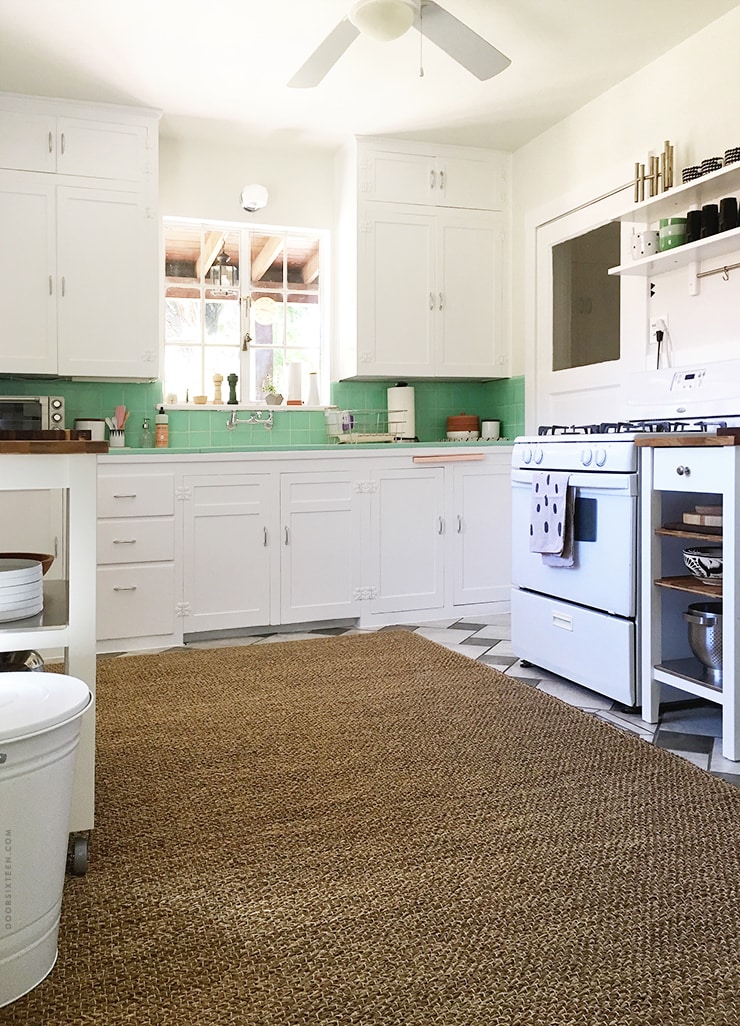 First up, the floor. I needed a rug big enough to reach nearly wall-to-wall that I could keep clean without a lot of fuss. The SINNERLIG rug is made from seagrass, which I've always found very easy to vacuum regularly and spot-clean as needed. It's also reversible, so if it starts to look cruddy in time, I can flip it and double the wear. Putting the rug down immediately softened the whole vibe of the kitchen. Yes, you can still see some of the floor tile near the back door and around the appliances, but it's not screaming at me anymore. Plus, the seagrass feels really nice underfoot.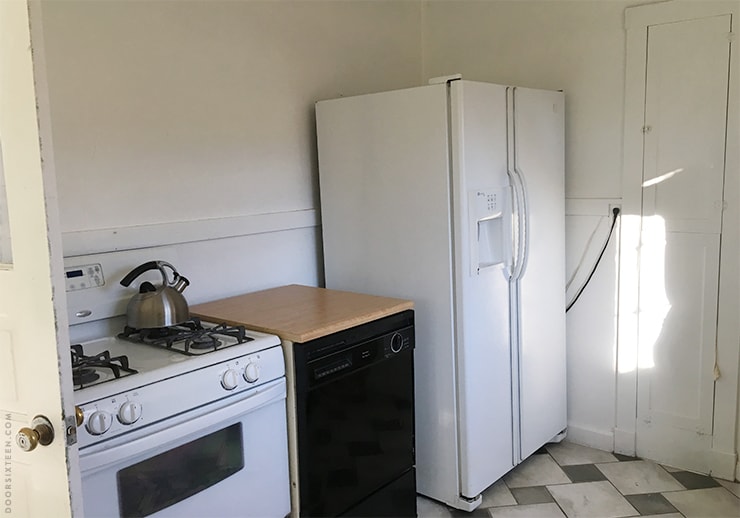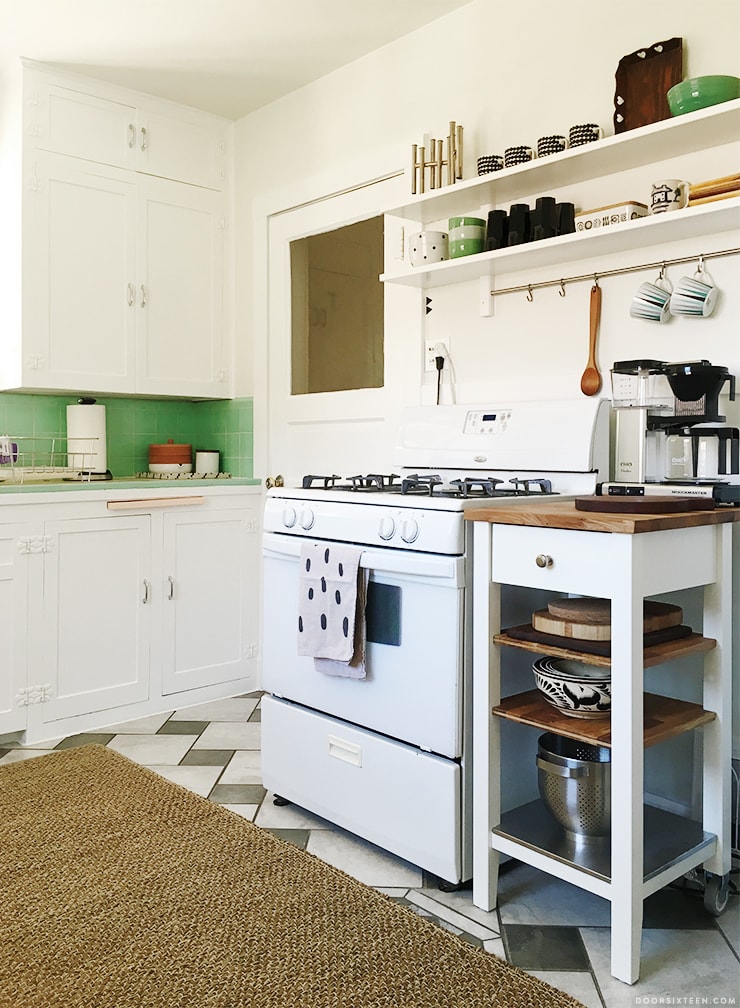 There used to be a dishwasher next to the stove. This may sound crazy, but I asked my landlord to remove it before I moved in. It was one of those portable models that you have to roll over to the sink to connect the water line and drain every time you use it, and that's way too much work for me just to wash some dishes. I actually like washing dishes (well, usually). So the dishwasher went away, and a little STENSTORP cart took its place. I gained space for my coffee maker (which doesn't fit under upper cabinets in this smaller-than-contemporary-standards vintage kitchen), a prep counter, a drawer for dishtowels and three storage shelves!
I added shelving above the stove, too. This VARDE unit is, happily, exactly the right size to span the width of the stove and the cart. There's no wasted wall space now, which pleases me greatly. Putting my favorite dishes on display means that I can now used the closed cabinets for food, mismatched mugs and other things I don't want to look at all the time. I'm a big fan of open shelving in kitchens—it forces you to be extra-tidy.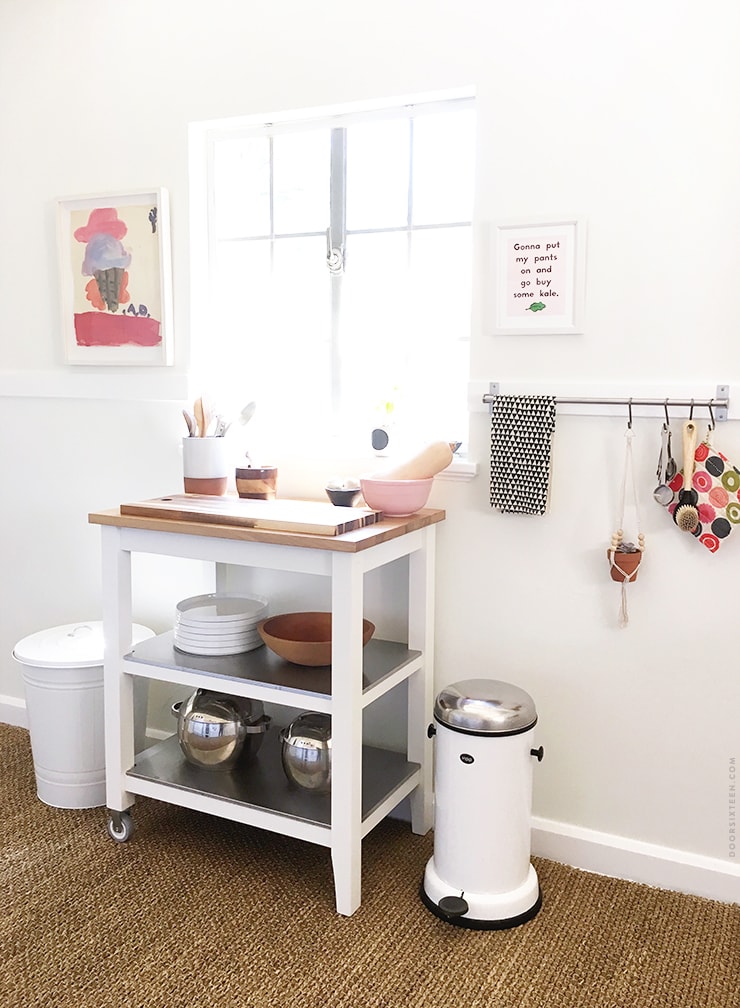 The long, empty wall on the left side of the kitchen was the perfect spot for the larger STENSTORP cart. This is where I do most of my heavy-duty chopping and mixing when I'm cooking. STENSTORP has been a favorite of mine since I put the kitchen island in my Brooklyn apartment last year. Funny—back then, I was worried about the design of its legs being too old-fashioned for my contemporary kitchen, but in this house, it's a piece that makes the room feel more modern. It really can work anywhere, apparently! Quite the chameleon.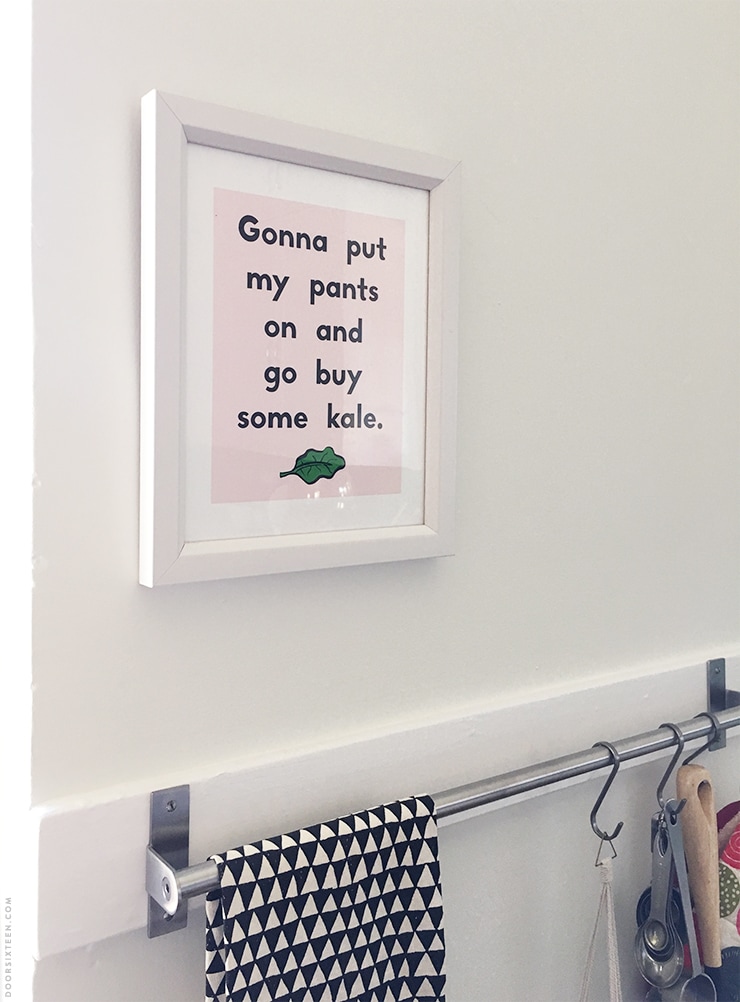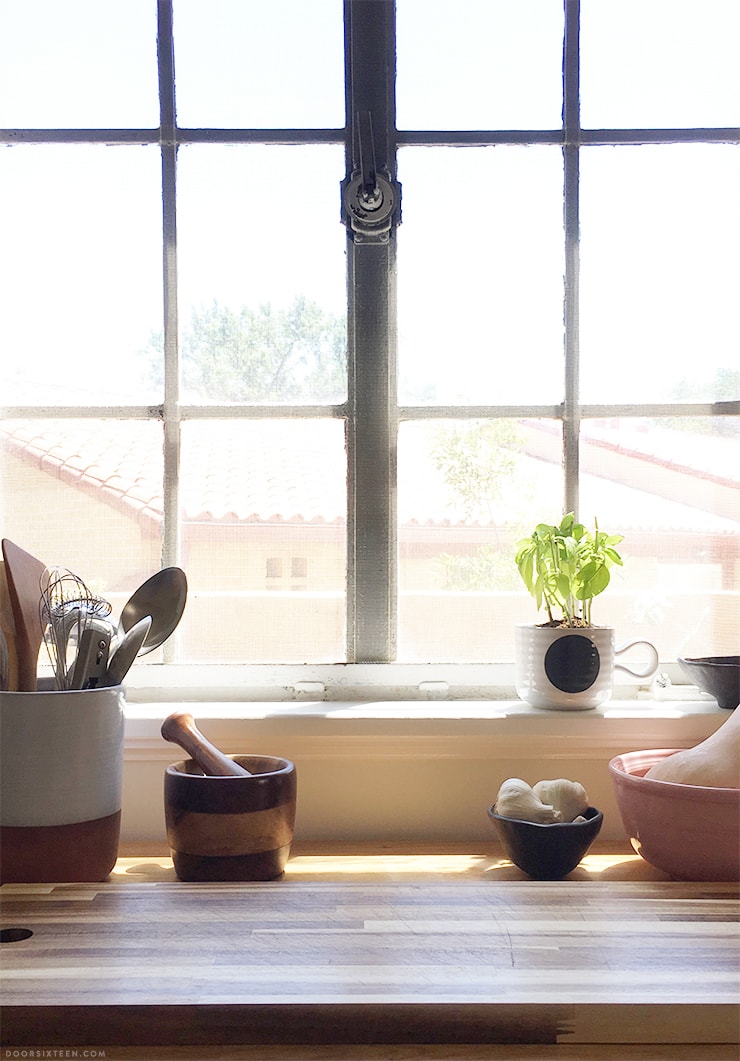 While I definitely could chop directly on the top of the STENSTORP carts since they're solid oak, I choose to use separate boards instead for the ease of transporting ingredients from the sink and to the stove. The SKOGSTA chopping board is nice and thick and over 2 feet long (!!!), but since it's only about 10 inches deep, it's easy to pick up and maneuver over pots and pans.
Another old favorite of mine that I'm happy to be putting to use again in this house is the KNODD bin. KNODD is an IKEA classic! Years ago—at least a decade—I used one for storing ferret litter. Alas, today I have no ferrets, but KNODD also works really well as a recycling bin. I like that it has a subtly vintage look without being too cutesy. It's just right.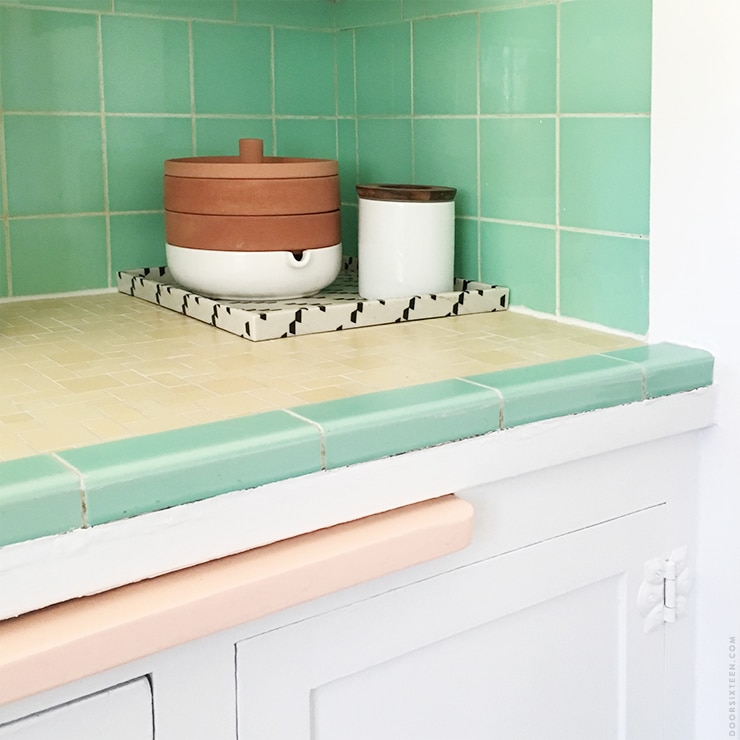 And finally, I'd like to take a moment to mention my ANVÄNDBAR sprouter. The latent food hippie in me has been wanting to, you know, sprout stuff lately, and I figured I'm more likely to do it if I have a cute, designated vessel for doing it in. If you haven't seen it yet, the whole ANVÄNDBAR collection is adorable—and designed with kitchen economics and sustainability in mind. The combination of porcelain and terracotta is right up my alley, so I went for the sprouter.
Friends, I failed in my first attempt at sprouting. I failed miserably. I decided to try for sprouted red lentils, because I love red lentils and I thought I'd make hummus with them and put them in salads and be all healthy, but instead of sprouting lentils, I got something which was headed toward being lentil moonshine. Fermented lentils were not what I had in mind. I suspect that the culprit here is it being summer in New Mexico, and my sprouter just got too hot sitting near a sunny window. I've since moved it under the cabinets, away from sunlight, and I'm going to try again—this time with chickpeas. I'll let you know how it goes!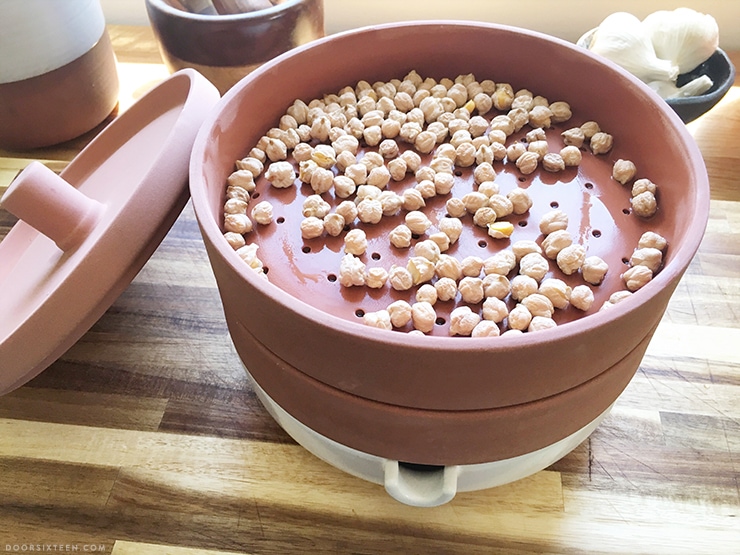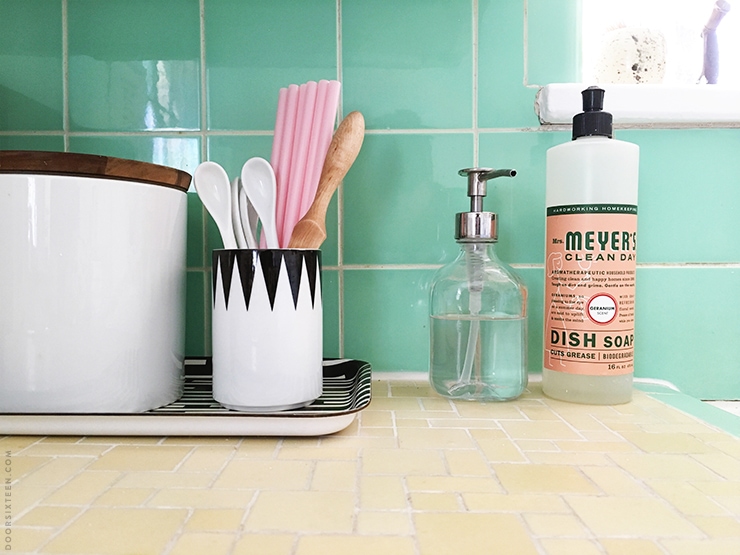 I am a Brand Ambassadör for IKEA U.S. This is a sponsored post.
IKEA is a registered trademark of Inter IKEA Systems B.V. and is used with permission. The views, ideas and opinions expressed here are my own.