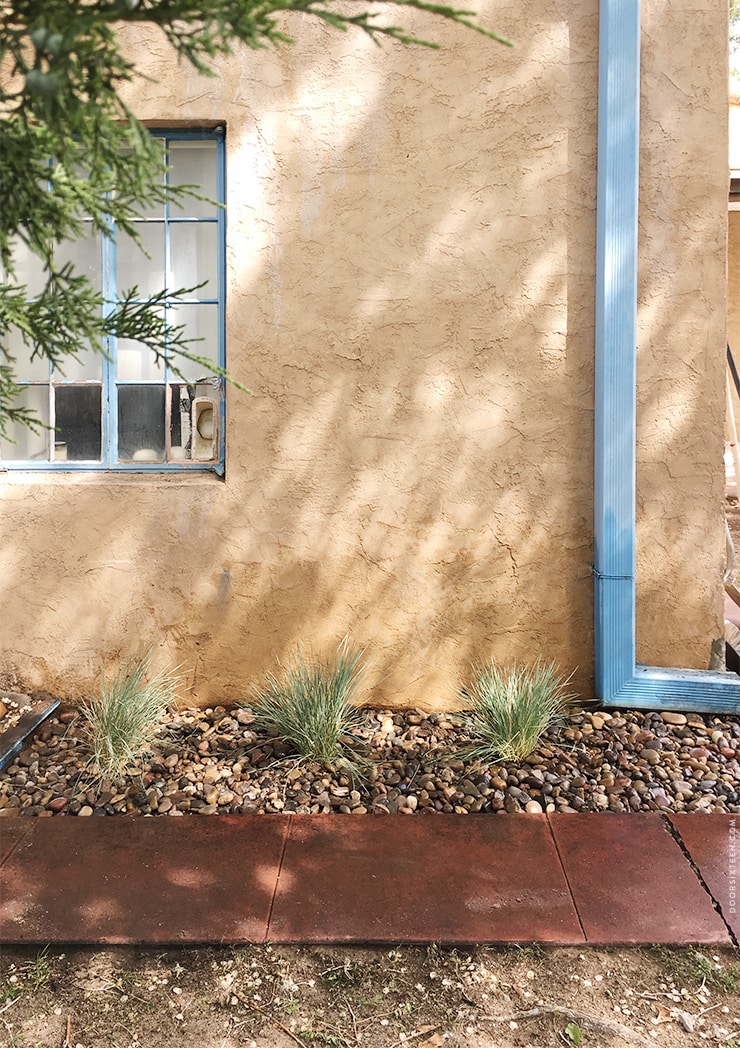 I can't believe it's already Friday! This has been a weird week. I had a TON of work to do on Monday and Tuesday, and then suddenly I had six different book covers out waiting for feedback all at once. This pretty much never happens, because I work on simultaneous projects for different publishers at the same time, and there's always something that needs to be worked on. Not this week, though! Wednesday, Thursday, and now Friday have been unexpected days off from work, and it's kind of thrown my usual weekly schedule into a bit of a (pleasant) tailspin.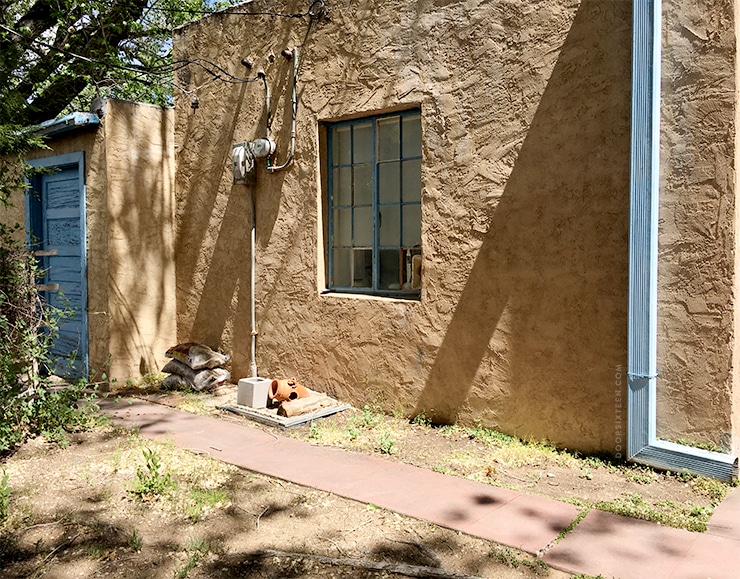 The weather on Wednesday and Thursday was pretty perfect (mid-60s, sunny), so I decided to try and start tackling the dirthole-with-potential that is my garden. While, of course, resisting sending out any "just checking in to see what the status is on this book cover" emails.
I was planning to take some photos of the whole garden this morning to give a sense of the layout, but today it's raining and 35ºF (desert weather is so weird), so I'll just focus on the part that I've been working on—this unattractive little strip of dirt and weeds under my bedroom window. Because the garden is mostly dirt right now, wet days are very muddy and dry days are very gritty and unpleasant, especially when it's windy. If I had a bunch of money and I owned the house it would be great to go full-on gorgeous xeriscape like many of my neighbors have, but with a tiny budget and someone else's property, I'm happy with cute and cheap and easy.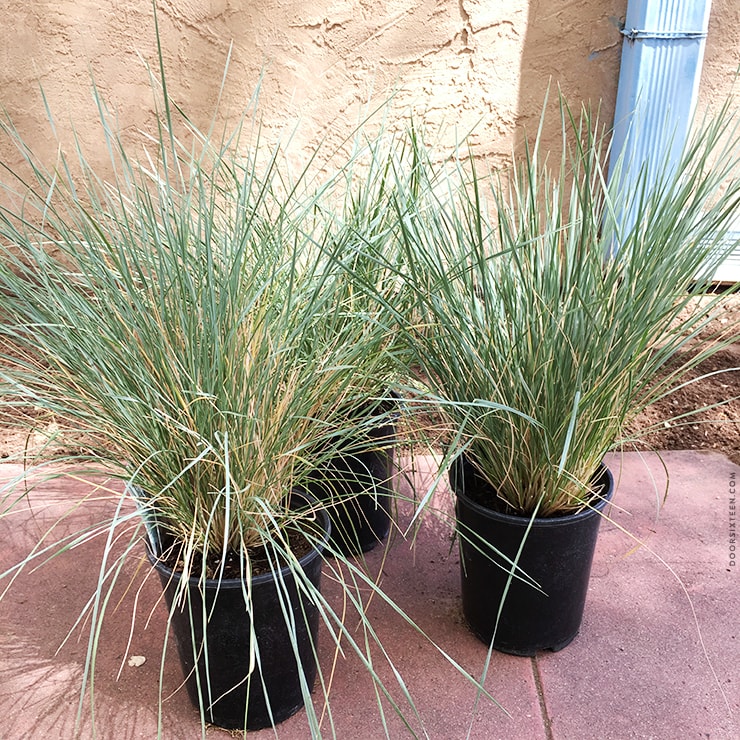 After looking at numerous types of decorative grasses, I settled on Sapphire Fountain, a blue oat grass that looks a lot like blue fescue, only bigger. My photos aren't really capturing the blue tones, but it's very pretty. These little guys were only about $8 each, and they should at least double in size—so it's a minimal investment for what should eventually fill out this space nicely.
I also picked up three bags of pond rocks. I kind of prefer the look of pea gravel, but I was concerned about it getting kicked/blown out of the bed too easily, or that it would sink into the earth too much.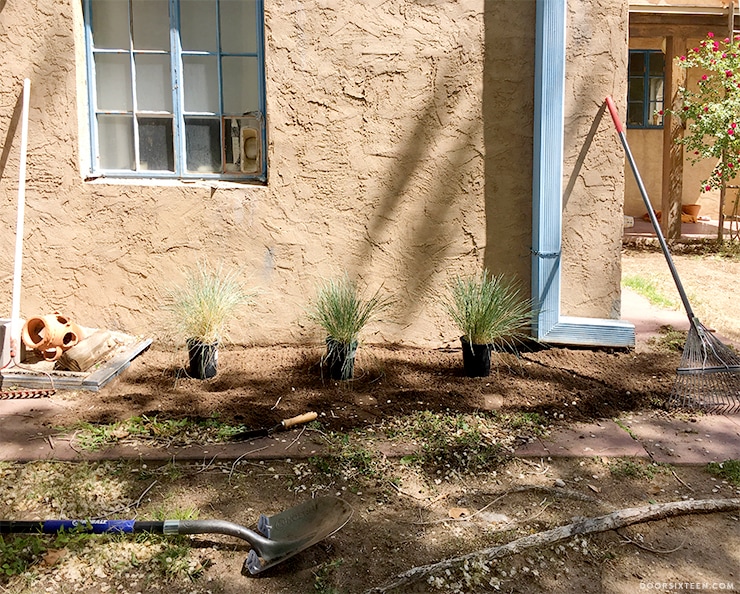 I dug up the weeds, turned over about 6″ of dirt (removing about 1″ to make room for rocks) while working in some compost, and raked the bed level. I had initially thought I'd put in five plants, but aside from being too cramped, I didn't want to hide the downspout, so I scaled back to three.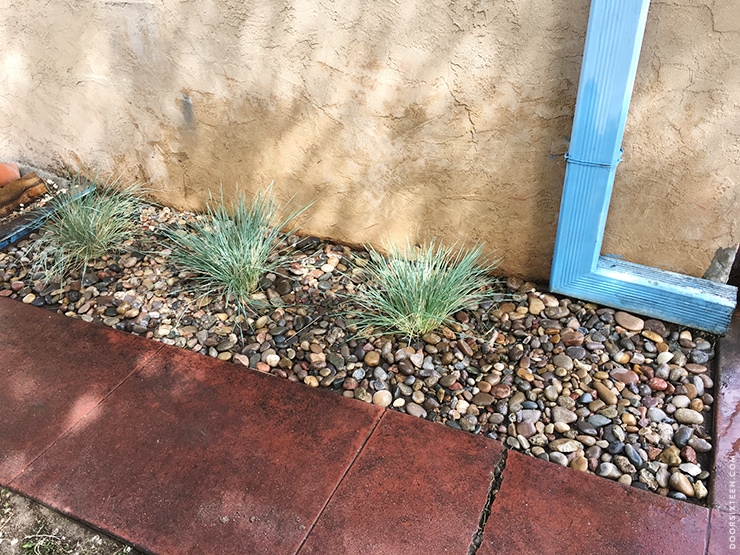 Yay! Plants in, rocks down! I think I need to add another bag of pond rocks for better coverage, but I'm really happy with how the colors look. I actually think the grayness of pea gravel might have looked too blah next to the warm tones of the house and the walkway, so thumbs up all around.
Also, it's raining today and there's no mud running all over the pavers, no I'm calling this both a functional and an aesthetic success.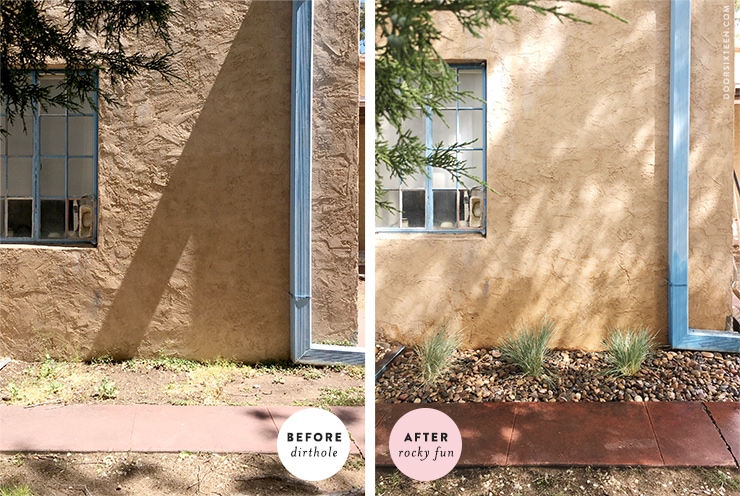 Not bad for a few hours of work and $35! I still have a bazillion projects to do in the garden to make it feel like an outdoor room (or at least not a sad dirthole), but it feels really good to have a made a little start. I was hoping to get out there again today to take some measurements and make plans, but the rain and cold are keeping me inside. With no work to do. On a Friday. I have no complaints.
Have a great weekend, friends!