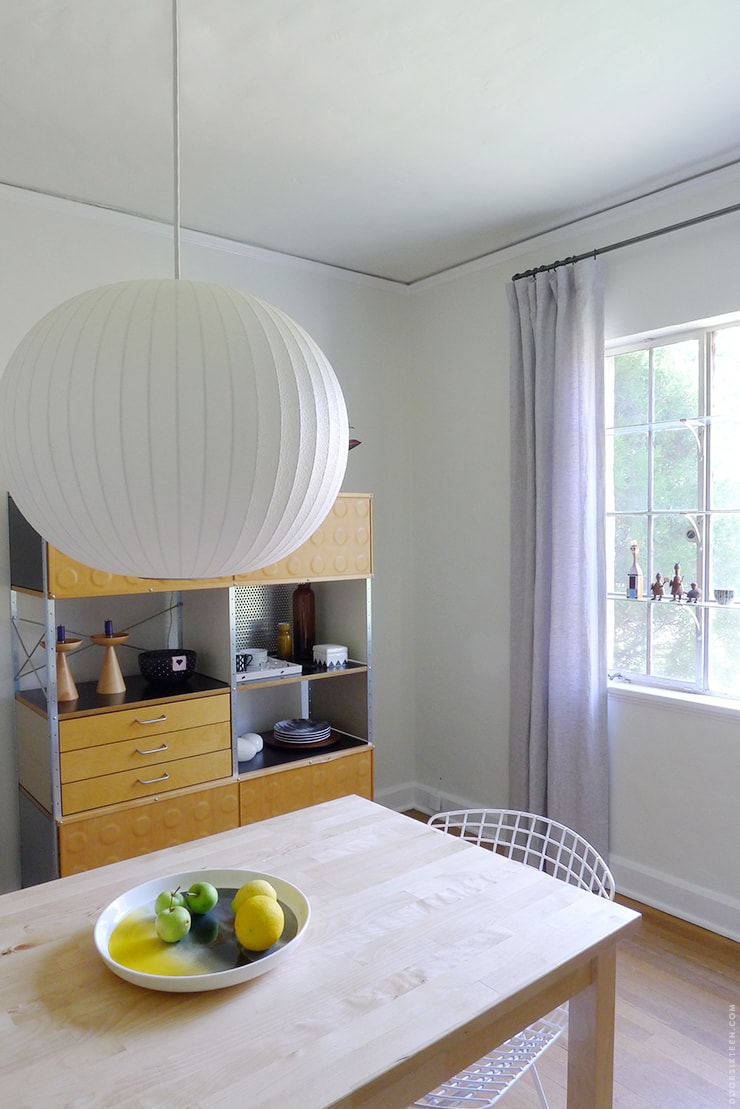 I've never considered myself a curtains type of person. The last time I attempted to like curtains was in 2007, and I hated them immediately. When I finally replaced them with roller shades, I felt deeply relieved and never looked back. This house, though…this house has me reconsidering curtains, particularly in the dining room, where the wide casement windows are fronted with beautiful (and original) glass shelves that protrude into the room by a couple of inches. Roller shades wouldn't work on this window of the shelves, so curtains feel like the right alternative.
OK, before I go any further, I need to get this off my chest: I have a really hard time using the words "draperies," "drapes" and "window treatments." Theses terms are right up there on my nope-list with "slacks," "water feature" and "purse." I feel like I'm 90 years old when I say "draperies." So can I just call them "curtains," please? Thank you. Moving along…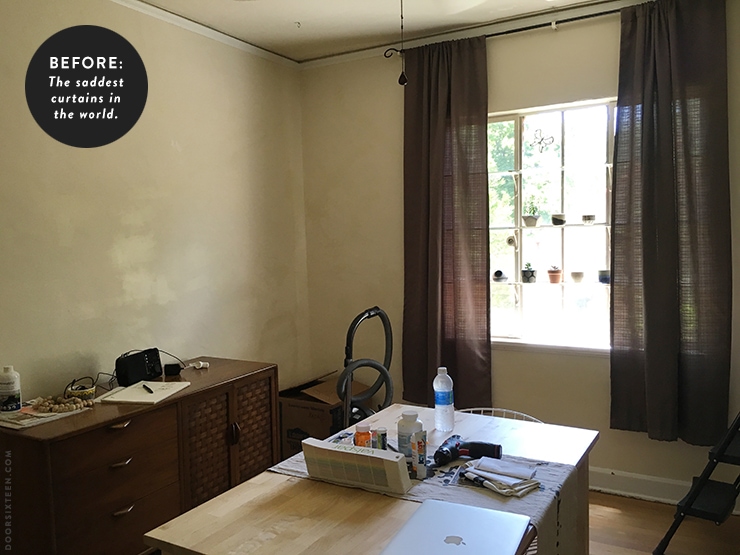 This is the situation I was dealing with when I first moved in to my new house. If there is anything sadder in the world than brown polyester curtains, I've never experienced it. If they were just brown or just polyester, that would be one thing (I guess), but brown and polyester? Why would anyone do that to their life? To make matters worse, the purchaser of said curtains hung them two inches from the ceiling and a foot and a half off the floor. Now, I don't know all the rules about hanging curtains correctly, but I am 100% sure this isn't the way to do it.
Right around the time I rented the house, I was contacted by Barn & Willow about trying their Belgian linen curtains in my house. The timing was perfect, so I agreed! I ordered a bunch of free fabric swatches, and knew pretty much immediately that I wanted to go with the Belgian flax linen in Mist Gray.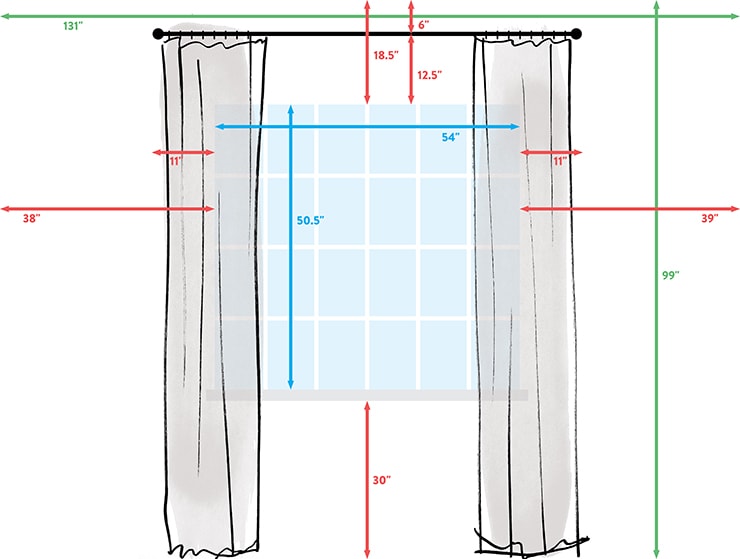 I mocked up an overly-elaborate plan for my future curtains, tweaking proportions and trying to figure out what was going to look right in the dining room. (Emily Henderson's blog post about hanging curtains all wrong was hugely helpful in figuring this out!) Once I felt confident that I had the right measurements, I plugged all of my info into Barn & Willow's customization tool and hoped for the best.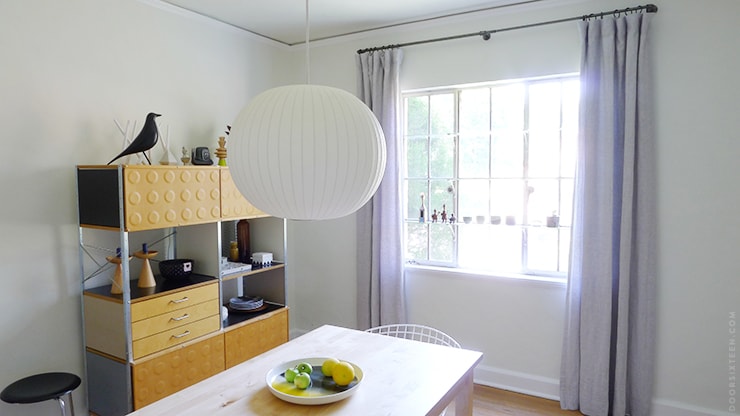 Oh my. That's quite an improvement, yes? I never thought I could love curtains, but I could not be happier with these. The fabric is really nice, and they're beautifully sewn. The hems are weighted so they hang neatly and without any bunching. I could not be more impressed with the craftsmanship. I honestly had no idea how nice curtains could be, and what a difference it makes having them custom-made for your window's individual specifications.
In the course of communicating with Barn & Willow about my plans, they sent me a photo of their Mist Gray curtains hanging in Victoria's house so I could see what they'd look like. I didn't realize it was Victoria's house until I did a reverse image search trying to figure out where the curtain hardware came from, though! Too funny. So of course I just went ahead and bought the same Industrial Pipe curtain rod from West Elm and bronze eyelet rings that she used, because if it's good enough for Victoria, it's good enough for me.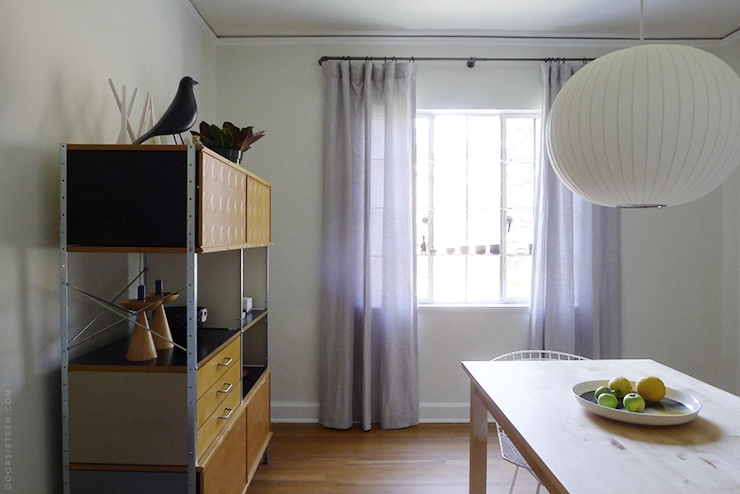 I'm shocked by how much I like them. I think the thing I've always disliked about curtains is the "wall of fabric" effect they can create when you have multiple windows in a row. Also, I think of them as being so much more formal than my usual style—too fussy? These feel so casual, airy and open to me, though. They're totally right in this space!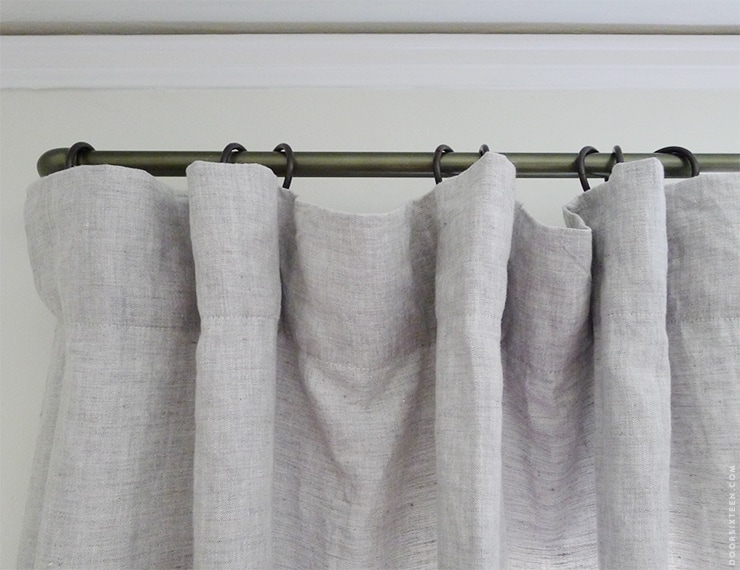 Part of what helps them look softer and more casual is my choice of a soft top rather than pleated. I can see why someone might want pleats, but for me, relaxed is the way to go. I was worried that I'd spend 15 minutes tweaking the position of the rings and folds every morning (cuz that's just how I do) when I opened the curtains, but that hasn't been the case—so maybe that soft top is making me feel more relaxed, too.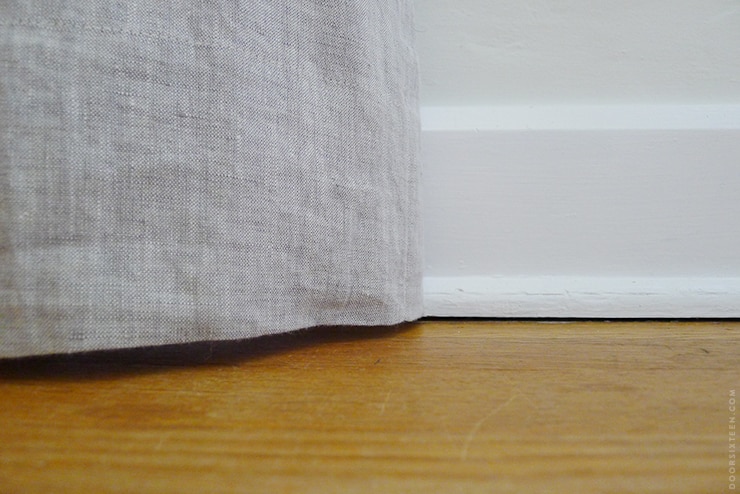 I kind of love the way puddled linen curtains look, but I sort of had this vision of Fritz trying to make a little bed at the bottom. Or of me sucking the curtains into the vacuum cleaner. So I went with a length that would have my curtains fall just above the floor. This made hanging the curtains a little trickier because I couldn't just level the curtain rod, I had to adjust it so the curtains would be level at the bottom. In the end, I wound up splitting the difference because the floor isn't quite level—so the curtain rod is 1/8″ off level, and the curtains are 1/8″ higher off the floor on one side than the other. You really, truly cannot tell.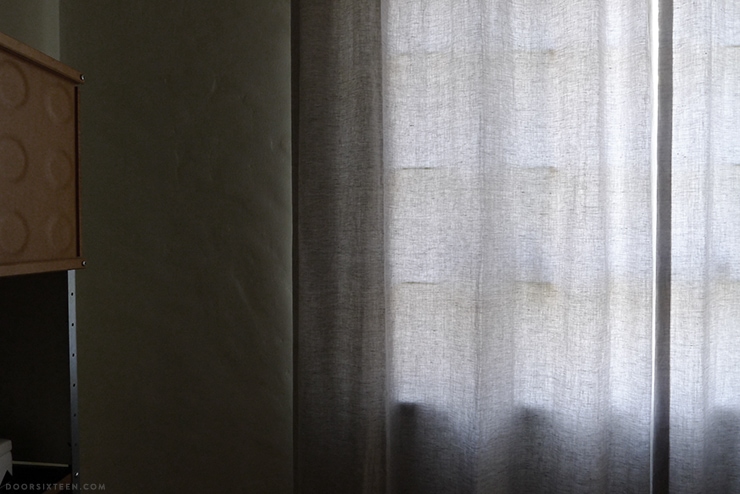 Barn & Willow's curtains are available with no lining, a privacy lining or with a blackout-level liner. Despite my tendency to want to cover windows with the sheerest materials possible, I opted for the privacy lining. This is the only window in my house that faces another house and it's also one of the only rooms where I regularly use overhead lighting, so a little privacy is needed in here. You can see in this photo what it looks like closed in full daylight—it's not totally dark, but it's definitely enough that you could use this level of lining in a bedroom and not be blinded by the sun coming up in the morning.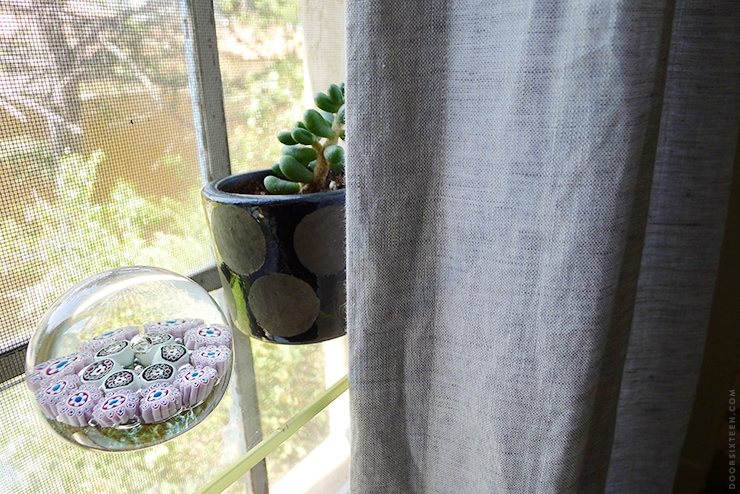 See how nice that Mist Gray linen is? It's so unlike me to choose an option that isn't white. I figured if I'm going to betray all of my biases against curtains, I might as well throw all caution to the wind and choose a wild color like…light gray. That's the Anna of 2016, folks! So unpredictable. So edgy.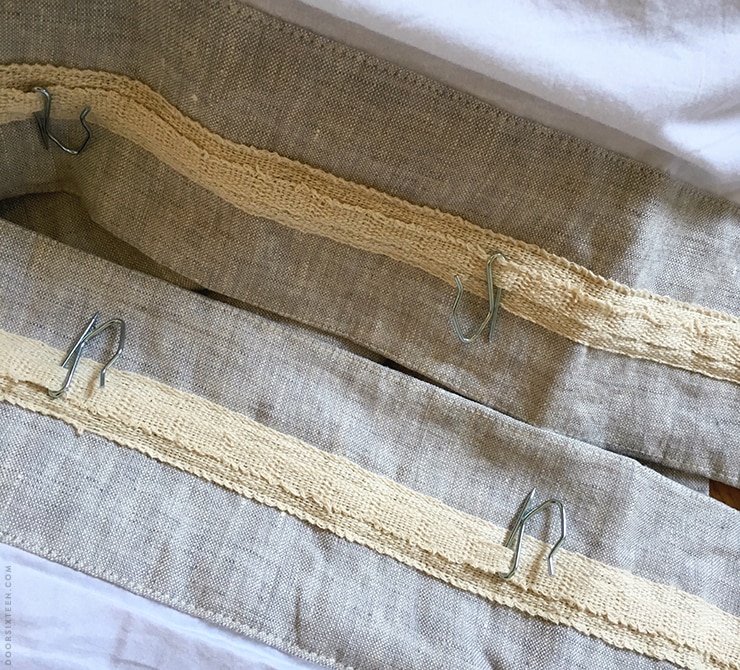 OH!!! I almost forgot! Check this out—DRAPERY PINS. I had no idea what these were until faced with the task of attaching my rings to my curtains. Fortunately the pins were packed in my box from Barn & Willow, because otherwise I probably would have been sewing the rings on like a dummy. Where do people learn about things like drapery pins, anyway? Does my mother not know about them, either? I feel like I've never encountered them before in my life, but apparently they're a thing everyone knows about. Also, I just used the word "drapery" a whole bunch of times.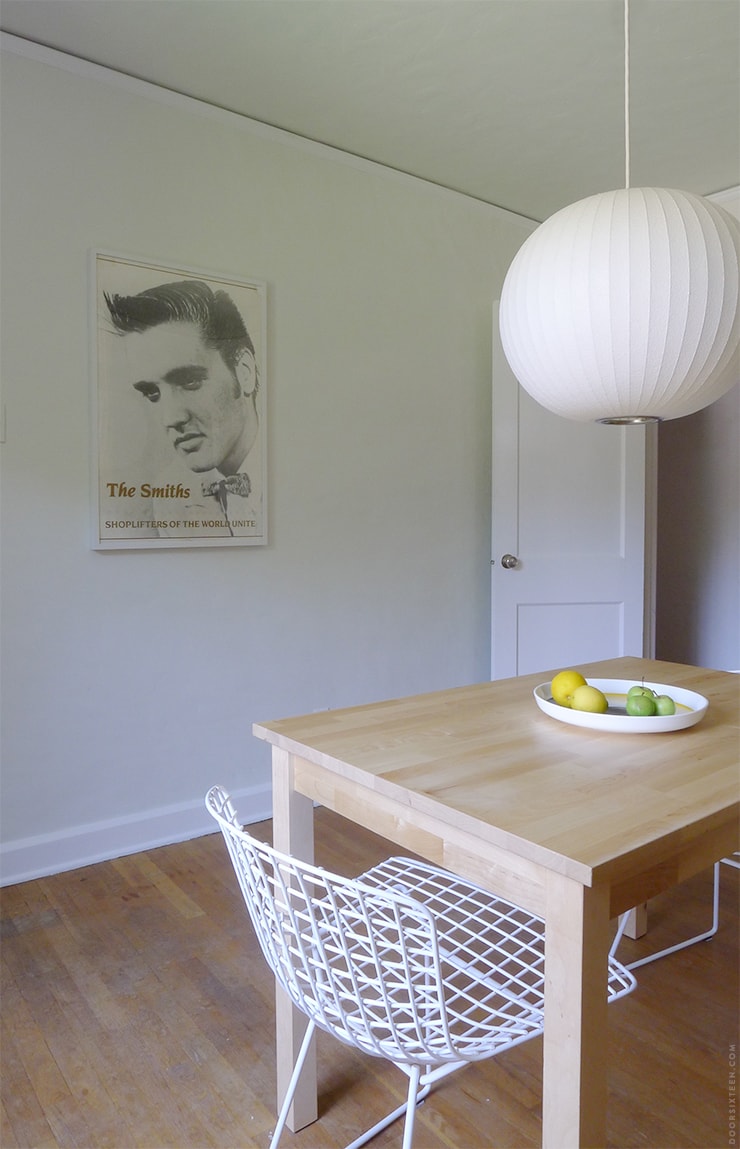 While I'm at it, here's a little sneak peek at the other side of my dining room! I'll show more of this room soon, but in the mean time, I'll leave you with the queen of draperies—Nadine Hurley. May she and her silent drape runners someday find the happiness they deserve.
Barn & Willow provided me with draperies in exchange for this post. All opinions, thoughts, ideas, experiences and photographs presented here are my own.