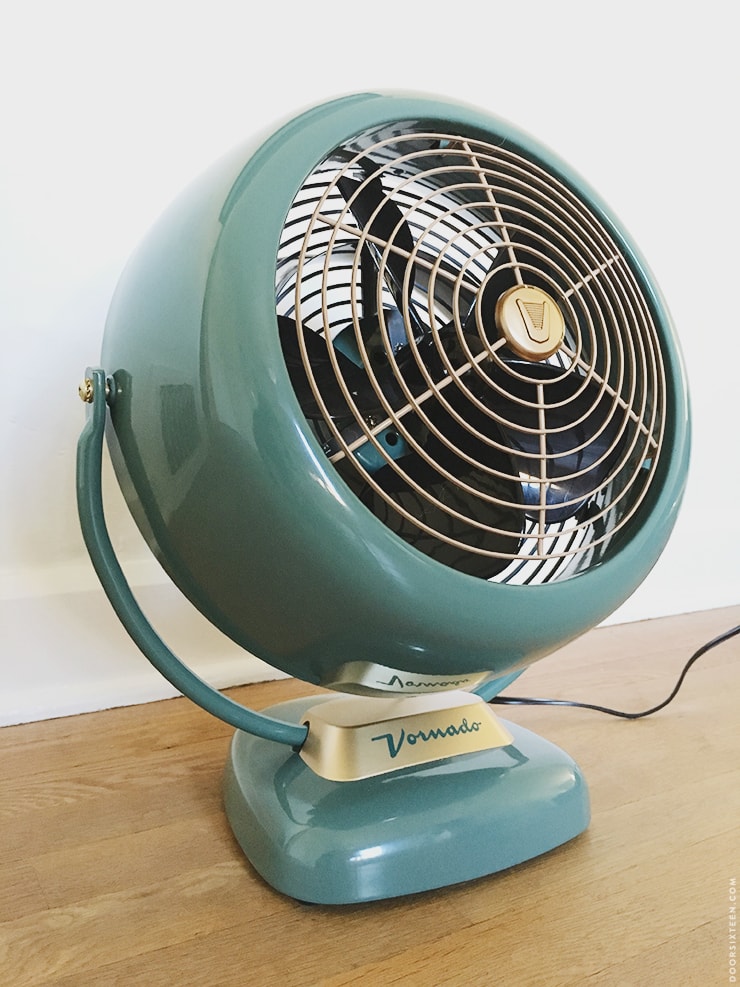 This is my new fan. It's a Vornado VFAN, and I love it so much. I kind of can't believe I laid out $150 for a fan, but I have no regrets. For about a week, I did that thing where I'd add it to my cart at Amazon, click through to the checkout page, and then close my browser. Finally, late one night, I just went for it. Two days later, this baby was on my doorstep in a ridiculously huge box the size of a small refrigerator (why does Amazon use such massive boxes??). I brought it inside, unpacked it, and caressed it gently. My fan.
I've owned Vornado fans—excuse me, air circulators—and space heaters before, and they're functionally excellent and well-made. As far as plastic fans go, they look OK…but they're nothing that's going to knock your socks off visually.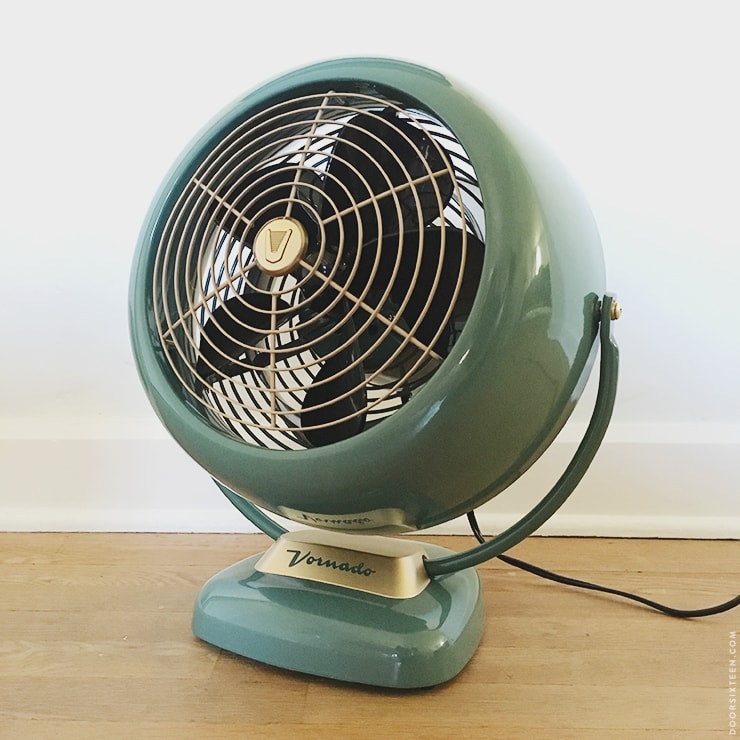 I tend to be pretty wary of fake-vintage (a.k.a. "fauxld") stuff, since it can look kind of cheesy in that "I want my basement man cave to look like a 1950s diner"/HGTV kind of way, but I think Vornado really hit the mark here. You can see how close this is to the authentic original vintage Vornado fan it's based on (there are a bunch of vintage Vornados on Etsy and eBay, if you want to go that route)—it's a really, really well-done reproduction.
The most noticeable change from the original is the additional grille bars. This is a good thing if you're concerned about getting stuff (curtains, chihuahua tails, etc.) stuck in the blades. Speaking of blades, there are now five of them instead of three—and they're made out of plastic instead of Bakelite. Instead of a single-speed toggle switch on the front, there's a three-speed control dial on the back. Other than that, though, it's remarkably faithful to the original. The body is made entirely of heavyweight metal—the largest size weighs 12 pounds. Hefty! The operation is very smooth, and the lowest speed is really quiet. You can hear it on the higher speeds, but it's the kind of steady sound that just fades into the background as white noise. No squeaking, no rattling, no excessive vibration.
I am really pleased with the color, too! I was expecting it to be a little more green based on the product photos, but in real-life it's actually a soft greenish-gray with just a touch of blue. I'm happy that it's more muted than I thought it would be.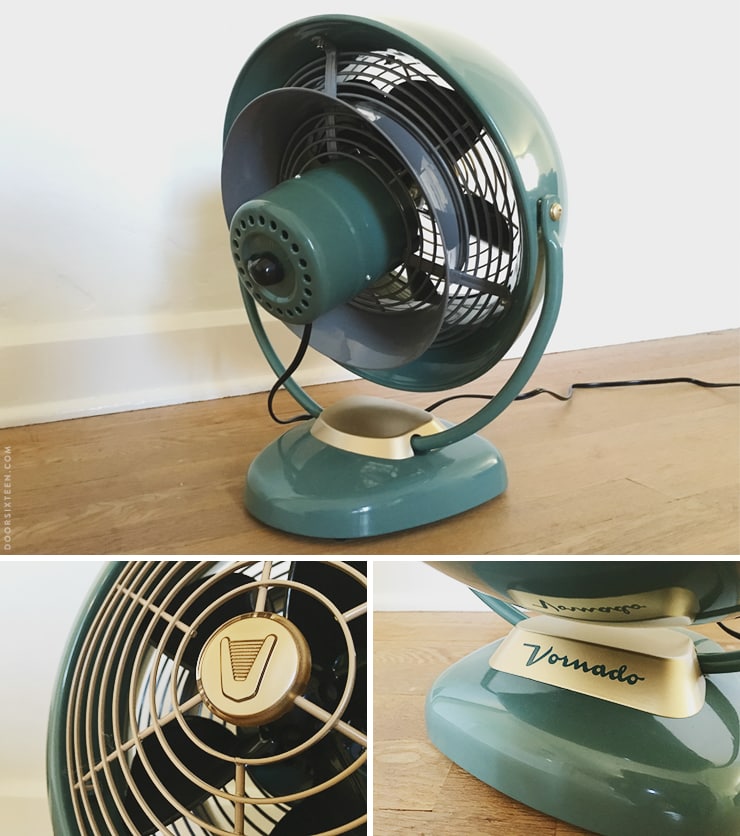 The one thing I wish Vornado had done differently is the cord. As nice as the VFAN is, it would be that much nicer if the cord were cloth-covered. You know? No complaints, though. If I really want a cloth cord, I can switch it out.
I bought the Vornado VFAN Sr., by the way, which is the largest size they offer. It also comes in two smaller sizes—the standard VFAN and the VFAN Jr., which is perfect for desktops or side tables, and as a standing pedestal fan. If green isn't your thing, there are chrome, red and white options, too! I'm considering getting a little white one for my bedroom.