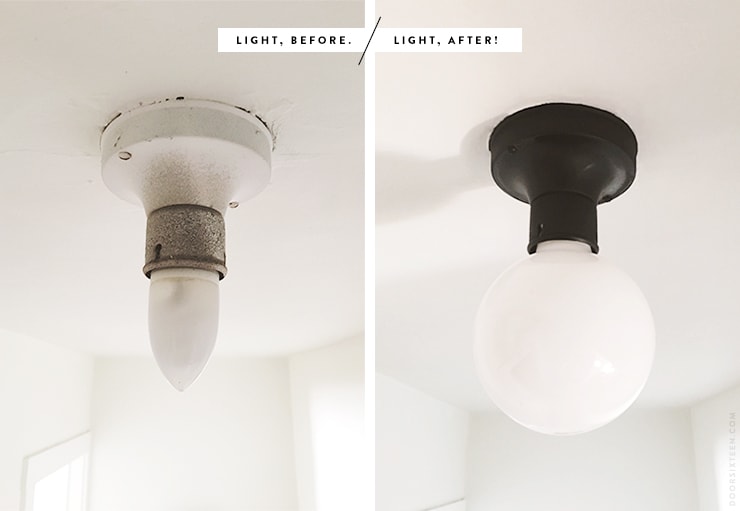 Here's a little ceiling light makeover I did that only took a couple of hours, but which makes a really big improvement in appearance of one of my hallways. The fixture in place was in sorry shape, as you can see—dirty, rusty, and caked with paint. It's old, but it doesn't look to me like it could possibly be original to the house? I have no idea, but given the damage to the ceiling around the fixture, I'm guessing something else was there before. It's made out of aluminum, and while it looks like there possible could have been some sort of glass cover on it at some point because of the notches on the side, it's really not cute. The bulb in it was one of those CFLs that takes five minutes to warm up to full brightness (which is unhelpful in a hallway, where you often only need to have the light on for a minute or two at a time), and then gives off a seriously unflattering light.
I had intended to replace it with something period-appropriate from Schoolhouse Electric, but one month led to another, and then the New Year rolled around and I still hadn't settled on anything…so I decided to just go ahead and make the ugly rusty dirty thing look less gross.
I took the fixture down, removed the ceramic socket inside, and gave the whole thing a really good scrubbing with a Scotch Brite scrubby pad in hot, soapy water. When it was completely dry, I gave it two coats of my longtime go-to matte black spray paint, Rust-Oleum Rust Reformer. The screws got spray-painted, too. Admittedly, spray painting outside in 25º weather isn't ideal, but eventually it dried and the finish is just fine. While I was waiting for it to dry, I scraped, patched, sanded, and repainted the ceiling around the fixture.
To compensate for the lack of a shade, I decided to use one of these huge, white, G40 globe bulbs. I love these bulbs! They look like light fixtures all on their own. (They're really nice when used with simple cord pendants, by the way, especially in a small space like a hallway or closet!)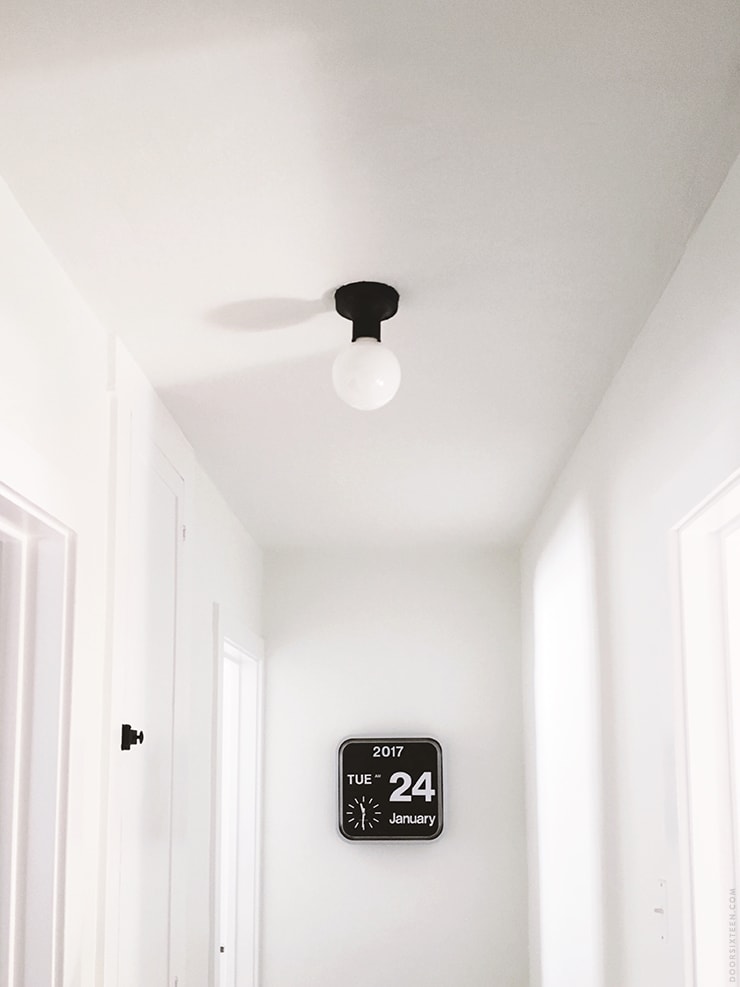 DON'T LOOK AT THE DATE ON THE CLOCK!!! It's evidence of how much time elapsed between when I completed this little project and when I finally got around to posting about [insert monkey-covering-its-eyes-in-embarrassment emoji]. Sigh. Oh well.
It looks pretty good for now, right? I'll probably wind up replacing it eventually (maybe a ceramic Norfolk base with a Custard Pinstripe glass shade? Or my old favorite, the Alabax), but it's a great improvement. Or…I could just forget about it for another six months or a year or forever.