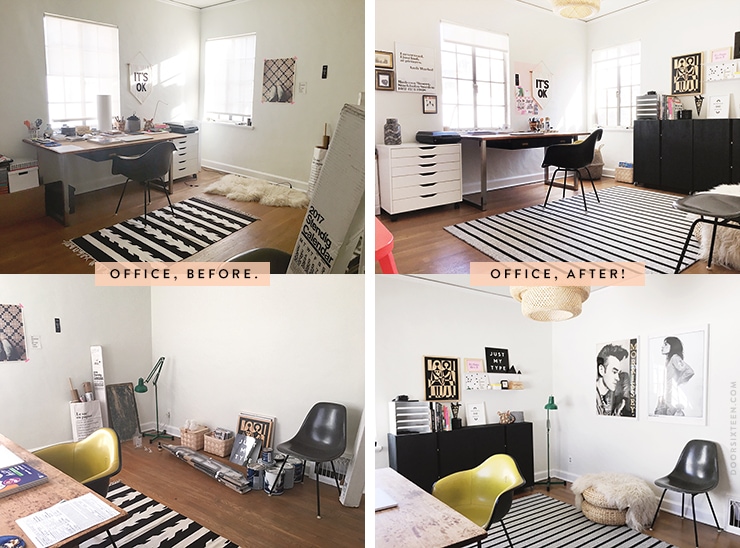 I don't know what it is with me and workspaces—I know how important it is to have my office be tidy and organized and bright in order to feel like I actually want to sit at my desk and work all day long, but for whatever reason, I tend to put off getting things to that point whenever I move into a new house or apartment. Then my desk becomes a dumping ground for papers and paint and books and scraps of fabric, and I don't use my calendar because why bother hanging it on the wall when the rest of the room looks like trash, and so on. The result is that don't even want to go in my office in the morning, which obviously makes me less productive, and then nobody wins.
So, I finally got myself in gear and took care of my workspace. Let's break it down…
CALENDAR. ON. THE. WALL. I'm a longtime Stendig devotee, and now that I work from home, it's more than just decorative! I love being able to color-code project deadlines, personal appointments, and other stuff, and using Post-its means I can shift stuff around as needed without having to erase or cross out anything. I'm never going to be someone who can track dates on my phone or computer, and that's OK.
And hey, what's that at the top of the photo?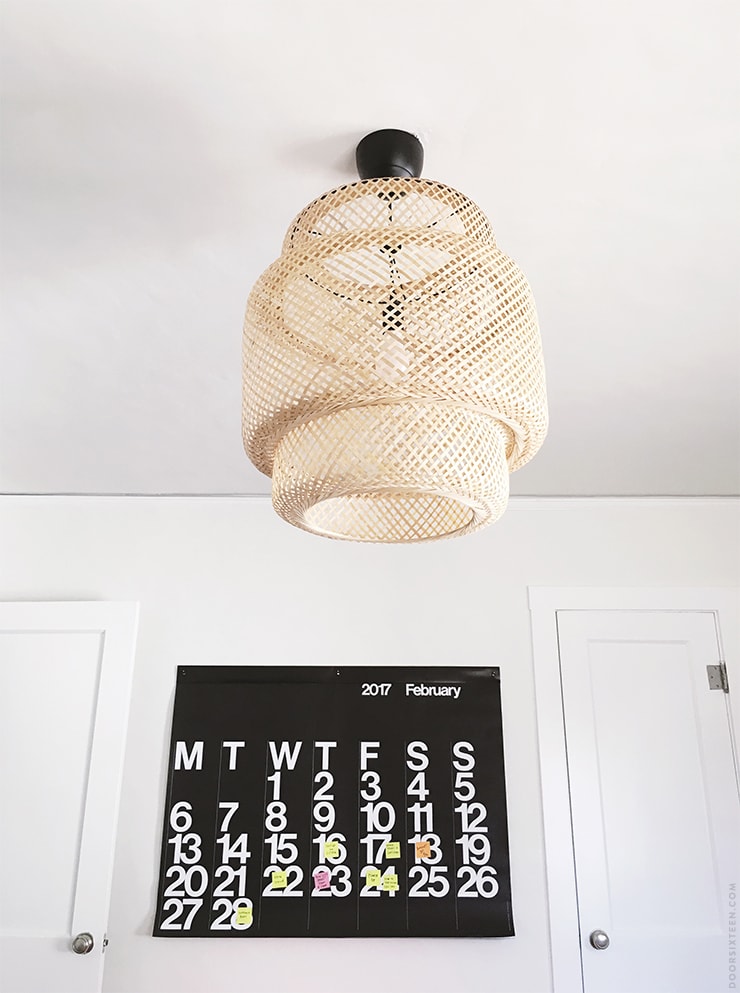 Yes, it's Ilse Crawford's gorgeous bamboo pendant lamp from the SINNERLIG collection at IKEA. I fell in love with the limited-edition SINNERLIG line when it was introduced, but I wound up missing out on most of the pieces before they disappeared. I'm so glad the lamp is still available! There was an extremely blah ceiling fan that I never used hanging in here before, and this just looks SO much better even when it's not turned on.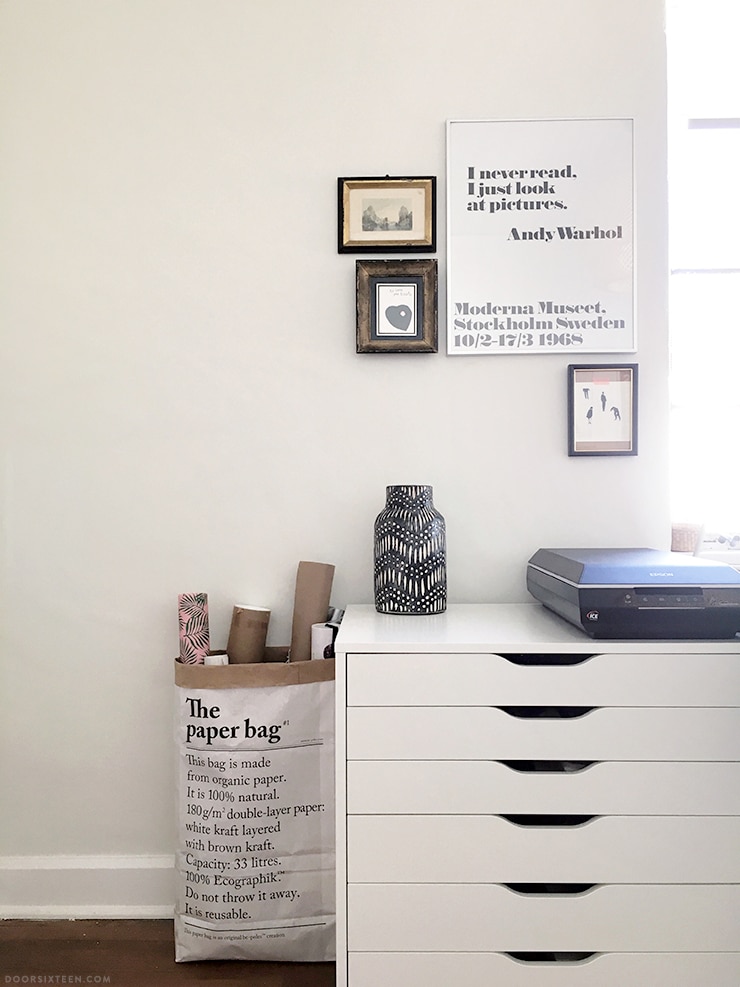 I said it back when I first got this drawer unit, and I'll say it again: There really is nothing else on the market that fills the need that ALEX does. I do a lot of work on large sheets of paper, and wide, shallow drawers are the perfect way to keep that stuff organized without having to fold everything up. ALEX, I love you. I'm so happy you're a part of my life.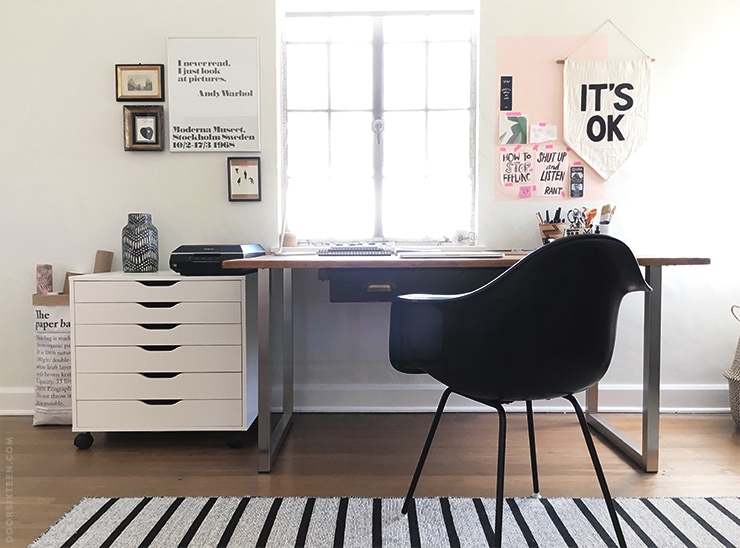 When I gave my office a makeover, I shifted my desk over a few feet to the right. My instinct was to center it under the window, but that meant losing space on either side to the point of feeling cramped—and in a room this large, that's ridiculous. Having my desk flush with the left side of the window feels just fine as-is, but to balance things out a bit, I painted a pink rectangle directly on the wall to use as a bulletin board of sorts. Yes, I realize I could have painted an actual bulletin board and then I would have been able to use pushpins (no pushpins are going into these concrete walls), but I'm impatient and that's what washi tape is for, anyway.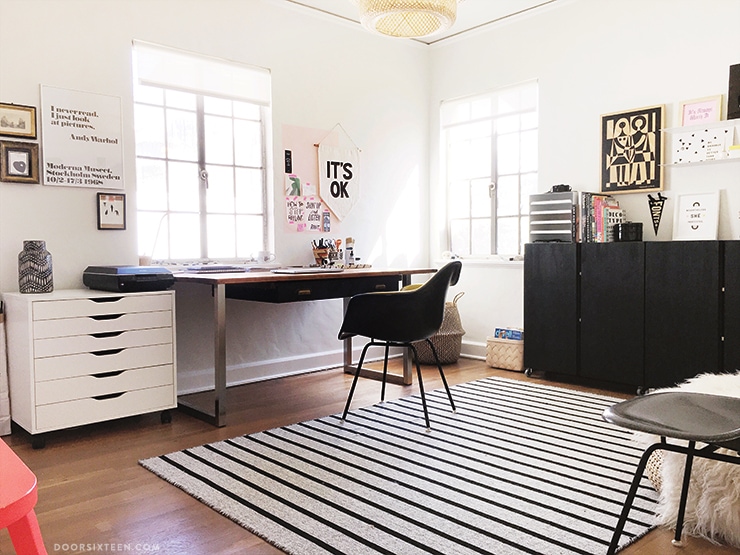 You may recognize the RASKMÖLLE rug from the bedroom in my former house. I love this rug (So soft! So easy to vacuum! Stripes!), but it's too small for the gigantic bedroom in this new house. It's PERFECT in my office, though—exactly the right size. I'm so glad I still have a place for it here.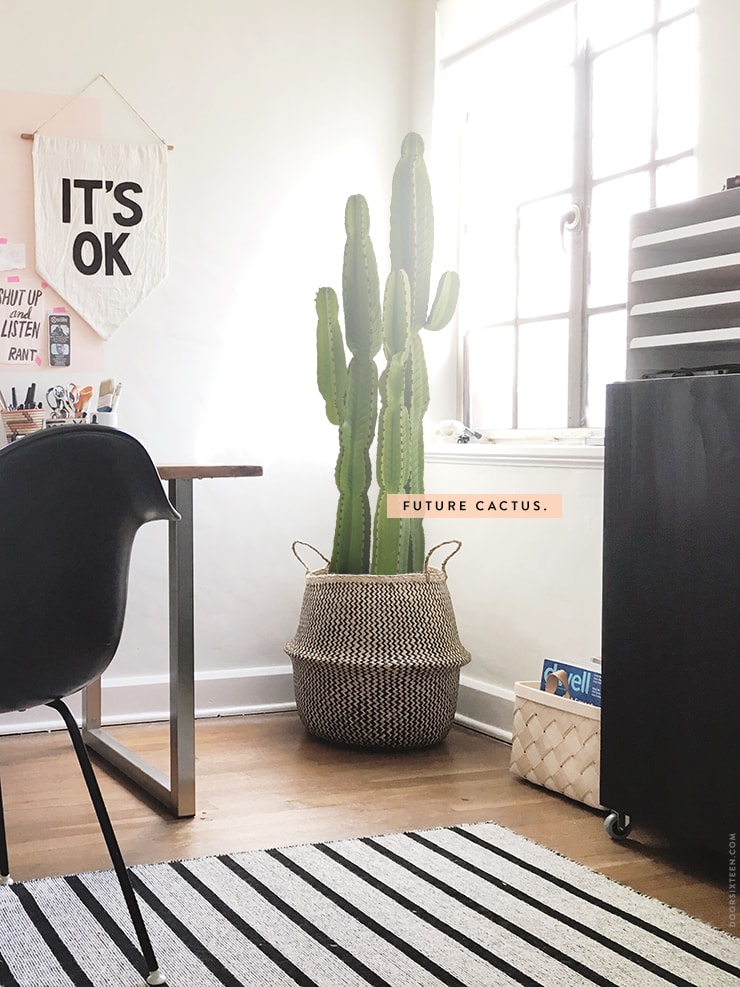 I know I need some plant life in my office, and this spot by the window (which gets a ton of daylight all day long) is going to be just right for a huge cactus. I've got a FLÅDIS basket ready to go, I just need to find the right cactus…and then figure out how to get it home. I might need to pay someone with a van or a pickup truck to do it. In the mean time, though, here's a poorly Photoshopped Future Cactus so we can imagine how nice it's going to look.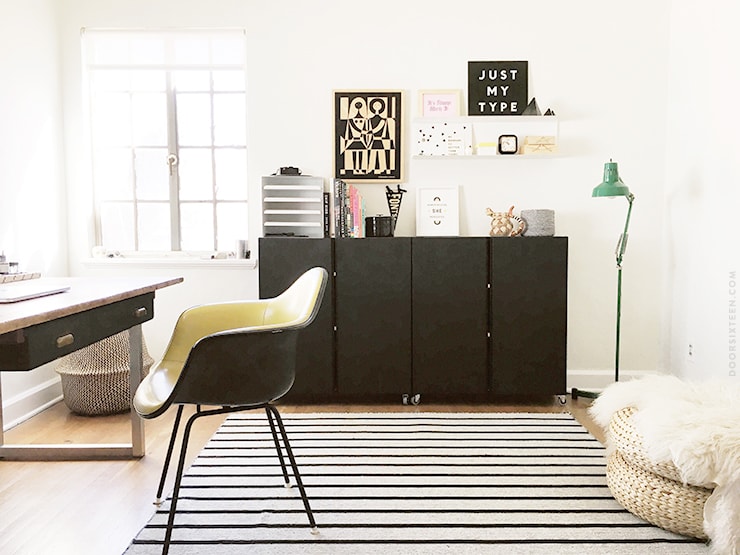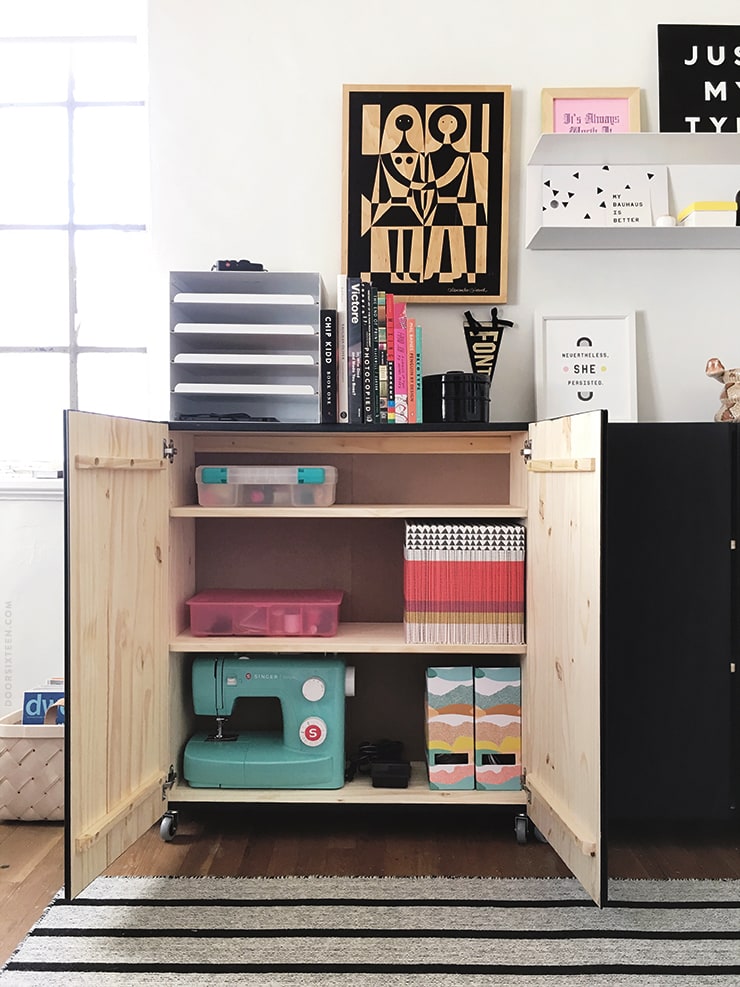 Here's the most exciting new addition to my office: CABINETS. Closed storage, baby. It's a beautiful thing. These are just two simple, pine IVAR cabinets that I painted black and put on casters. I could have mounted them directly on the wall fauxdenza-style, but I wanted the option of being able to easily rearrange my office if the mood strikes.
I can fit SO MUCH STUFF in these cabinets. It's kind of life-changing. I was able to take stuff out of cardboard boxes in my closet that I haven't seen in over a year. I even have space for a sewing machine! The other cabinet is still mostly empty, which feels really luxurious.
Oh! I was able to get all of the papers off of my desk thanks to that steel KVISSLE letter tray. I don't always want to file paperwork away immediately if it's something I still need to deal with but don't want in my immediate line of sight. I didn't realize how much I needed something like this until I had it. (The trays slide out and they're lined with cork, by the way, which would make KVISSLE a nice studio piece for people who make jewelry or other small things.)
I've had my eye on the BOTKYRKA shelf for a while now, and I'm happy I found the right place for one! IKEA markets it as kitchen storage, but it's really perfect for anywhere you need shallow shelving. I love how light and airy it looks, even though it's made of super-strong steel. BOTKYRKA mounts on the wall using a metal cleat, so you don't see any hardware or screws.
I think the last time I had that Morrissey poster displayed was in my college dorm room in 1993. It's certainly never been in a frame before! Patti is there to keep him company. They make a nice couple. These are the largest RIBBA frames, my forever go-to for getting stuff out of the tube and onto the wall.
I've always wanted a couple of those ALSEDA stools. I consider them an IKEA classic, and every time I see them in someone's house I want to take them home with me. My initial thought was that I'd use them as a sort of coffee table in my office, but as soon as I stacked them up, Fritz hopped on top and claimed them for himself. Once I'd put his sheepskin on top (which has a little heating page underneath, of course, lest he get cold if the temperature in the house drops below 75º), I knew I was never going to get to use them for myself.
It's been a couple of weeks now since I reorganized this space, and the difference in my daily life is pretty profound. I've been more productive than I have been in ages, and it feels really good. Every night before I go to bed I come in here, tidy up, and just admire the room a bit. When I wake up in the morning, I honestly feel excited to enter my office and get started on my day. I didn't realize how much the clutter I was surrounded by before was dragging me down.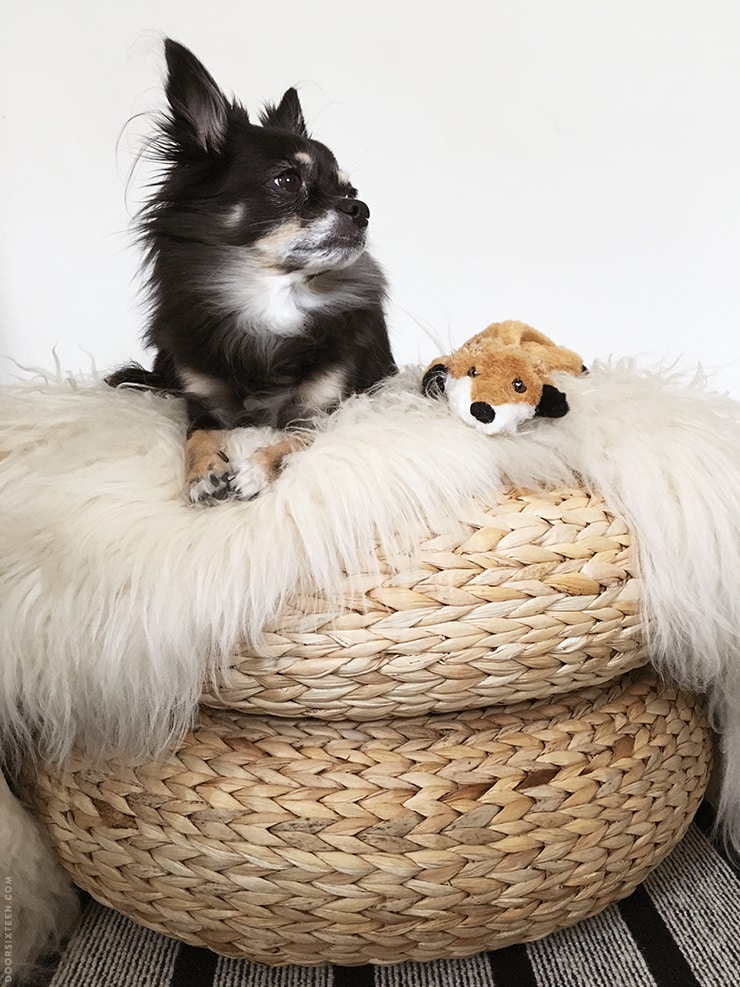 I am a Brand Ambassadör for IKEA U.S. This is a sponsored post.
IKEA is a registered trademark of Inter IKEA Systems B.V. and is used with permission. The views, ideas and opinions expressed here are my own.