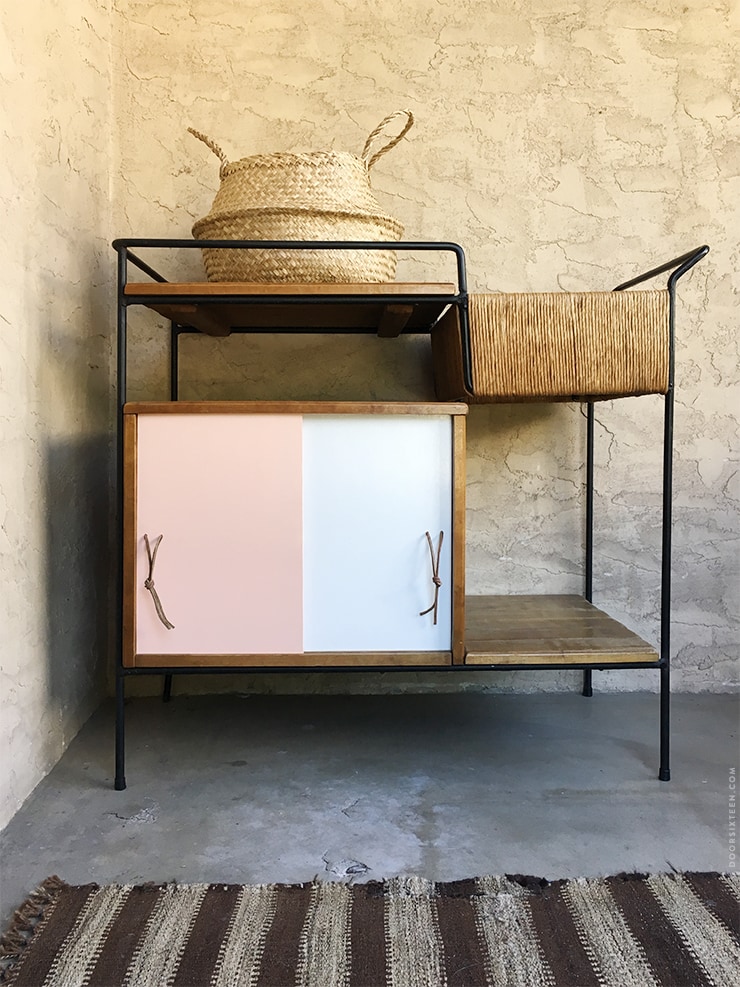 Quite a few years ago (nine, to be exact), I spotted this bar cart behind a row of discarded shutters and windows, stashed under a plastic roof in the lot behind Stan'z, a most fabulous junk shop in Kingston. Stan doesn't play around when he knows what something is worth, but because the designer of the cart—Arthur Umanoff—doesn't have the name recognition of his more-famous contemporaries like Paul McCobb or the Eameses, every now and then you'll come across one of his pieces for next to nothing. (Or you'll find them misattributed to McCobb and marked up to double their value.) I paid thirty bucks for the cart, which still makes me feel smug every time I see one on 1st Dibs for almost 100x that price.
It was missing its doors, which isn't a huge deal—better that than water damage. I made some quick "temporary" doors for it out of scrap dry-erase board, and just kind of forgot about it for eight or so years. I ditched the doors when I moved to New Mexico, though, vowing to properly replace them once I'd resettled.
Months passed, seasons changed…and I did nothing more the cover the opening with a tea towel, which is just lame. It's not like I was going to have to use special tools or even do complex measuring—this was a simple project that I was putting off for no good reason.
The New Anna, though…the New Anna gets shit done. And by the "New Anna" I mean the Anna who had a crazy burst of energy a couple of weeks ago and did a few things that took an hour or two. Hopefully she hasn't already become the "Old Anna."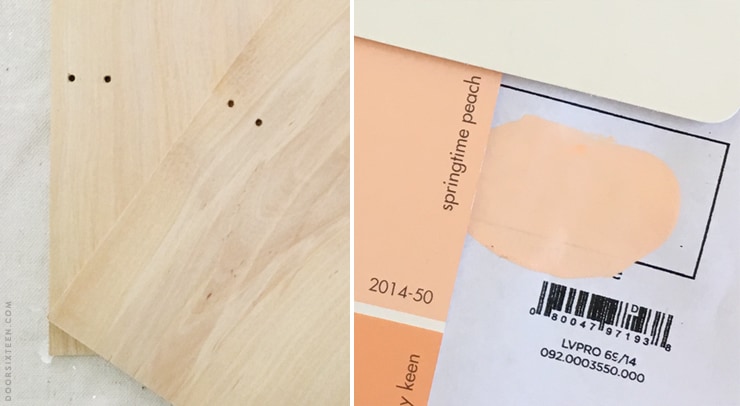 I picked up a craft-sized sheet of 1/8″ maple plywood, cut it down into two panels, and drilled four holes for the pulls.
When I went to Lowe's to pick up paint, I got confused about which paint chips were which (this will happen when you carry around 75 wrinkled paint chips in your bag) and asked for a quart of Springtime Peach…which is a Benjamin Moore color, not Valspar. Oops. Mr. Lowe's Paint Guy was cool, though—he looked up the color specs and then did a very, very close match for me. I've always been a little leery of getting paint color-matched because it never comes out the same the second time, but since this was just meant for one project and I only needed a quart, I didn't sweat it.
On the other door, I used Valspar Du Jour, a warm white that I plan to use on all of the woodwork in this house. I got both cans in a semigloss finish.
About an hour later, I was done painting and the doors were drying. Boom. Time for pulls!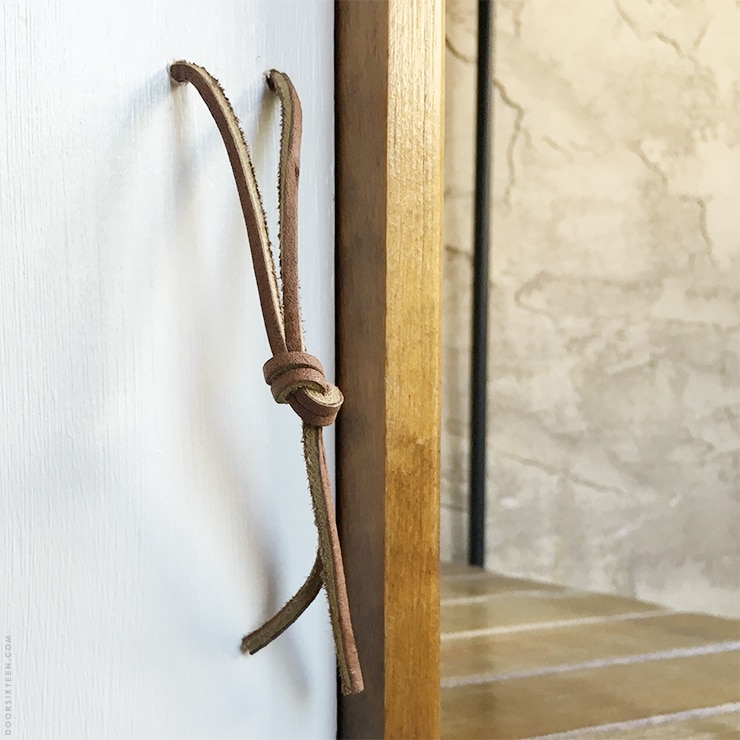 Instead of buying a whole roll of flat leather cord to make the door pulls, I just used a pair of leather shoelaces I ordered from Amazon. Perfect! The total amount of waste was only about 2″, which I can use to make some ankle bracelets for Fritz. They'll go nicely with his leg fringe.
When I was figuring out what to take with me to New Mexico, I almost wound up selling the bar cart. Evan didn't have any place to put it in the apartment, and as much as I love it, I wasn't sure I'd have room for it either…but I couldn't get myself to let it go. I'm so glad now! It's perfect on my new screened-in front porch. Right now it's just being used to hold potting soil, small gardening tools and some dog stuff, but when it gets colder out it'll be just right for stashing scarves and gloves.
(Also seen here: The Persian kilim I found on eBay for three bucks in 2009. It goes with everything.)
Why did I wait so long to do this??