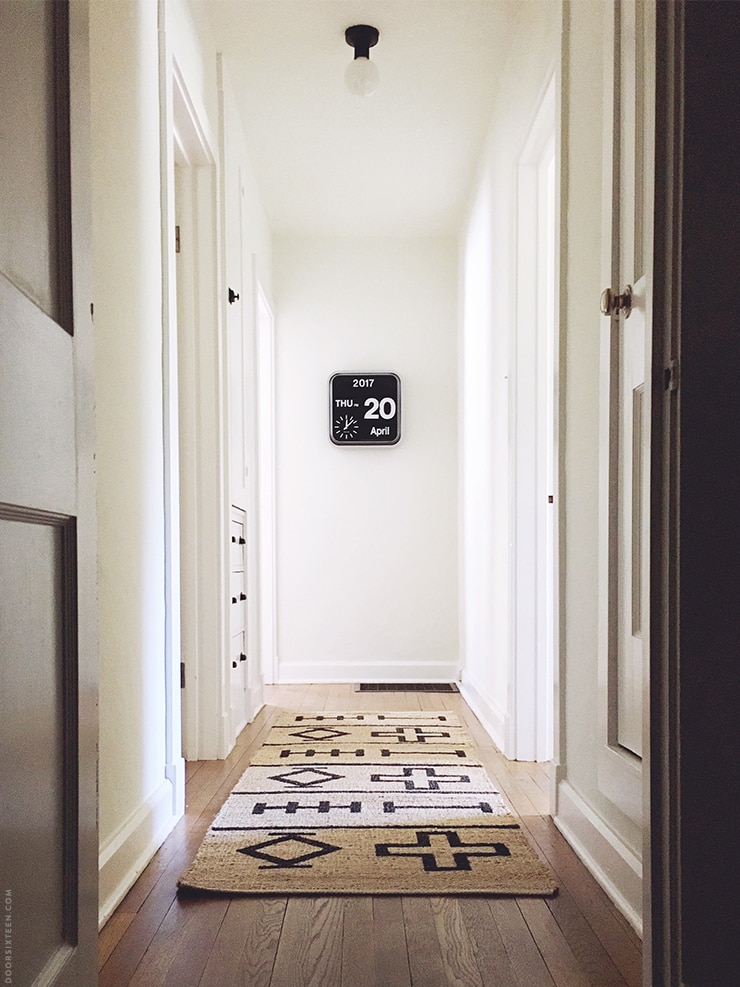 Last week I shared the simple makeover I gave the light fixtures in my hallway, but I neglected to show the rest of the space. I like hallways—they're not too demanding, since they often don't require furniture, but they're a nice opportunity to put a pattern or color to use that you might not elsewhere in your house.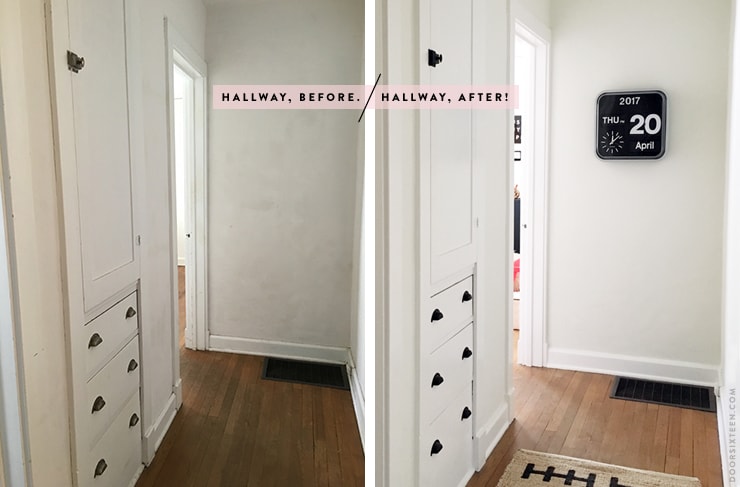 When I moved into my house, the hallway was painted several mismatched, blotchy, dirty shades of white. You can't really tell from the before photo, but the walls had been coated with a layer of gritty sand paint at some point—which, if you've ever dealt with it before, you know is a huge pain to get rid of. I started by patching holes and repairing cracks in the plaster, then spent a day hand-sanding as much of the grit off as I could. I'd say I got it down about 75%, and that's good enough for me—it's enough that it's not really noticeable unless you're stroking the walls, and I figure if you're caressing the walls in other people's houses you should probably be OK with whatever you find there.
I caulked every corner, gap, and crack in the woodwork (♥ CAULK ♥), then finished the walls with flat Valspar Imperial White, and the trim with semigloss Valspar Du Jour. These are the colors I've been using throughout my house. They're similar to the Benjamin Moore Moonlight White/Simply White combination I used in Newburgh—creamy, warm walls with bright white trim. If anything, Imperial White is just a touch cooler than Moonlight White. It tends to gain a very slightly greenish cast in dim light, but not in a sickly way. It a great color if you have an older home that gets a lot of sunlight—it's kind to other colors, including different shades of white. (As always, THANK YOU to Lowe's for keeping me supplied with paint. You guys rule.)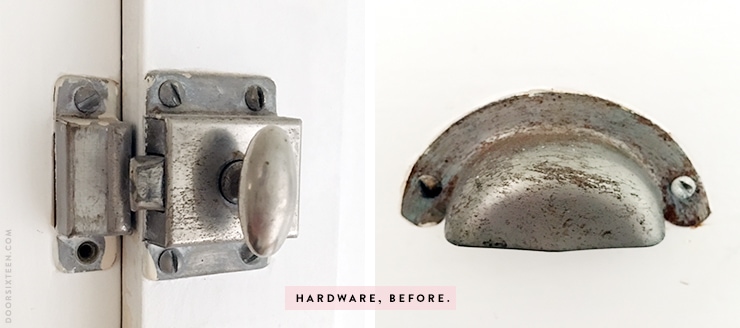 I wasn't sure what to do about the hardware on the built-ins at first. Ideally I'd have liked to just remove the paint and clean it up, but the metal was SO deeply etched and rusty, and several of the pulls were dented, so there really wasn't any hope for them to look refreshed. Since I solve most problems with spray paint, I didn't mull it over too long—I just reached for that good old can of Rust-Oleum Rust Reformer and went to town.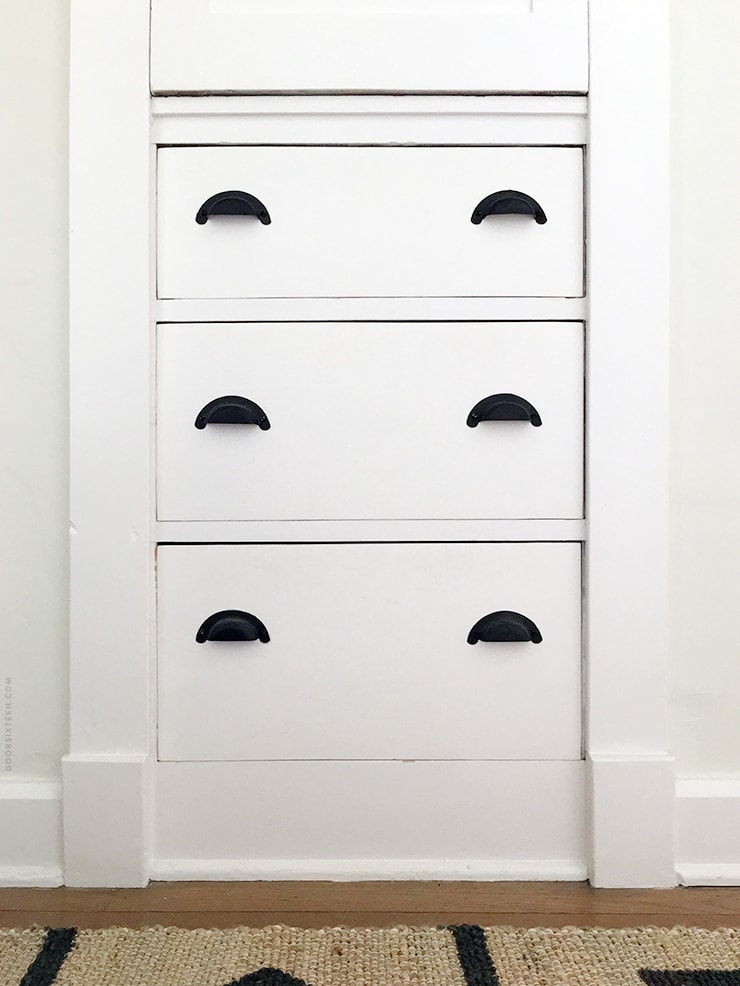 They look pretty great now. I can definitely see unlacquered brass pulls looking really good, but I wanted to work with what I have. Plus, I like that the same pulls have been here since the house was built, even if they had to be painted.
As an aside, I really love built-in cabinetry. That's something the old houses and apartments I've lived in before haven't had. I'm happy to lose a bit of space in the adjacent rooms in favor of having storage space that's accessible from the hallway. The upper cabinet holds all of my extra towels and linens, and the drawers are perfect for first aid items and medicine, extra toiletries, and tools that I need to be able to easily access regularly. I don't understand why built-ins fell out of fashion!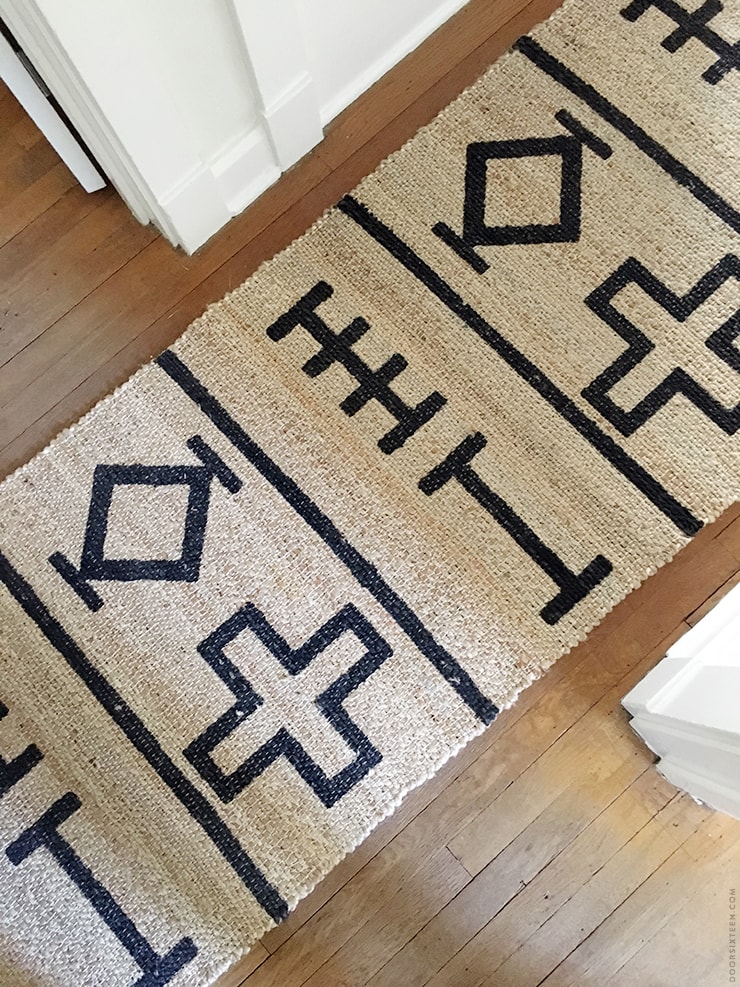 The runner comes from Rugs USA (it's available in larger sizes, too). I wanted something with a very large scale, graphic pattern in the hallway, and I needed it to be very traffic-friendly. Considering the price, I'm very happy with the runner! The pattern is printed on the jute, not woven in, but that's totally OK with me. It's heavyweight enough to lie nice and flat, and it's easy to vacuum. This is the second rug I've bought from Rugs USA, and so far, so good. Shipping was free (YAY) and fast, and the rugs were both packed well.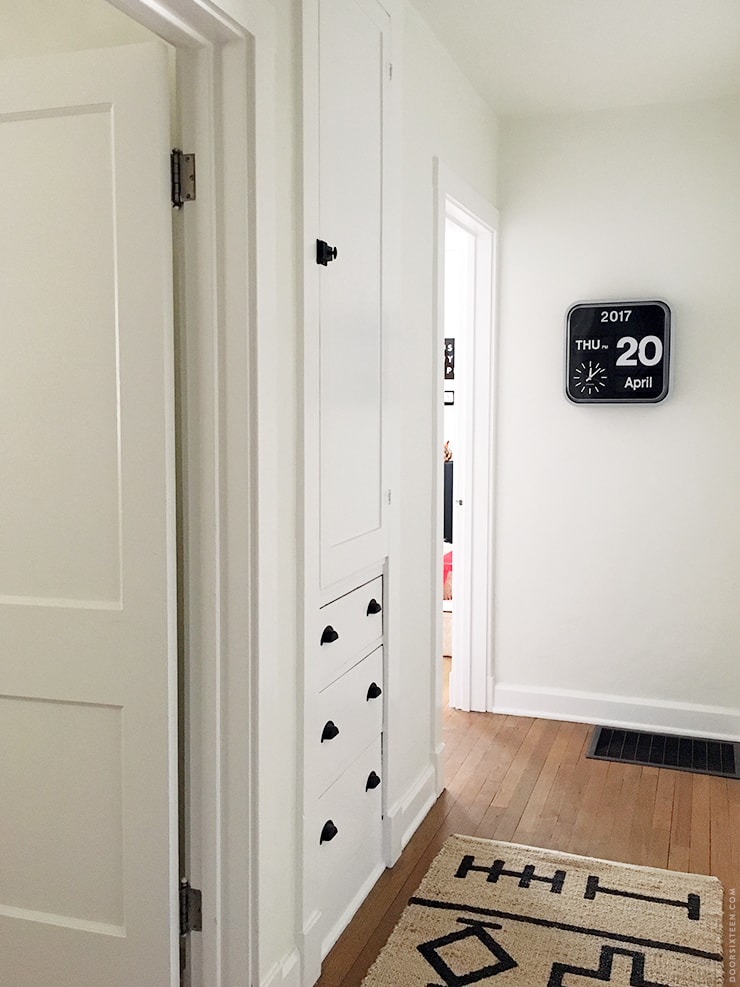 Every time my flip clock turns up in a photo, a few people ask where it's from. It's a Karlsson Big Flip Clock, and I bought mine on eBay. It's also available on Amazon, but the price seems to vary wildly from day to day. If you live in the UK, you can buy the same clock rebranded by Habitat. There are other options, too—but I can only vouch for the Karlsson. I've had it for more than four years now (here's a post I wrote about it back then), and it's never had any problems at all.
Putting a clock in a hallway is a great thing to do, by the way. When I'm getting ready to leave the house, I walk through the hallway a bazillion times walking between the bathroom, my office, the bedroom, and the rest of the house. It's so nice to just glance up to check the time!
I still need to hang some artwork in the hallway (I'm always so slow with hanging things on the walls), but I love how bright and clean it looks now. It's good to pass through serenity on your way to other things.