It finally happened—we bought a new sofa!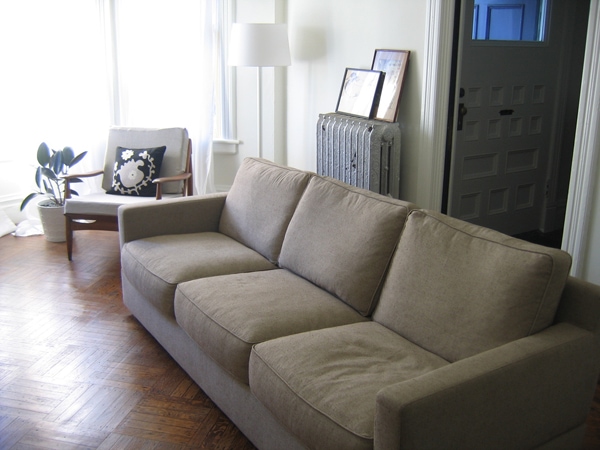 Here's the DWR Parcel sofa at home in our living room. Photos really don't do this sofa justice. The fabric is a soft, light brown tweed, the cushions are all down-filled, and the base is a solid, low platform (no legs!). It's the most comfortable sofa I've sat in, and it's built like a tank. Really, I couldn't be happier.
The Parcel has been discontinued less than a year after it was introduced (legless sofas with multiple cushions are not what's in style right now, and that's fine with me). The result of the discontinuation is that we got a $3,000 sofa (in perfect condition) for less (!) than the cost of the IKEA Stockholm we had been considering from the DWR Annex in Secaucus. Plus, for a reasonable price, they were able to have the sofa delivered to us the same day! Instant gratification for a sofa that really is far beyond what we thought we could afford in terms of quality (don't get me wrong, I love IKEA, but there really is no comparison here when it comes to construction and materials).
Now it's time to start looking for a coffee table! And curtains. And the right fabric for the Danish chairs. And a rug. And COLOR.