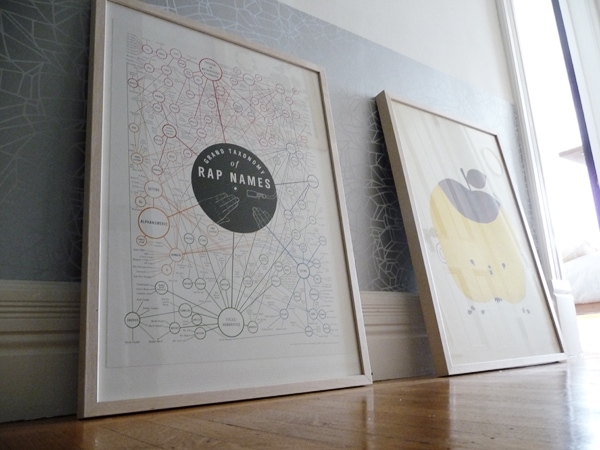 Posters: Grand Taxonomy of Rap Names, Pop Chart Lab // Apple Papple, Elisabeth Dunker
And then, alas, there are the days when I somehow manage to get nothing done. The days when I look at the clock and it's 7:00 AM, and then I look again and it's midnight.
Where do these days go? Such grand plans, all washed aside by…what?
Bruno had a teeth-cleaning appointment (he's fine, just really tired), we went grocery shopping, and we bought wood for the chair rail. And…that's it. How did that wind up taking 17 hours? I have no idea.
Here's a reasonable list of things I'd like to get done before Friday:
• Paint and install chair rail above the wallpaper.
• Touch up paint on baseboard molding.
• Go to IKEA; buy picture frames and window shades.
• Frame some posters and hang them up.
• Cut window shades to fit, hang in living room.
• Put the white cover back on the sofa.
• Empty small dresser in dining room, move to basement.
• Paint the antique oval mirror that's been gathering dust in the closet for four years.
• Try out Kathleen's stuffed delicata squash recipe.
• Write and send thank-you cards.
That's not so bad. I can do this. I can, I can.