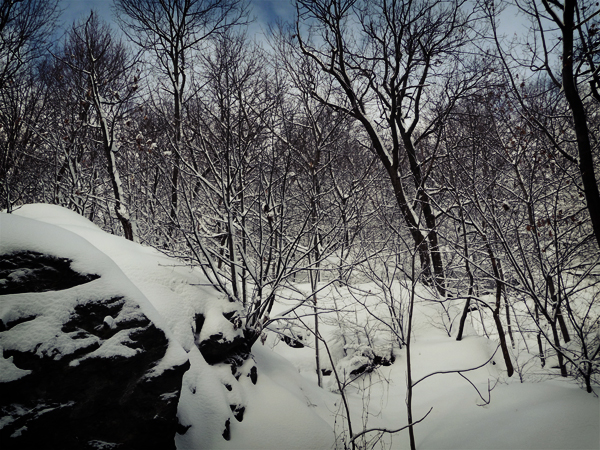 As I predicted, I awoke this morning to a wintry scene of edges rounded with white, trees laced with soft puffs of snow, and, this being NYC, the less-romantic sight of salty, muddy slush down the center of the roads.
Looking at the trees and rock formations bordering Fort Tryon Park, though, you'd never know this is Manhattan.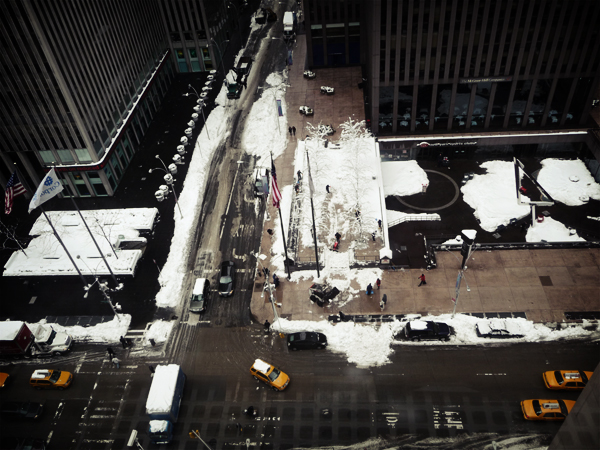 Midtown is another story, though! By the time I got to work, there was barely anything left of the 19″ of snow we got last night. I've only seen midtown buried in snow a few times in my life (I think the last was five years ago)—it's amazing how quickly the city hauls it all away (okay, not always).
I know it's not the popular thing to say around these parts right now, but geez…I love snow. I said it around this time last year, and I'll say it again: I never get tired of snow. It always gives me that cozy, safe feeling of being protected and warm when I'm inside, and part of nature when I'm outside. I loathe hot weather, so I try to savor this time of year as much as I can. (Guess what? We're getting more this weekend, too!)

Photo of Tommy and Mamma Biscuit by John Vairo Jr.
See that? Mamma Biscuit loves the snow, too! Fritz and Bruno are less sure…they're more content to stay under the covers drinking tea and watching "Lancelot Link, Secret Chimp" reruns.