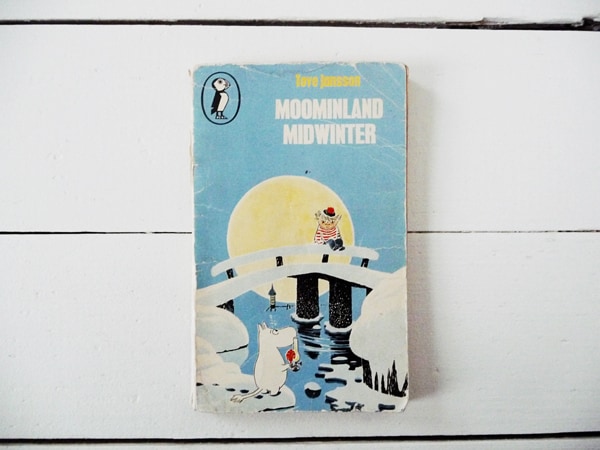 Once a year, just as it truly begins to feel like winter never really had a beginning and can't possibly have an end, I read Moominland Midwinter. My brother Gordy, ten years my senior, read all of Tove Jansson's Moomin books to me when I was very small. (We're a very Moomin-loving family. Have you seen my mother's dolls?) I remember being most fascinated by Comet in Moominland back then, but as I got older—and a little darker, let's be honest—Midwinter was the one I gravitated to the most, coming back again and again until it became this annual winter ritual for me.
I've had the same set of editions all this time. I'm sure my brother will claim that they're his, but I'm not giving them up! The covers are all loose, and the pages are yellowed and falling out. Love.
What I love best about the Moomin books is that there's nothing "childish" about them, despite being fully accessible and understandable by even very young children. The tone of a lot of them is quite somber, but in the best way—they always, even 30 years after my first exposure, bring me straight to a place of contemplation that's sort of otherworldly. If you've read one of Jansson's books, you'll understand exactly what I mean.
The Moomin books are still in print, and English translations are readily available.
Here's an excerpt from Moominland Midwinter:
And so Moomintroll was helplessly thrown out into a strange and dangerous world and dropped up to his ears in the first snowdrift of his experience. It felt unpleasantly prickly to his velvet skin, but at the same time his nose caught a new smell. It was a more serious smell than any he had met before, and slightly frightening. But it made him wide awake and greatly interested.

The valley was enveloped in a kind of grey twilight. It also wasn't green any longer, it was white. Everything that had once moved had become immobile. There were no living sounds. Everything angular was now rounded.

"This is snow," Moomintroll whispered to himself. "I've heard about it from Mother, and it's called snow."

Without Moomintroll knowing a thing about it, at that moment his velvet skin decided to start growing woollier. It decided to become, by and by, a coat of fur for winter use. That would take some time, but at least the decision was made. And that's always a good thing.

Meanwhile Moomintroll was laboriously plodding along through the snow. He went down to the river. It was the same river that used to scuttle, transparent and jolly, through Moomintroll's summer garden. Now it looked quite unlike itself. It was black and listless. It also belonged to this new world in which he didn't feel at home.

Copyright © 1957 by Tove Jansson
Lovely, yes? I mean…isn't that exactly what winter is, right there? It's snowing very heavily in New York City right now. (We've had SO much snow this year!) The sky is dark and cold and the wind is gusting. It's past midnight and the streets are empty. Tomorrow morning I'll wake up and look out on white, rounded edges, then laboriously plod through it all as I make my way to the subway.