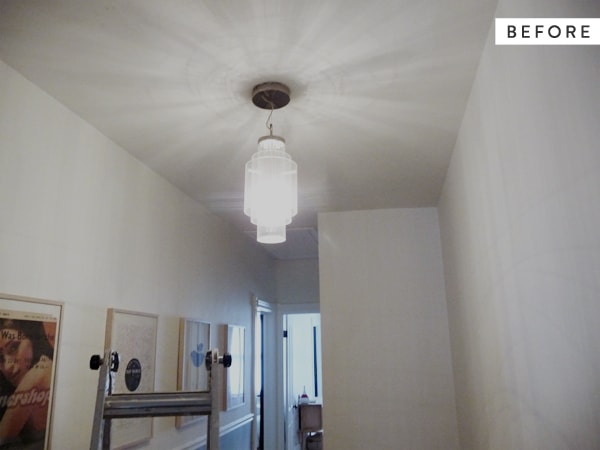 I know, you're probably looking at this photo and wondering what the problem is for it to be tagged "before", but don't be fooled: that light fixture is hideous. I don't remember what it's called, but IKEA sold it briefly about five years ago. It's made of clear plastic. I'd seen a picture of it in someone's house and was tricked into thinking it looked good. In reality, it casts weird, sad, unflattering shadows, attracts dust like nobody's business, gets scratches without making contact with anything but air, and generally looks terrible.
We'd been putting off doing anything about it since we needed to also deal with an adjacent decommissioned skylight (nothing to see—imagine a 3×3′ piece of plywood mounted to the ceiling and you'll have a good visual). It's since been patched over, and this weekend I finally got around to sanding and painting that section of ceiling.
I also mounted a ceiling medallion and installed a different light fixture. We had a spare FADO light in the basement from when we swapped in the Coral pendant in the hallway, so I just went ahead and used that for now.
About half of the medallions in our house are the plaster originals, and we've replaced the missing ones with reproductions. We've discovered that the resin/poly ones are very easy to work with, and once they've been painted and mounted, they really aren't discernible from the real thing. There are a ton of options available, and we've found a couple of styles that compliment the originals in our house quite nicely. (You may recall that the medallion in the bedroom is actually cast from plaster by using this polyurethane repro as a mold! We're too lazy to do that ourselves, though. And I'd probably drop it and break it.)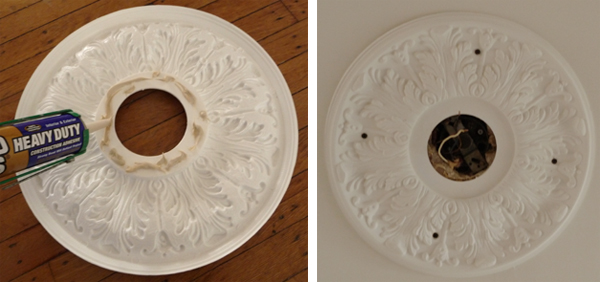 Before mounting it to the ceiling, I primed and painted the medallion. I like to use the same color as our trim paint (BM Simply White), but in a matte finish. The result is very much like raw plaster, and offsets it just a touch from the ceiling paint (BM Moonlight White).
Once I'd turned off the power at the panel and taken down the old light, I applied Liquid Nails (construction adhesive) to the back of the medallion. It's strong stuff, so a few globs on the center ring and on the high points of the embossed area are all you really need.
I smooshed the medallion onto the ceiling, positioning it carefully so the electric box was centered in the middle of the opening. Liquid Nails needs about 30 minutes to dry, so unless you have crazy-strong arms and nothing else to do, you have to put some screws in temporarily to hold everything in place. I drilled pilot holes first to prevent the plaster ceiling from crumbling, then popped the screws in.
(By the way, this is all much easier if you have two people to manage the passing of tools and drilling of holes. Evan had to work, though, so I was on my own. I was too busy growing extra arms and doing ladder acrobatics to take many pictures along the way, sorry!)
While I was waiting for the adhesive to dry, I used paintable caulk to fill in the tiny gap where the outer edge of the medallion meets the ceiling. Caulk is absolutely necessary if you want your paint jobs to look good and seamless! After 30 minutes, I took the screws out and filled in the little holes with a smidgen of caulk. Everything got a paint touch-up, and then when that was dry, I put up the new light fixture and turned the power back on. Voilà!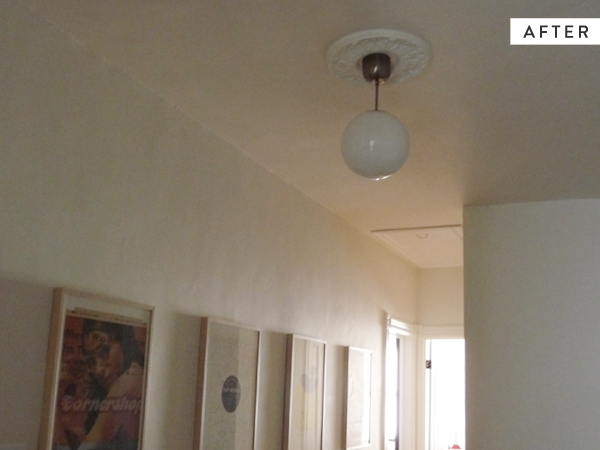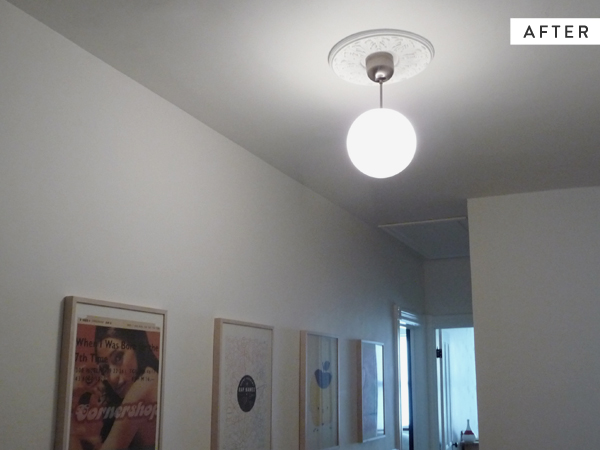 It's not perfect, but it's way better. I was running out of daylight by the time I took this photo, so it looks a little gloomier than in reality. I think we might want a larger fixture here eventually, but this is just fine for the time being.
It's hard to tell in these pictures, but the medallion looks REALLY warped from some angles. The edge overlaps the patched skylight-hole, and the ceiling is a good 1″ lower on one side than the other. Because gravity is causing the light's stem to hang plumb, everything else looks kind of wonky by comparison. I told Evan I think the medallion kind of looks like a pancake sliding off of a plate, but he thinks it looks like a Salvidor Dalí painting.