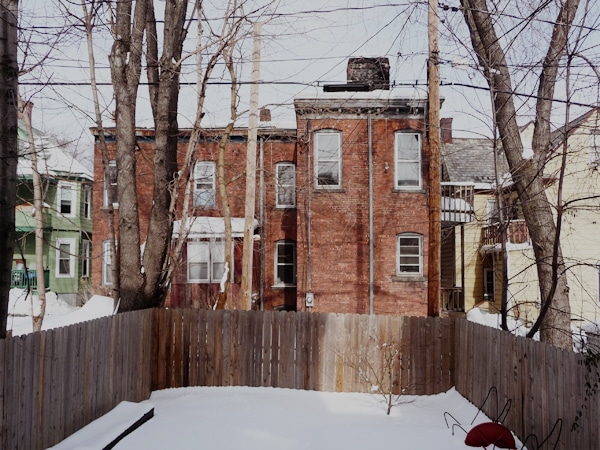 Look how much snow there is in the garden! I love how pristine it is. Not even a single squirrel has ventured to cross. I know I should probably bring the Hardoy chairs into the basement during the winter, but I always forget. It doesn't help that our basement is such a crazy mess; I'm not even sure where we'd put them. (By the way, I'm determined to clean up the basement this spring. I think we need to take a week off and just spend 10 hours a day down there cleaning and organizing and scraping and sanding and maybe even painting. It's basically a dungeon at the moment. I hate going down there to do laundry.)
The weekend is already slipping away, but I'm determined to make a little dent in my ever-mounting list of winter projects. I'm not sure how realistic this is (I blame the dogs—they're just sooooo warm and snuggly…), but I'm going to do my best.
BY TOMORROW AFTERNOON:
• Clean out/organize the kitchen cabinets and pantry.
• Sand plaster on ceiling in upstairs hallway.
• Install new medallion and change light fixture.
• Caulk, prime, and paint ceiling/medallion.
• Measure and cut shades for living room windows. (I did one!)
• Have Mommy and Bernie over for dinner.
• Grocery shopping, laundry, cleaning, etc.
Not so crazy, right? I figure if I can do everything but the shades and the priming/painting today (i.e., within the next five hours, in order to have time for dinner guest), I'll be in pretty good shape.
Tonight I'm going to make Eggplant & Lentil Chili Mole from my new favorite cookbook. I asked my mother to bring dessert, and I think it's going to be baked apples. My mother is one of those people who can make something delicious out of any two ingredients that happen to be in her house, so I'm sure they'll be super yummy.
P.S.: I have a tiny blurb over on the Elle Decor blog this week. I don't usually do things like that, and this is a perfect example of why—all of the other "design insiders" commented on, well, things related to decor (which makes sense, of course), and I shared a link to a blog about pencils and talked about my affinity for school supplies. Sigh. Once a nerd, always a nerd.