Subway station at Dyckman Street. This photo has nothing to do with the post. At least I don't think it does.
I know, I know…posts here are few and far between. I wish that weren't the case, but lately life has been busy. And yeah, I keep saying that, but it's true. I know there are plenty of people (like, say, people with kids or President Obama, for example) who are busier than I am, but I guess they're all just better at handling it. I am really bad with budgeting my time, and I'm one of those weird procrastinators who manages to mentally rearrange priorities in a way that neglects the stuff that actually matters and has a deadline attached to it but make me feel like it's super important that I rearrange my canned goods RIGHT NOW OR ELSE.
I other words, I'm ridiculous.
I need to figure all of this out. I want to learn how to plan a schedule and get organized. I want to know how to use a calendar. I don't want to always be feeling like nothing is done and that I have a million obligations looming over my head. For whatever reason, I wound up with one of those brains that needs to physically write something down with a pen on paper before I can remember it. Taking notes on a computer (I don't own a smart phone) doesn't work—I need to actually make the words with my hand in order for them to connect with my brain, it seems.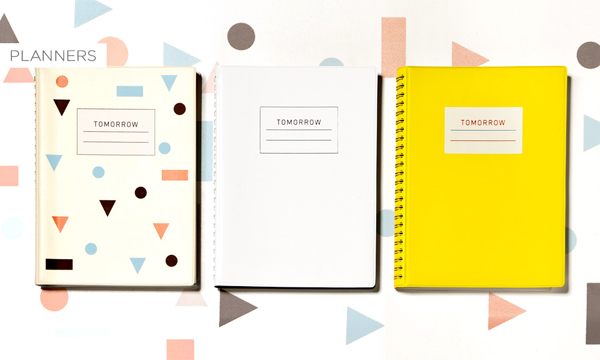 I really like these Tomorrow Planners from Poketo. I've kind of decided that if I buy one, it will change my life. I haven't bought one yet, though. Maybe I'm afraid it won't work. Or maybe I'm just horrified by the shipping fee. Whatever it is that's stopping me, I'm still writing everything down on Post-It notes and the backs of receipts.
This is the least cohesive post I've ever written, but also one of the most honest. I'm not the get-it girl you think I am, you know. I'm kind of a mess.
My fellow write-it-downers: How do you keep track? Do you have a magical notebook? A special pen? Extra coffee? How can I make this happen? Help.