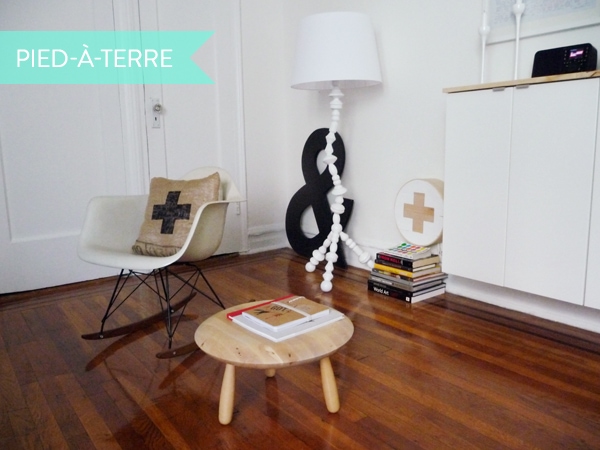 Lately I've been trying to make the city apartment feel a little more like a home than just a place to crash. When we first rented it last year, my goal was to keep it as spare and minimal as possible—but who am kidding? I like stuff. I like furniture and lamps and art and books and pillows and candles. The entire apartment is only about 450 square feet (including the kitchen, bathroom, and entry area), so it's really not too hard to make it feel "cozy"—homey is another story, though. I think when you don't have your favorite stuff with you, the place you're living in can start to feel a little like it actually belongs to someone else, or that it's temporary. Either way, it's unsettling.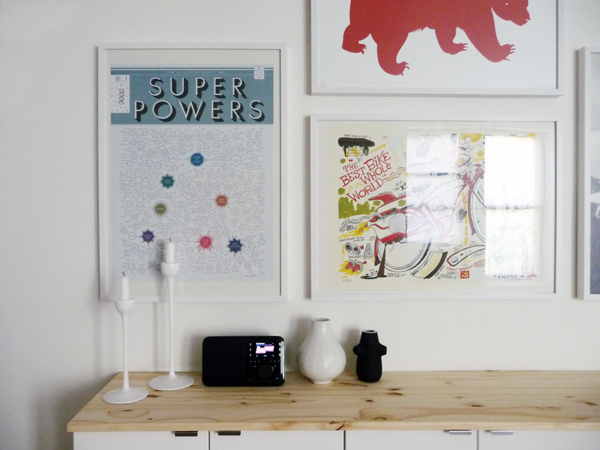 Okay, so this is minor, but look! We FINALLY screwed the top down on the fauxdenza. It only took us five months! (Well, it took about five months to think about it, and then 30 seconds to actually do it.)
Speaking of FAUXDENZAS, I have to point out that the official Google "fauxdenza count" is up to a whopping 13,700 hits. To recap, "fauxdenza" made its debut in November 2010. By the following March, we were up to 323 mentions. Less than a year after its inception, "fauxdenza" has become part of everyday language in households across America. Are you listening, Oxford English Dictionary?!
Okay, I promise to dial down the nerd now. But first, here's an updated FAUXDENZA Google screencap.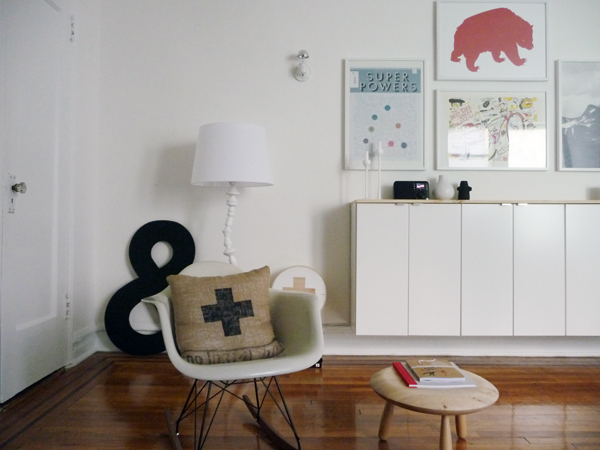 See? I've been hanging stuff on the walls! For a long time the fabulous bear print by Sarah Edmonds of Banquet was the only thing up there, but I've since added three more pieces. The mountain poster is by Elisabeth Dunker (I wish I had a better picture of it in situ, but the glare from the window was fighting me!), the Pee-wee print is by Dan Zettwoch, and I've already written about the Superpowers poster from Pop Chart Lab.
A couple of other new things came to live with us, too—both of them from the 2009 IKEA PS collection. The cute little KARLJOHAN side table was designed by Christian Halleröd, and the crazy SVARVA lamp is the from the super-awesome Swedish design collective FRONT. This is probably the only scenario in which I'll actually be able to afford anything designed by FRONT. I love when designers I love (hello, Hella Jongurius!) do pieces for IKEA.
Ever the bargain-hunter, though, I waited to buy these two pieces until the price dropped to almost 50% of the original cost. It looks like IKEA is phasing out much of the 2009 PS collection now, so if there's something you've been wanting, get on it now.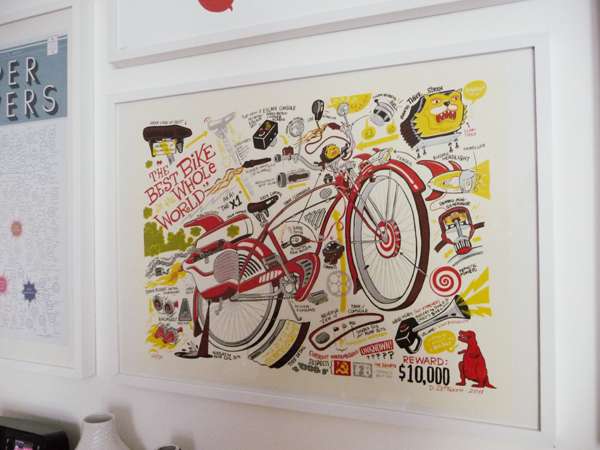 Here's a closer view of Dan Zettwoch's amazing Pee-wee bike print. You'd need to see this thing in person to appreciate the fantastic attention to detail! Dan has some really cool photos of the process of creating it on his blog—check it out. It's silkscreened in really rich inks (plus silver!) on thick, creamy paper, and it looks SO good on the wall. Dan screened an edition of 30 of these prints, and I think he still has some left, so definitely get in touch with him if you love Pee-wee as much as I do!
(Thanks so much to Matt Roeser for tipping me off to Dan Zettwoch's work back when I put up this post about my love for Pee-wee's Big Adventure!)