Every two years, right when the weather starts to tip into I-wish-I'd-worn-my-heavier-coat-today temperatures, I like to repost my chili recipe. It's old news for those of you who have been reading my blog for a while, but I think it's nice to have a reminder every now and then anyway! And if you've never tried my chili recipe before, well…you really don't know what you're missing. It seriously is the best chili ever.
As always, I'd love to hear what kinds of modifications and variations you've made to this recipe, since it is really flexible. I've subbed chickpeas and edamame in place of kidney beans plenty of times, and I often use farro instead of bulgur wheat depending on what I have in the house. I'm really partial to Muir Glen's fire-roasted crushed tomatoes, and using ancho chili powder in place of regular changes the flavor of the whole thing completely. Sometimes I sprinkle a little Daiya on top if I have it, but it's definitely not essential.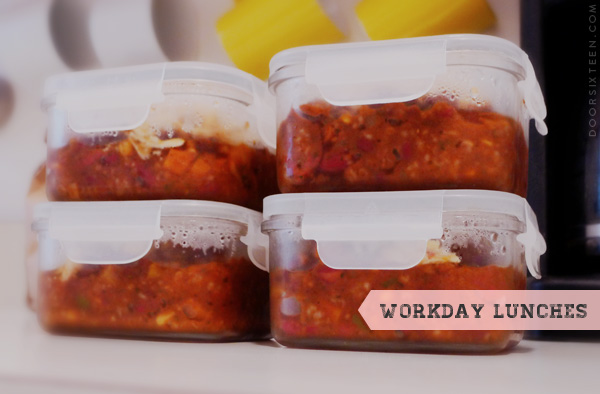 This chili freezes really nicely, by the way. One pot will yield six very generous portions, so after you've gobbled down dinner, you can divvy up the rest into containers to heat up for lunches during the week.
UPDATE, JANUARY 2021: In the 13+ years since I first published this recipe, it's come to be known as "Door Sixteen Chili." Countless readers have sent me their own variations, tales of winning chili cook-offs, and alerts when they make the first pot of the season on a chilly day. To make things easier for those who may be stumbling across this recipe for the first time, I've finally decided to take advantage of technology and convert the recipe into a "card" format that can easily be pinned or printed. Enjoy!