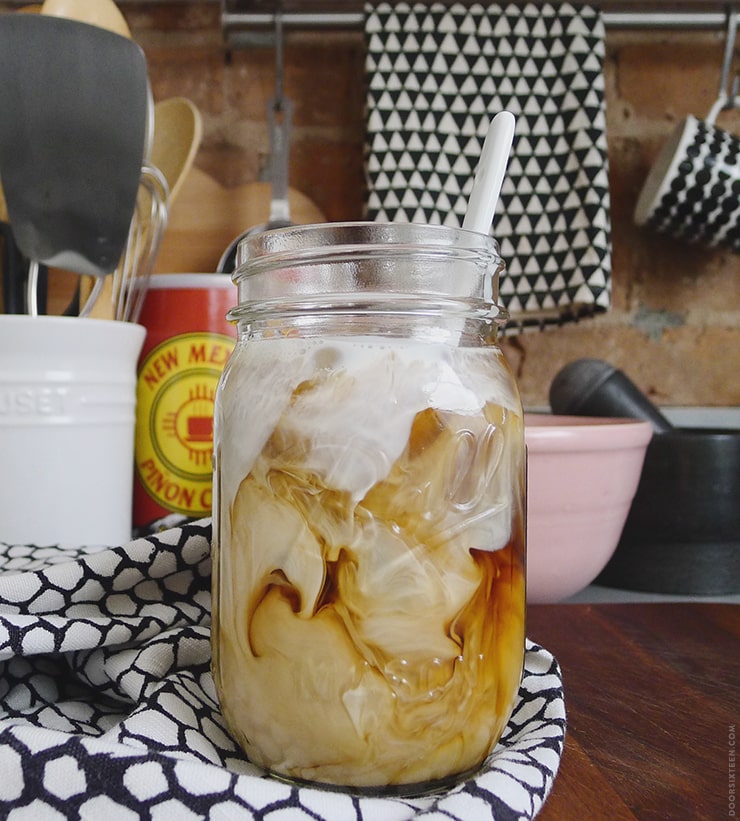 On a recent trip to New Mexico, I was introduced to something called piñon coffee, specifically that from the New Mexico Piñon Coffee Company in Albuquerque. It's Arabica coffee blended with piñon nuts, and it's really delicious.
For whatever reason, I never really thought about where pine/piñon/pignoli/pinoli nuts come from. Like…it never occurred to me that the reason they're called "pine nuts" is that they're the nut of the pine tree. They grow under the scales of pine cones! Amazing. I just thought they come from cellophane bags in the grocery store, I guess. Who knew? (Answer: Everyone but me.)
So, this coffee. When you open the can, the smell is overwhelming. It almost smells like a chocolate bar, and in the best way. When it's brewing, it smells SO GOOD. Coffee-smell heaven. The first time I had a cup it was hot, and with a little soy creamer and just the tiniest bit of sugar, it tasted exactly how I always want coffee to taste: Rich and full without being overwhelmingly strong, smooth and without any bitterness.
The next day, I tried it iced. It hadn't been cold brewed or double brewed or anything, it was just the leftover pot of hot coffee that had been sitting in the fridge overnight. I'm not kidding when I say this was the BEST iced coffee I've ever had. Yes, EVER. And I drink a whole lot of iced coffee.
A couple of weeks ago, we tried brewing a pot in the Bodum Bean cold press (WTF, it's discontinued? I love that thing), but it wasn't as good. I have no idea why, but it came out really weak and lame. So my advice with the piñon coffee is to just brew a full pot like you normally would for hot coffee, have a cup or two, then let the rest cool down and stick in the fridge. Nothing fancy.
For reasons I can't explain, a 16oz can of New Mexico Piñon Coffee Company costs $11 on the roaster's website, $15 on Amazon, and $6 at Trader Joe's. The same brand, same packaging, same amount. I don't understand it, but there you go. As usual, Trader Joe's solves everything.
(And yes, I do drink iced coffee out of a mason jar. There's such an irrational backlash against drinking out of mason jars these days, as though it's a stupid, played-out thing to do. They're glass, they're cheap, they look nice, they're easy to clean, and they have screw-tops. What's the problem there? Good grief!)