My personal style is very "Jedi Knight meets Patti Smith," and that's tough to nail down when it comes to readily-accessible, moderately affordable clothing. It's also a style that pretty much just looks like dirty pajamas if it's done wrong. If I had limitless cash, I'd have Yohji Yamamoto, Ann Demeulemeester and Rick Owens at my disposal, but alas, I do not. I am trying to make an effort to move beyond Forever 21 and H&M, though. I mean, I'm going to be 37 years old in a few weeks. I think it's probably OK to buy a sweater that costs more than $18—and, more importantly, that last longer than 6 months before the threads start to pull and it loses its shape in the wash. (Side note to my real-life friends: I swear I will stop wearing that disgusting cardigan every day. Not just yet…but soon. Really soon. Honest.)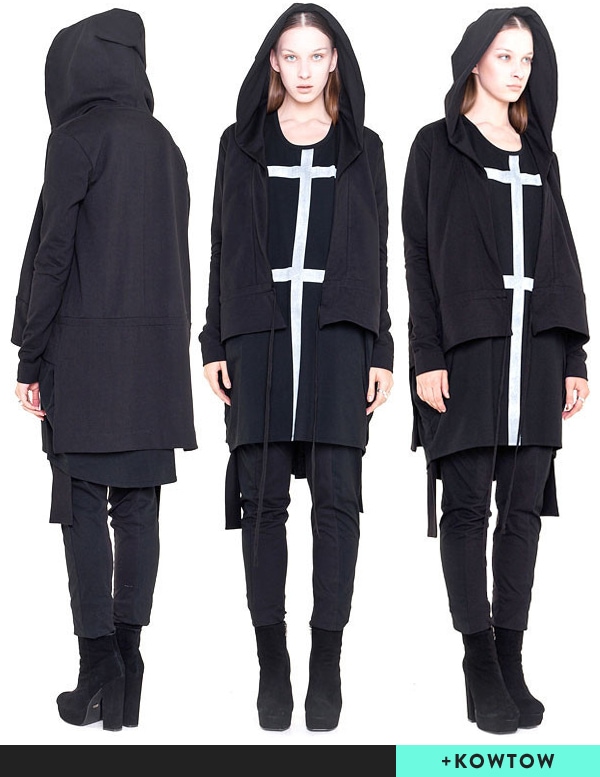 I had never heard of the New Zealand clothing company Kowtow before Tamera sent me a link to this outfit, but I'm already kind of obsessed. This is exactly how I want to dress every day. Modernist Lazigoth.
✖ Bauhaus Jacket. I don't know if they're referencing the German school or the English band, but either way, I'm on board. This is the most perfect hoodie ever.
✖ Parallel Dress. OH HELLO THERE. It's true that I'll wear anything the size and shape of a Hefty bag with a neckhole (armholes optional), but this dress/tunic is actually cut really nicely—and it has a rad print on it.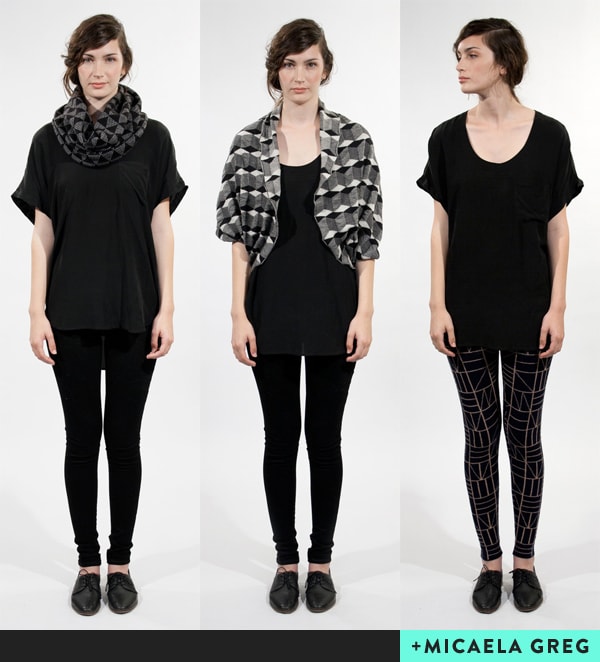 Jen wrote about the San Francisco-based knitwear line Micaela Greg (designed by two sisters!) on Honey Kennedy the other day, and I had a series of tiny heart attacks while flipping through their Autumn-Winter 2012 lookbook. Legging and scarves are staples in my (tiny but flexible) wardrobe, and who doesn't love little sweaters with weird arms? No one, especially when they've got Q-Bert style geometric patterns on them.
✖ Black Triangle Neck Cozy. Like Jen said, I would wear this scarf every day between now and next July. This is an Anna-scarf if I ever saw one! I love that it can double as a little hood, too.
✖ Cube Shrug. This is my favorite shape when it comes to cardigan-type stuff. The length in back is perfect, and it's got volume without being bulky. I don't like wearing wraps because I never know what to do with my arms, but little shrugs like this are perfect.
✖ Small Square Legging. You know how I said I feel like Ferm is designing housewares just for me? Well, I like to think Micaela Greg had me in mind when they made these leggings. The pattern is just so good. I feel a teensy bit nervous about the color being described as "dark navy and rose," I could make do. Can you imagine them with knee-high boots, a long white tee, and the Bauhaus jacket from Kowtow?! Now you're talking.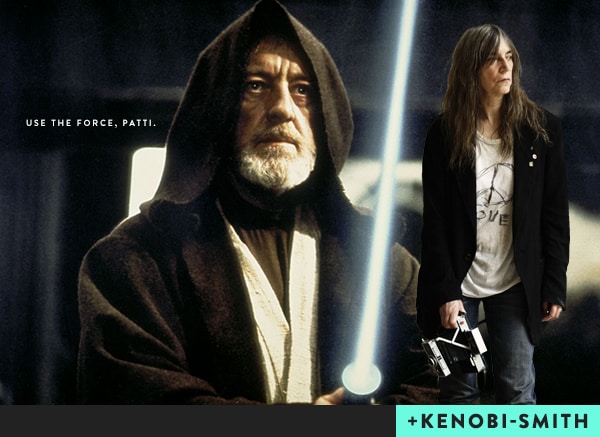 Oh, Kenobi-Smith! My favorite. I can't afford any of their stuff, sadly, but maybe if they decide to do a diffusion line someday I can splurge on a piece or two.
p.s. Thank you so much for all of the feedback and kind thoughts yesterday. I don't know what comes next or exactly what I'm planning to do and when, but I'm glad I at least opened up the dialogue. I feel proud and fortunate that there is such a friendly and honest community of people reading my blog.