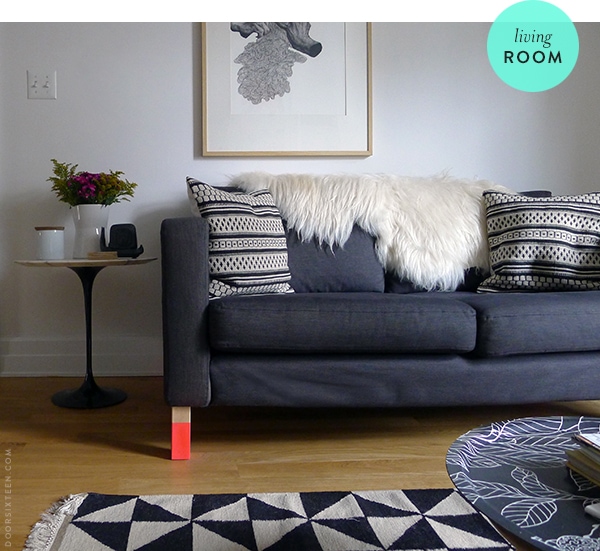 Even though we've been renting it for the better part of seven months already (!!!), I've been extremely slack about sharing photos of the Brooklyn apartment. I'm not sure why, exactly. I definitely don't have the same attachment to my apartment as I do my house, obviously, but in truth I don't even feel half the affection for it as I did the last apartment we rented in Manhattan. I really loved that place.
I do like DUMBO, and of course I'll always love Brooklyn, and there's no question that I feel extremely fortunate to have even one place to live, let alone two. I guess the disconnect comes from the fact that this apartment doesn't NEED me.
Going all the way back to the very first apartment I rented (Yonkers, 1995) and through all the ones I've rented since (White Plains, Brooklyn, Brooklyn, Brooklyn, Beacon and Manhattan—I've moved a lot!), I've consistently been in places that are both old and run-down around the gills. They've all needed me to make them better. I've done extensive renovation work in some of these apartments, investing myself not so much financially as emotionally—and that's really how you become connected to a place. That's how it goes from being just a place to live to being a true home. Every apartment I've lived in has been in better condition when I left it than when I arrived, and that makes me feel good.
You know, for all of my perfectionist tendencies, I actually adore imperfection. Imperfection is a sign of hope that things will improve. Imperfection is full of promise. Imperfection makes that which is beautiful look even more so by comparison.
This new apartment, though…it doesn't really need anything. There are no real imperfections. The walls are white, the floor is pale oak in perfect condition, the kitchen is well-designed—it's fine. All of it is just fine. There's nothing for me to do here except arrange my stuff, and where's the fun in that? This apartment doesn't need me, and it will inevitably look worse when we eventually leave, not better. Even though it's in a late-1800s building, the entire thing was gut-renovated less than a year before we moved in. And so: Track lighting, sprinklers, pre-finished MDF moldings, veneered doors, built-in AC, and so on. Our lease is an inch thick, and we can't change anything. (There's even dishwasher. I have a dishwasher?! What?)
It's weird, being in this new, fancy apartment in a bizarrely fancy part of Brooklyn. I'm trying to love it. Part of me feels a lot like when I go into Saks to buy a lipstick, though—like I don't belong, like I'm a kid trying to pass myself off as a grown-up, and I like I'm just too sloppy and, well, run-down around the gills to pull it off and fit in.
Anyway, I think I like this little spot in the apartment. It's starting to feel right. I love the neon sofa legs, and I finally bought some decent pillows. It's getting there. I'm getting there.