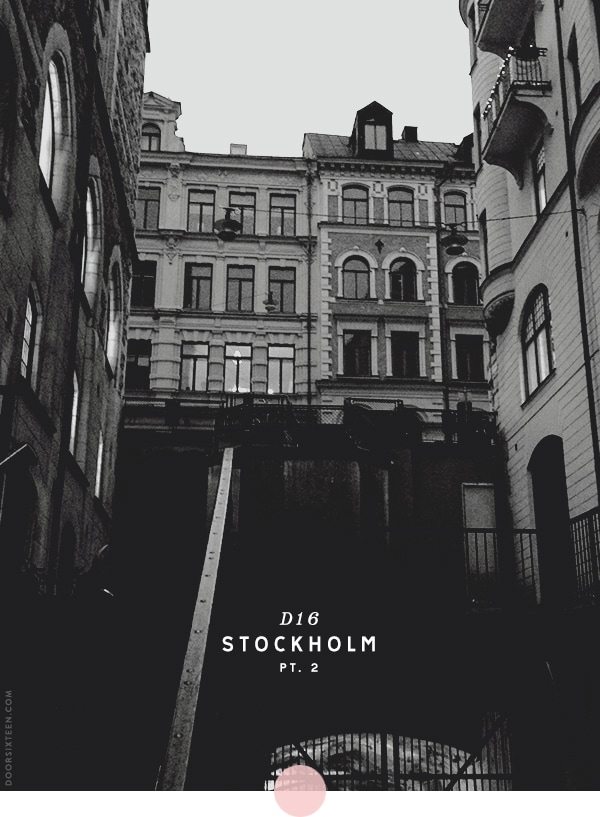 Remember when I went to Stockholm like three years ago? OK, it was last month, but geez, could it take me any longer to put a second post together? I know I'll regret it if I don't do it, though. Last night I was talking to a friend about how my blog still serves as a rough diary (albeit a very selective one) for me to refer back to, and how legitimately sad I feel that I haven't written posts about a lot of stuff. My memory isn't as good as I'd like it to be, and it's comforting to be read old posts and see how I felt about things in my life when they happened. OK, so now that I've explained the arcane concept of a diary…haha.
The schedule on my second day in Stockholm was, to put it mildly, bananas.
10:15am — Get on bus to Skeppsholmen.
10:30am — Presentation about the history and design of both Hotel Skeppsholmen and the Nobis Hotel, both designed by the studio Claesson Koivisto Rune. Tour of Hotel Skeppsholmen.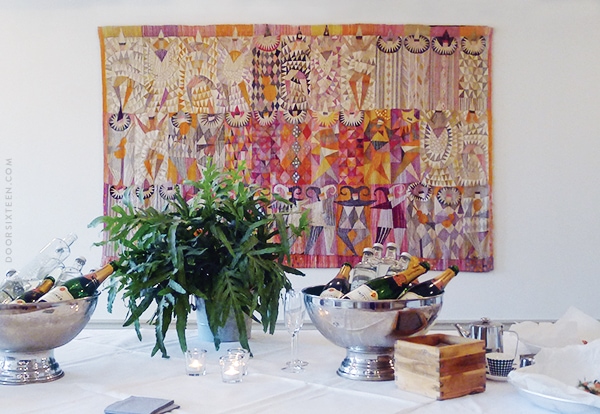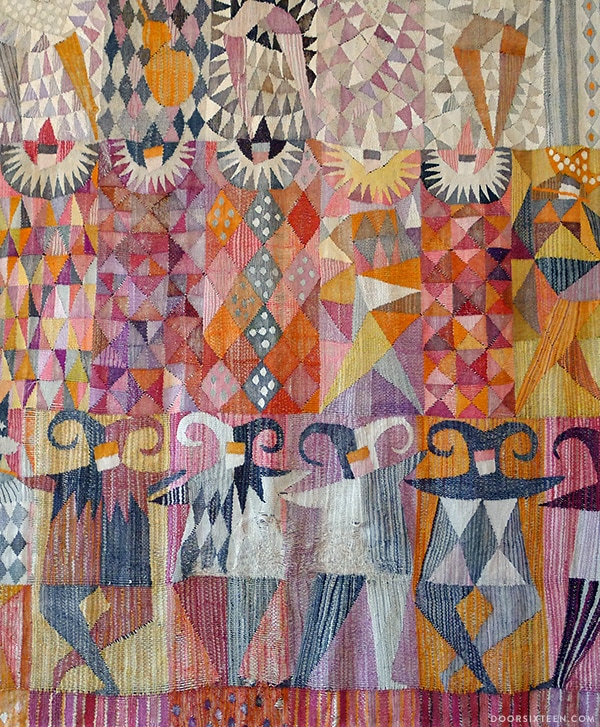 During the presentation at Hotel Skeppsholmen (which, by the way, is very beautiful), my eye wandered across the room to this AMAZINGLY FABULOUS textile hanging on the wall. I couldn't stop looking at it. Unfortunately I couldn't get a great full-size shot of it without moving the banquet table (don't think I didn't consider it), but you get the idea.
I asked the hotel director if he knew anything about it, and he said he was a little unsure but that he thought it was from the 1890s. This seemed a little bit maybe not right to me, but I wrote it my notebook and decided to look it up later.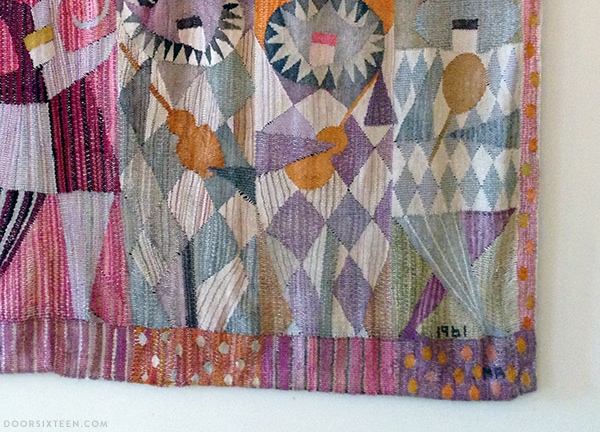 As I was looking at my photos, I noticed these details in the corner: The number 1961 (which seemed much more likely to me as the year of origin than 1890) and the initials MR. A little bit og Googling later, and I had answers! The textile, called "Karneval," was designed by Marianne Richter (MR) for the Märta Måås-Fjetterström AB studio in 1961. If you have a whole bunch of money, keep an eye out for auctions! One recently sold for about $12,000. Gulp. (The photos at the auction link are much better than mine, by the way.)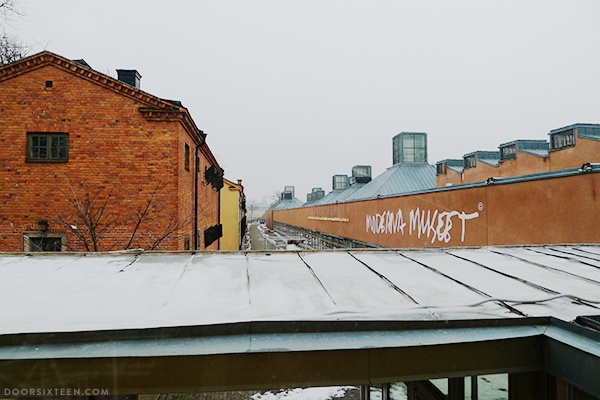 Visiting the Moderna Museet wasn't on the agenda, sadly, but I did gaze longingly at it from the window while I was in Skeppsholmen.
11:30am — Walk to Arkdes for presentations on Swedish design at the Arkitektur– och Designcentrum. (The presentations were excellent and I took loads of notes, but I'm not sure how well they translate into a blog post. They did, however, give me an awful lot to think about when it comes to the future of design, Swedish politics, and sustainability.)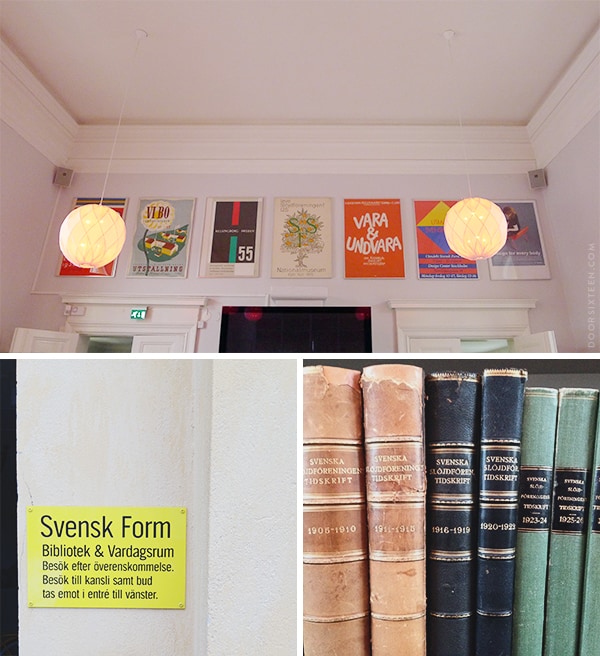 1:00pm — Quick stop at the offices and library of Svensk Form, the Swedish Society of Crafts and Design.
I could easily have stayed there all day looking at the bound issues of Form Magazine, the world's oldest design magazine, reaching back to 1905. I was in heaven…but only for 15 minutes. It was at this point that I started feeling very sad about having to adhere to such a strict schedule, but there wasn't anything I could do about it. Next time. (I said "next time" a lot during this trip.)
1:15pm — Bus to Pizza Hatt, where designers from LAST introduced their new brand and collection of design pieces.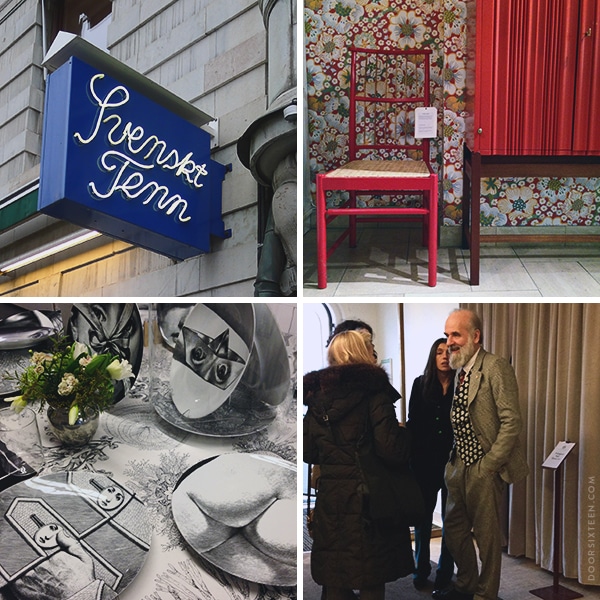 2:30pm — The event scheduled for this slot was canceled, so the bus dropped us off at Svenskt Tenn for about 20 minutes.
Svenskt Tenn was on my list of places I really wanted to visit, so I'm grateful for even that short bit of time to quickly zip around the whole store and take in as much as possible. I admire Josef Frank and his work so much, and seeing it in this context was overwhelming and emotional (and over all too quickly…next time). As I was leaving, I noticed Barnaba Fornasetti on his way in! I was immediately star struck, and could barely manage to sneak a quick picture, much less introduce myself.
I later spotted Fornasetti and his son at my hotel eating breakfast, waiting for a cab on the street, at baggage check at the airport, again while going through security, and then buying a banana and browsing design magazines at a new stand. I think maybe he thought I was stalking him. And yes, he dresses like that all the time. Style for days. (When you have a minute, go look at this slideshow of Barnaba Fornasetti's house—it is fabulous.)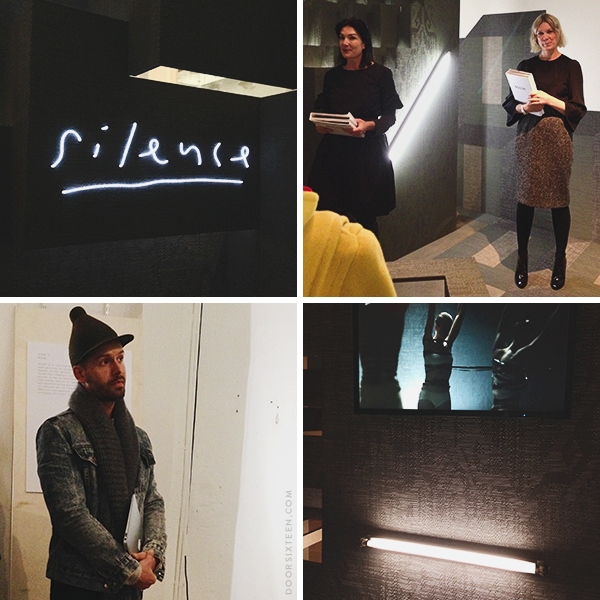 3:00pm — Bus to Snickarbacken 7's art space, where woven vinyl pioneers Bolon were presenting their new collection. A short film by choreographed by Alexander Ekman (who was in attendance) was presented.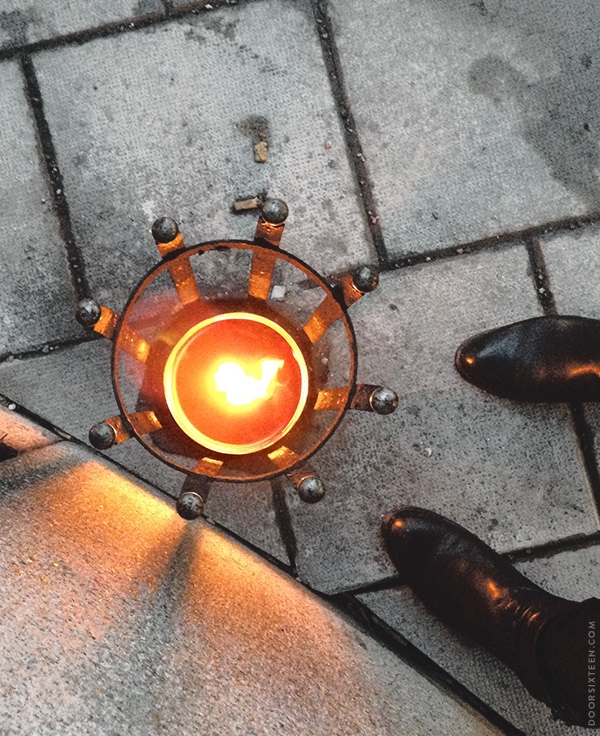 While loitering around on the sidewalk waiting to get on the bus, I noticed that seemingly all of the businesses in Stockholm had lit up lanterns on the ground outside their doorways at dusk. The effect was so beautiful and welcoming, and all I could think about was how having an open flame on the ground in public in NYC couldn't possibly be legal, and how sad that is. Then I remembered a story my mother told me about a Christmas tree decorated with candles (!) catching on fire when she was a child, and I started to question whether Swedes are committed to fire safety. Then I realized it had been about 20 hours since I'd eaten anything, and went back to enjoying the lanterns.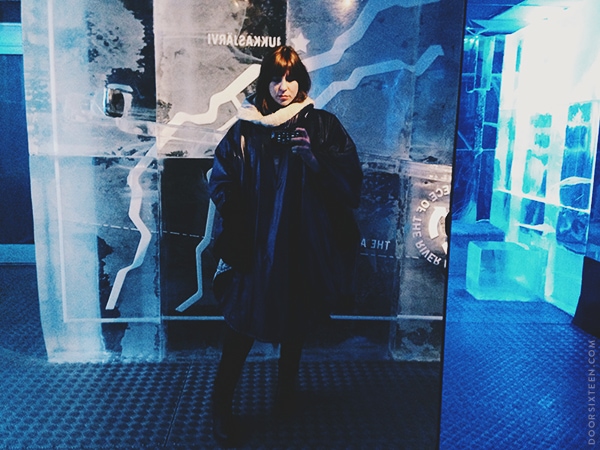 4:30pm — Visit to ICEBAR by ICEHOTEL, where Monica Förster introduced her new designs.
The ICEBAR is exactly what you think it is: a bar made out of ice. The walls are ice, the bar is ice, the chairs are ice, even the glasses are ice. The floor is not ice. Helpers drape you in very heavy, very warm, surprisingly flattering capes before you enter. Drinking out of a glass made of ice is unsurprisingly unpleasant, but the lingonberry and vodka cocktails are delicious.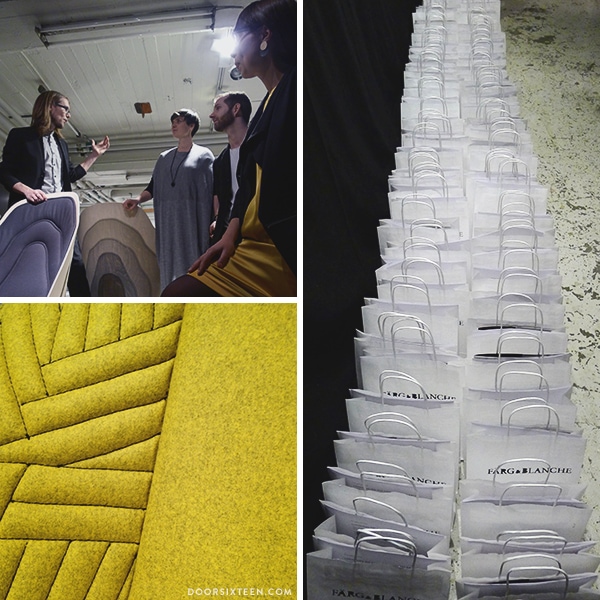 5:45pm — Visit the FÄRG & BLANCHE design studio for the release of an art/dance/design film by architect Erika Janunger and choreographer Oskar Frisk.
There were fresh oranges and hot tea at the FÄRG & BLANCHE event, so I was able to fuel up a bit and get my senses back in order! The film was really beautiful, and a nice (if abstract) way to introduce a furniture line. The designers behind the line, Fredrik Färg Emma Marga Blanche, were very charming and graciously showed us around not only their showroom, but also the workshop at the back of their studio where they produce all of their pieces. I'll be keeping an eye on them in the future…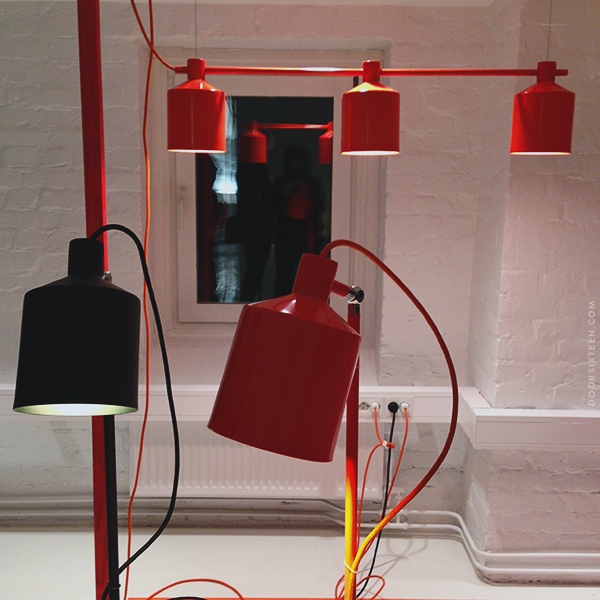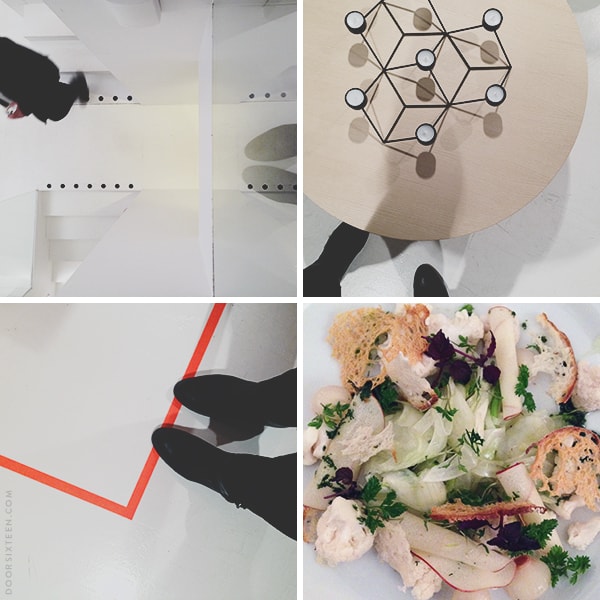 7:15pm — Exhibition and dinner at Note Design Studio.
Note's studio is a knockout. The whole thing is white and glass from floor to ceiling, with black dots marking the tops and bottoms of the stairwells. A bunch of their designs were on display, and I fell in love with the Silo lamps. I fell in love with everything, actually, including the chef who went out of his way to prepare a beautiful vegan meal for me (after I sneaked into the kitchen and did a little bit of begging). Shaved fennel, radishes, and cauliflower with slivers of toasted bread. I don't know what he used as dressing, but the flavor was both delicate and full at the same time—very subtly vinegar-ish and a bit sweet. I could eat like that all the time.
11:30pm — Arrive back at hotel, crash, burn.
The final installment in my Stockholm adventure, Part Three, is coming soon! For real soon, too, not two weeks soon. That's the most fun day, the Furniture Fair!
Here's Part One, if you missed it.