The last time I blogged about a TV show was a year and a half ago, and that show was Breaking Bad. By the time the final episode BB aired, I (and seemingly every other human with a television) had become so emotionally invested in the series that it was a bit traumatizing to have it all come to an end. With the possible exception of The Sopranos, I had never felt that strongly about a TV drama before. I've half-heartedly tried to watch The Wire and Sons of Anarchy and House of Cards and so on, but I can never fully commit. (I did think Top of the Lake was excellent, but it wasn't a multi-season show—it's in a different category.)
There is now another show that has managed to suck me in and make me want to binge-watch 10 episodes in a row, though, and it's the Scandinavian series The Bridge (Bron in Swedish, Broen in Danish). It's SO GOOD. I keep telling everyone I know that they HAVE TO WATCH IT, OMG, but my power of persuasion isn't working! I don't know if it's because they're skeptical about being able to get into a foreign-language show with subtitles or the fact that they're all too busy watching True Detective or because they just think I have bad taste, but no one is taking my word for it. Argh.
(For the sake of clarity, it's worth mentioning that there is an American remake of The Bridge with the same name on the FX network, as well as a British/French version called The Tunnel. I've never seen either of those shows so I can't compare them, but I can assure you that the original is perfection.)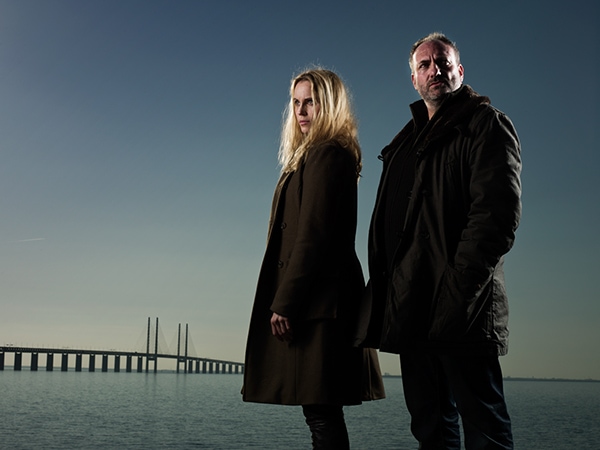 The title of the series refers to the Øresund Bridge, which crosses the Øresund strait between Copenhagen, Denmark and Malmö, Sweden. It's on this bridge where the story begins, with a body that's been found on the territorial line—with precisely one half in each country. The crime falls to both Swedish and Danish police jurisdictions, and homicide detectives Saga Norén (Sofia Helin) and Martin Rohde (Kim Bodnia) are assigned to the case.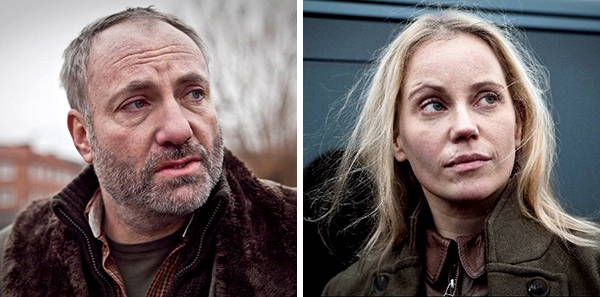 They are both very attractive, of course, but not in the way people are on American TV. Saga's character in particular isn't like anyone I've seen in a show before. Her hair is a mess, she's got a big scar on her face, she looks tired, she wears the same outfit almost every day, and she seems as though she possibly has Asperger syndrome. Martin is slightly more polished (and his house is really beautiful—but I'll direct you to this great post at Ouno Design for more about that), but he's still quite rough around the edges and emotionally insecure to the point of being self-destructive. They're quite a pair when you put them together! The entire supporting cast is great, too, down to the most minor characters. So much good acting—and so little over-acting, something that usually keeps me away from crime dramas.
The story line is completely gripping and totally unpredictable. It takes twists into politics, social problems, infidelity, parent-child relationships, race relations…and it all ties together perfectly somehow, with plot turns that are perfectly paced. We just watched the season one finale tonight, and the conclusion was satisfying. Season two takes Martin and Saga to a different crime entirely, and I'm not even going to read a synopsis before diving in.
If you're in the US, you can watch the entire first season on Hulu for free right now. I'm not sure when the second season will be available here, but hopefully very soon because I need mooooooore!!