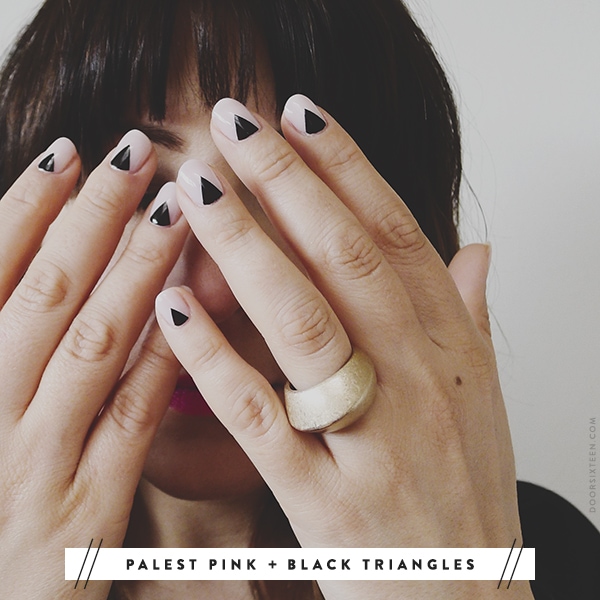 It's been a looooong time since I did a manicure post, but I couldn't resist sharing this latest one. I'm a little bit obsessed with it! I can't stop looking at my fingers.
I'm still really into Calgel manicures, but custom designs can get pretty expensive. Lately I've been getting solid-color Calgel (expect to pay ~$40 and for it to last about four weeks) and painting my own designs on top with regular nail polish. Last month I added white dots to a black base, and yesterday I took a little more time to paint black triangles on top of the palest, prettiest pink.
I wish I had process photos to share, but I did this at 1AM and I honestly wasn't expecting it to look so nice! It's easy to explain how to do it, though. You really just need two things: a bottle of nail polish and regular old Scotch tape! Use the Scotch tape to mask off the area you want to paint, carefully brush on the polish, immediately remove the tape (remove the tape strips in the reverse order of which you applied them so you don't make a mess), et voilà!
A few things:
1. Painter's tape doesn't work well for this. I don't know why, but it doesn't. Stick with regular Scotch tape.
2. You can definitely do this on top of a regular nail polish base, but it needs to be really dry first. I'd suggest waiting at least 4–6 hours.
3. If you have a little smudge to clean up, just carefully use a clean orange stick dipped in non-acetone nail polish remover. Yes, even if the smudge is on the actual nail.