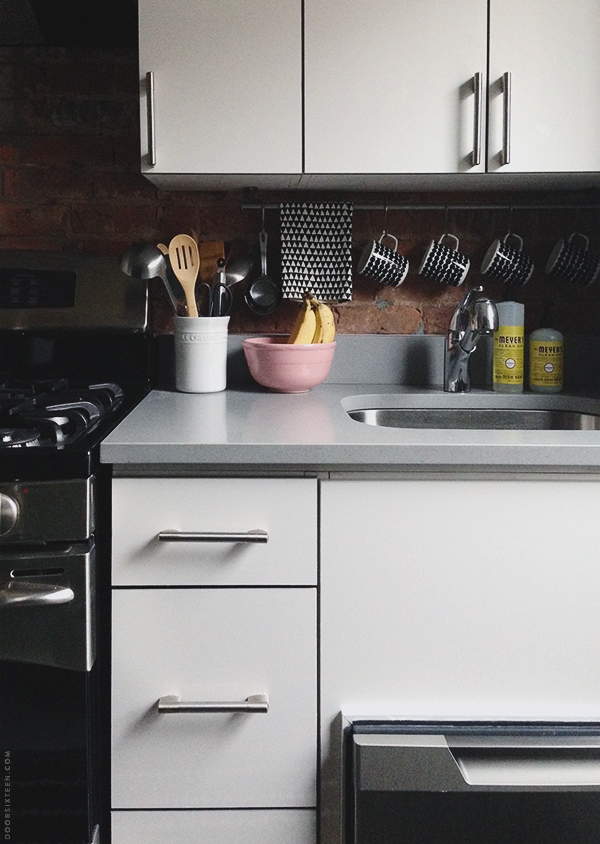 See that? It's the kitchen in the new apartment. Doesn't it look peaceful? Doesn't it look like everything is in place and as though I'm probably just out of frame, casually eating a banana? HAH!
This move has been both exhausting and comically fraught with problems. And we thought we'd planned everything so well. Nothing life-threatening, thankfully, but the kind of things that you start putting on a "to be resolved" list, and then the next thing you know that list has 300 things on it, and you don't know where to start and people aren't calling you back and everything you thought you could cross off the list actually needs to go back on again. Oh, and we're still not done moving out of the old place. And I really should have taken more than two days off work. (Do I sound tired? I'm very tired.)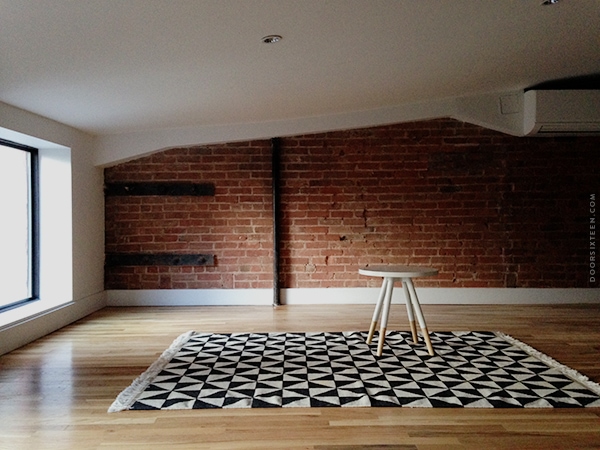 Another moment of peace, taken on the first morning in the new place. Chaos aside, I always love those first few days in a new place when stuff is in boxes and you can pretend to be the kind of person who, for some weird reason, would need a big empty room with nothing in it but a rug and a side table.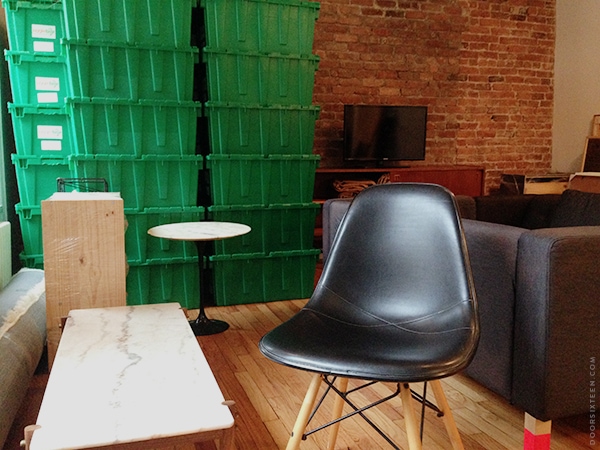 BOXES! This is the second move we've done with these Jugglebox crates. They're awesome. Guys come and drop them off before your move, then they come and pick them up when you're done with them. They're easy to pack, they nest, they require no tape, they stack well, and they're easy to carry. (There are a lot of companies out there that provide this service, so Google for "rent plastic moving boxes" if you want to find something similar in your area.)
I managed to unpack the last of these boxes the day before yesterday (let's just pretend the contents of the last five are neatly put away and not just crammed into a closet), and the guys are coming to pick them up tonight. Just having them out of here is going to make a big difference.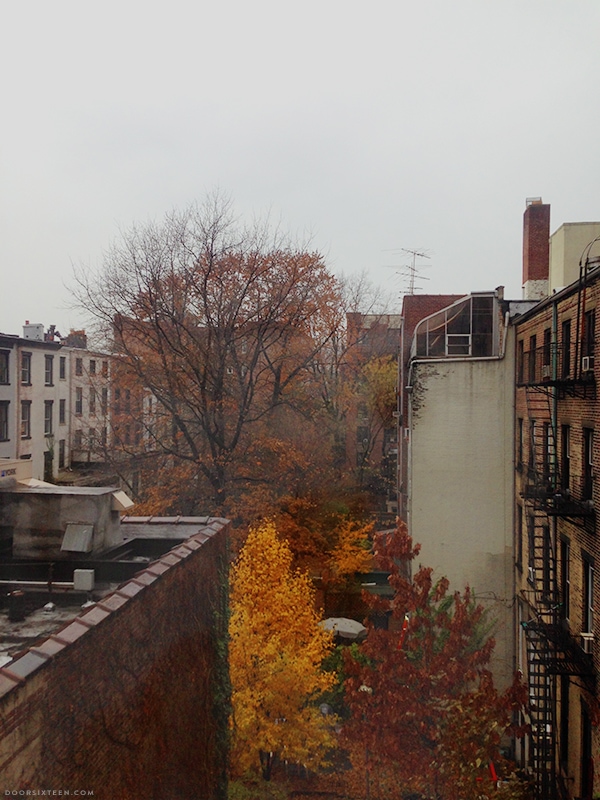 This is the new view from the bedroom/upstairs window! If you look down, you see a bunch of garbage and broken furniture and stuff, so I've decided that looking up is really the way to go. Isn't that a good tip for happy living? And how cool is that solarium?? I've always wanted a solarium. I can't wait to see how it looks out there in the snow…
Bookshelves! Accomplishment! This is upstairs, in the loft area. It's the short wall in photo #2 from my floor plan post. These are the same bookshelves I had in the last apartment and in the apartment before that. In the grand tradition of IKEA discontinuing all of their best stuff, these great steel brackets (EXBY OXIE) are no longer available. Typical! The poster is by the awesome Wasted Rita.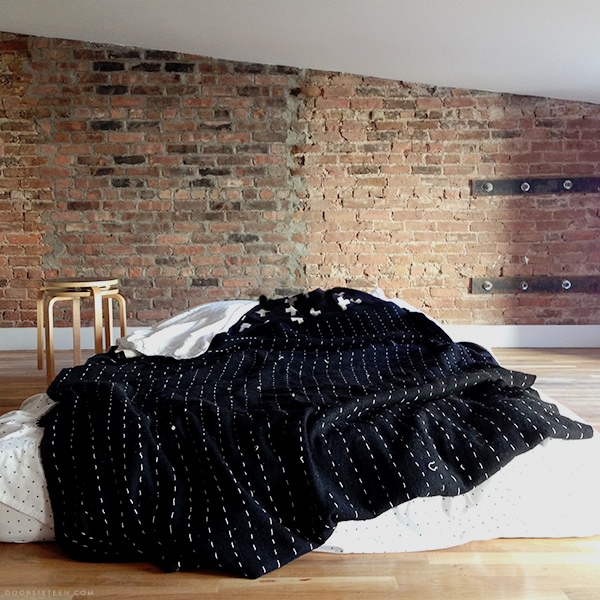 We had a really dumb idea to go mattress-shopping at IKEA on a Saturday right after moving. We didn't take our old bed with us, so it wasn't really an option—we just had to go. Totally worth the crowds! We've had a full size bed for years, so upgrading to a queen feels really, really luxurious. We went with the medium-firm MYRBACKA mattress. So comfortable. I really like IKEA mattresses. We have one at the house, too, and it still feels great after 8 years.
Now we just need a new bed to go with the mattress!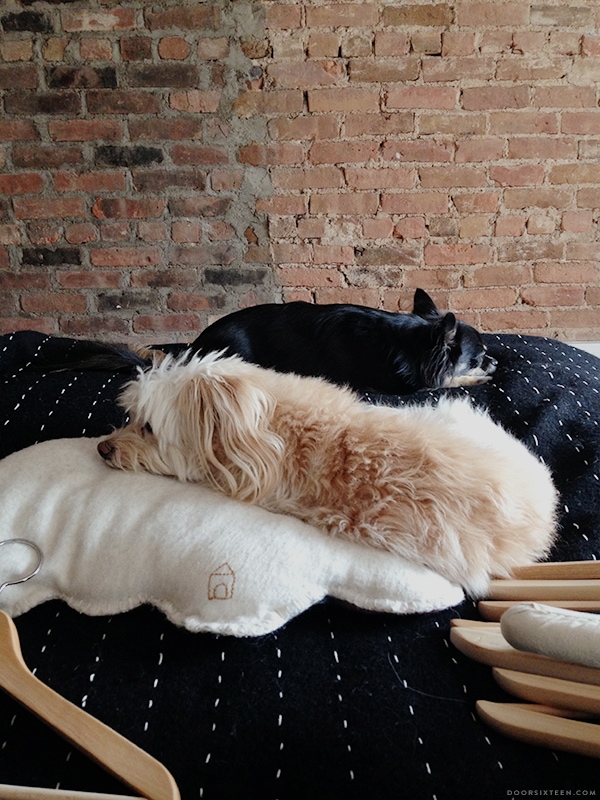 Fritz and Bruno are settling in really well, as you can tell. So helpful! If it were up to them, we'd keep the mattress directly on the floor forever.
More photos as soon as I figure out where I packed my camera…