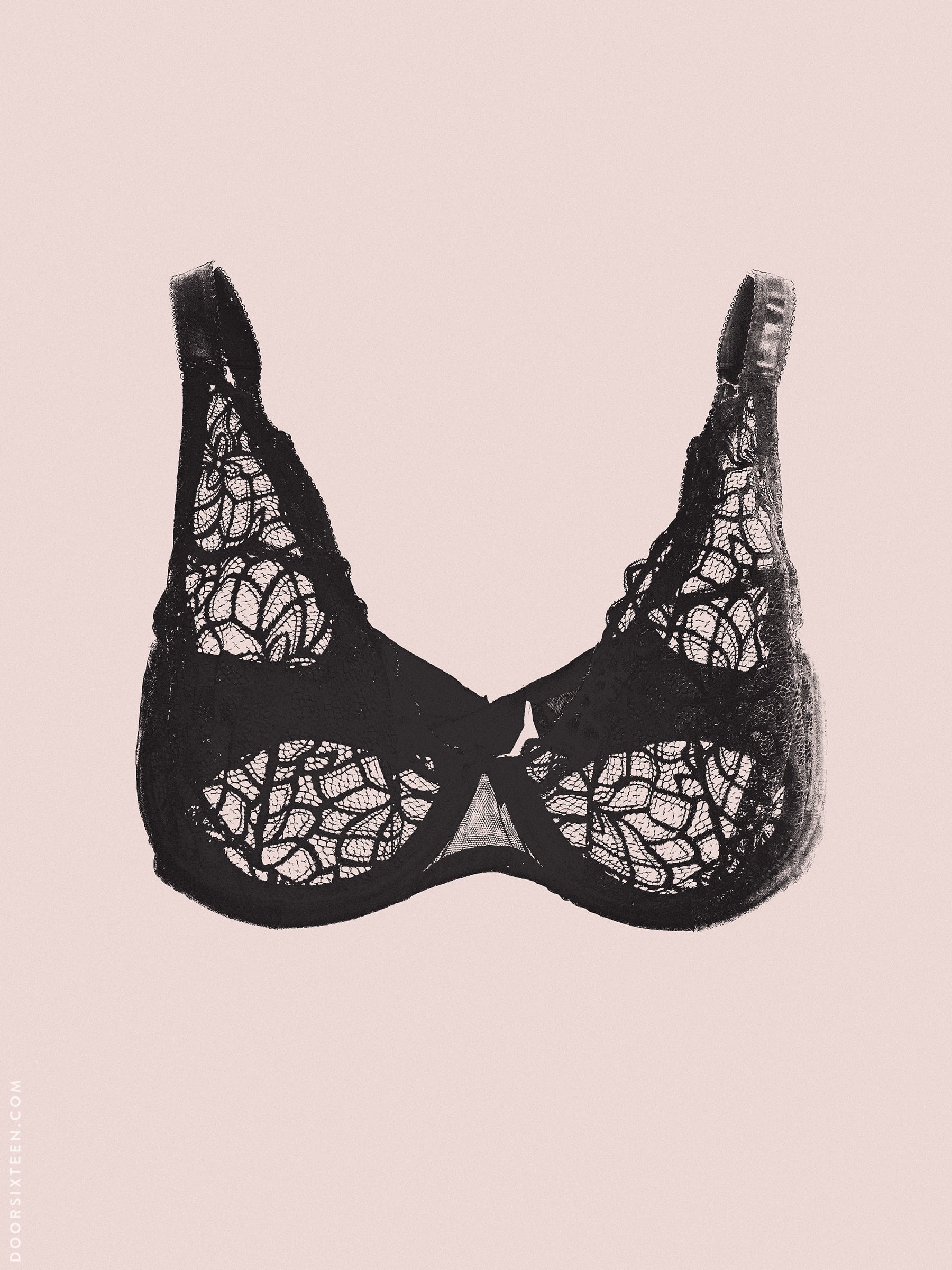 I'm supposed to be writing a post about cabinetry, but you know what? I sort of just feel like writing about bras today. As I was getting dressed this morning, I took a moment to appreciate the fact that I really love my bra, and that I actually enjoy putting it—and its identical twin drawer mates—on every day. So why not write about it?
I wear a hard-to-find/hard-to-fit-properly size. 34G, to be exact, a size that falls outside of the range of bras that can be found at most department stores. The combination of a small band and large cup isn't an unusual one in actual life with actual humans, but reality has never dictated the marketplace when it comes to garments geared toward women. Yes, places like Nordstrom and Macy's carry a few lines that include my size, but they tend to be very expensive, and the lack of a broad selection means that even one with the right size printed on the tag doesn't actually fit my body.
The other issue I encounter when looking for a bra with large cups is that there's often too much structure/shaping, and worst of all…padding. I detest any kind of padding in bras, even that thin foam found in what's known as a "t-shirt bra." I can't stand it. Apparently bra makers put it there because bra-wearing people supposedly don't want the world to know that they have nipples? At least this is what I'm told.
I don't want to shock anyone, but most people have nipples. I'm sorry, but it's true. Even I have nipples! I apologize if this means you think about me differently now.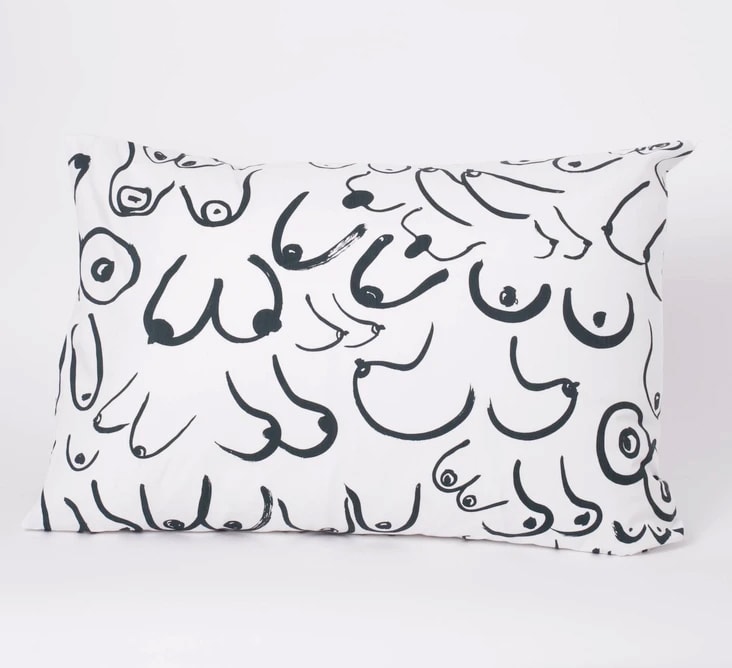 Gravel & Gold Boobs pillowcase / Textile design by Cassie McGettigan
Anyway, I've gone through most of my adult life hating every single bra I've owned. There's been an occasional one or two that I've convinced myself I like, but in reality, they've fallen short. Either they ride up in the back, or the gore (that's the little part where the cups meet in the center) doesn't fit flat (or "tack"—here's a good piece about what gore tacking means) against my body, or the straps are too narrow or too wide, or they make my breasts look flat or pointy or splayed or quadrupled.
WHO WANTS ANY OF THAT? Given the percentage of the population that wears bras, it really shouldn't be so hard.
My bra-fury peaked sometime in early 2018 when I caved and bought bras from a company that advertises heavily on podcasts and in sponsored Instagram posts. I ordered a bunch of sizes, AND THEY ALL SUCKED. Either the band was too loose or the cups were cutting into the tops of my breasts and bagging out on the sides, or the straps were inexplicably wide despite the back only having two hooks, the fabric was cheap and scratchy, and everything was padded. Of course. Awful. I returned all but the one that was the least terrible.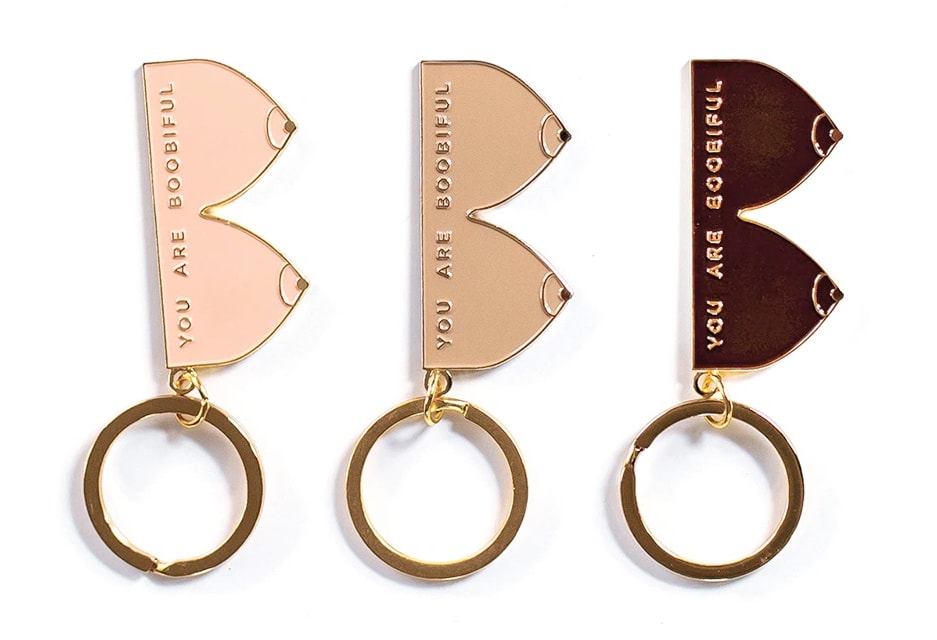 Confetti Riot You Are Boobiful keychain
Feeling like I had nothing to lose, I started searching for bras on Amazon. I searched for "34G bra" and took it from there, narrowing the results down to underwire bras (I've tried wireless bras, hoping that would do the trick, but I have yet to find one that gives enough support without also flattening and/or creating a uniboob effect), that were under $50, had a review average over four stars, and that were unlined.
I arrived at the Glamorise Plus-Size Full Figure Sexy Stretch Lace Wonderwire Bra (#9850), nicely priced at $36 and with an impressive size range from 34C to 46G, with F and G cups for everyone! I checked their sizing chart (there's a graphic in the Amazon listing—USE IT), remeasured myself accordingly, ordered a few sizes (34F, 34G, and 36G), and waited.
Let me tell you something: All three sizes fit better than any other bra I've worn before. No kidding. It actually took me some real consideration before deciding which one was more right than the others! I settled on the 34G and sent the others back.
I LOVE THIS BRA. It fits exactly how I've always imagined halter bras or bralettes would fit if they existed in my size. The cups are nearly full coverage, but not in a way that feels like a turtleneck. The support of the stretch lace extends all the way up to the collarbone, which is amazing. There's ZERO padding or lining. The construction of the cups doesn't create any kind of squishing or molding, it just holds everything in a natural, round shape. The underwire is enclosed in a channel that provides more "insulation" against chafing than in any other bra I've owned. The gore sits completely flat against my chest, ensuring separation and zero spillage. And best of all, it's sooooooo comfortable. I don't even think about it once I've started my day. Honestly? I feel a little sad when it's time to take it off at night. Seriously.
I eventually ordered three of the magical Glamorise #9850s in black, and one in beige (sorry, I refuse to call it "nude") for the rare occasion when I wear something white. I've had them all for two years now, and they haven't lost ANY of their stretch or started to lose shape or get holes in the lace or anything. I don't hand-wash them, either! I wash them in a mesh delicates bag with my other laundry in a cold water cycle, and hang them to dry. Please don't put your bras in the dryer.
OK, that's my post about my favorite bra! I feel better now, like I've officially put my appreciation for something I love every day out into the universe. If you have nipples, tell them I say hello!
p.s. Don't use that ridiculous "add four inches" guideline when figuring out your bra size. This is why that myth exists, and how to do it properly. Also, always give yourself a few size options to work with when trying on bras, because the same size can fit very differently depending on the brand and style.