I've been wondering for a while what I should do with my long, skinny hallway. I knew I wanted to use Julia Rothman's Pieces wallpaper from Hygge & West, and I'd pretty much decided the best application would be at the bottom of the wall, under a chair rail, but it's taken me forever to get around to actually doing it. (You may remember "wallpaper the hallway" from this to-do list…oh, and this one, too…)
Well, I finally did it today! Here are a few progress shots—please excuse the quality, it's a tough space to photograph, and the light wasn't great.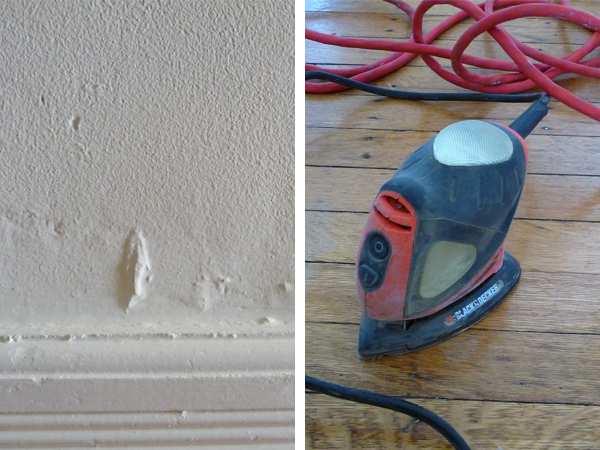 First I sanded off any big lumps and bumps on the wall so the wallpaper would go on smoothly. I own a palm sander and an orbital sander, but my cheap-o Black & Decker Mouse (I have an older, discontinued model) is the one I reach for most often these days. It's incredibly practical for lightweight sanding jobs and little detailed areas. Recommended. (I know Benita loves hers, too!)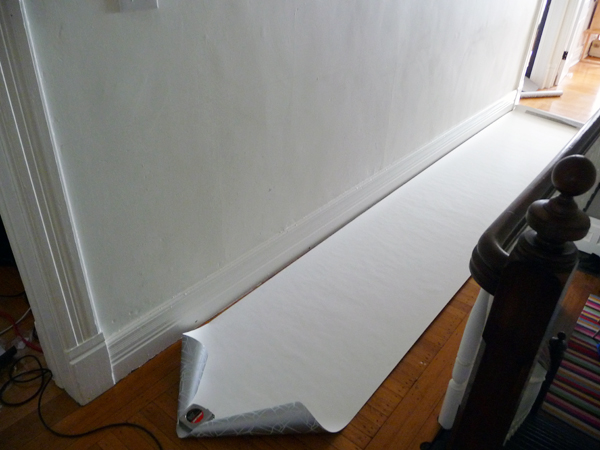 A couple of years ago, I saw a spread in a magazine (I want to say it was Dwell, maybe? ETA: It was in LivingEtc—here's the photo!) that showed a living room with Timorous Beasties' McGegan Rose wallpaper under the chair rail, and the homeowners had hung it horizontally to reduce waste and save money. Since the Pieces wallpaper is non-directional, Evan suggested that we do the same thing. Great idea!
Now, of course, this meant I'd be hanging a 14-foot-long piece of wallpaper. No easy feat, and not one I'd recommend attempting if you've never wallpapered before. I've had a lot of experience with wallpapering over the past few years, though, so I felt pretty confident.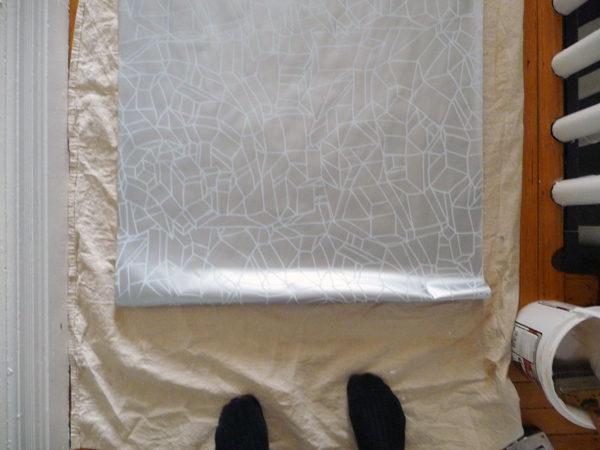 Brushing the paste onto the full length of the wallpaper took a long time, and I think I probably should have used a paint roller just to make things easier. I had to book it in stages to keep the glue from drying, and the whole ordeal was just kind of a pain. Evan helped me get it roughly positioned on the wall, and then I spent the next hour squeegeeing out the bubbles, rolling down the seam, trimming the edges, and wiping off the glue. The thing about wallpapering that always surprises me is how hectic and stressful it is, but it's all over and done so quickly. It's very satisfying. Sometimes I like to pretend I'm a surgeon when I'm wallpapering. (Excuse me, I'm a little tired…)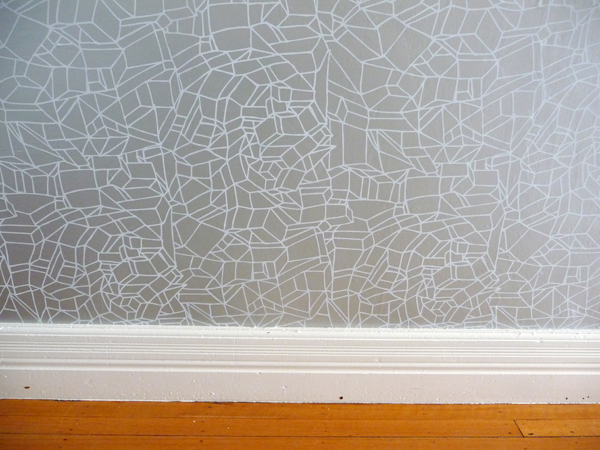 Here's a little sneak peek of the hung wallpaper. We still have to buy, install, and paint the wood for the chair rail that will run along the top. Hopefully tomorrow!
To be continued…