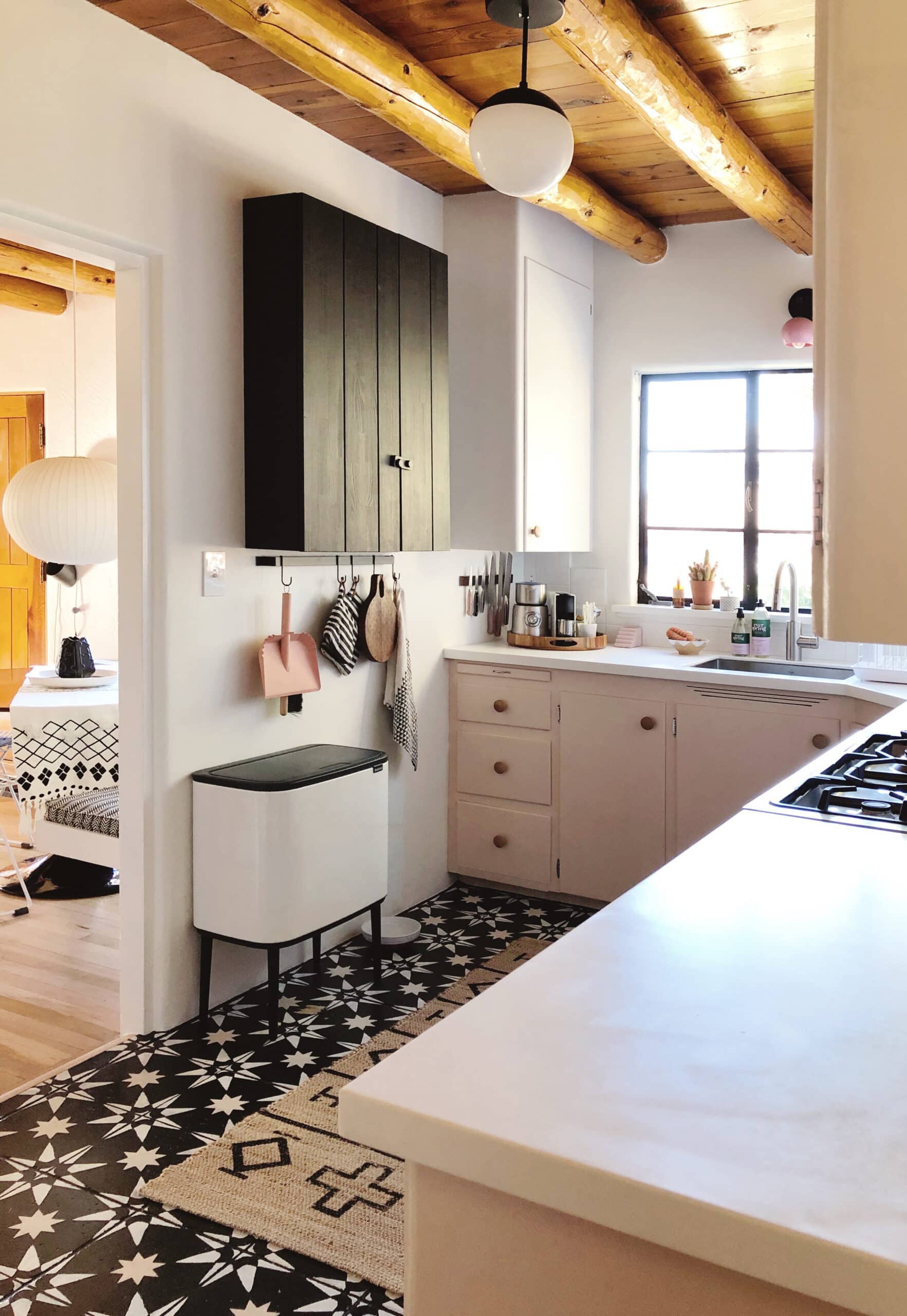 A mere seven months after my last kitchen renovation update, at last! The final reveal! In real-life, I "finished" the kitchen last January, but of course you never actually finish a renovation project, do you? Just looking around the room now I can immediately count at least five things I still need to do in here—the big one being retouching scuffs and scrapes on the floor that happened during the countertop demo and refrigerator replacement. It'll happen eventually! In the meantime, there's no point in putting off sharing the completed ("completed") kitchen as it is.
I took a whole bunch of photos yesterday, and I think what makes the most sense is to kind of "walk" around the room with them. I'm including a few side-by-side before-and-after set, too, since if you're like me you want to compare every little detail between the beginning and the end. (Side note: Remember when people used to get all up in arms over before-and-after photos on Apartment Therapy that were taken in different lighting? It's funny to think about now—all of those accusations that all someone did was open a curtain and magically the room looked like a whole new space.)
I've already detailed all of the steps of the renovation in previous kitchen posts, and now I can give you the details on the finishing touches and all of the stuff that went into the room after the renovation—the lovely little details that make it my favorite room in the house.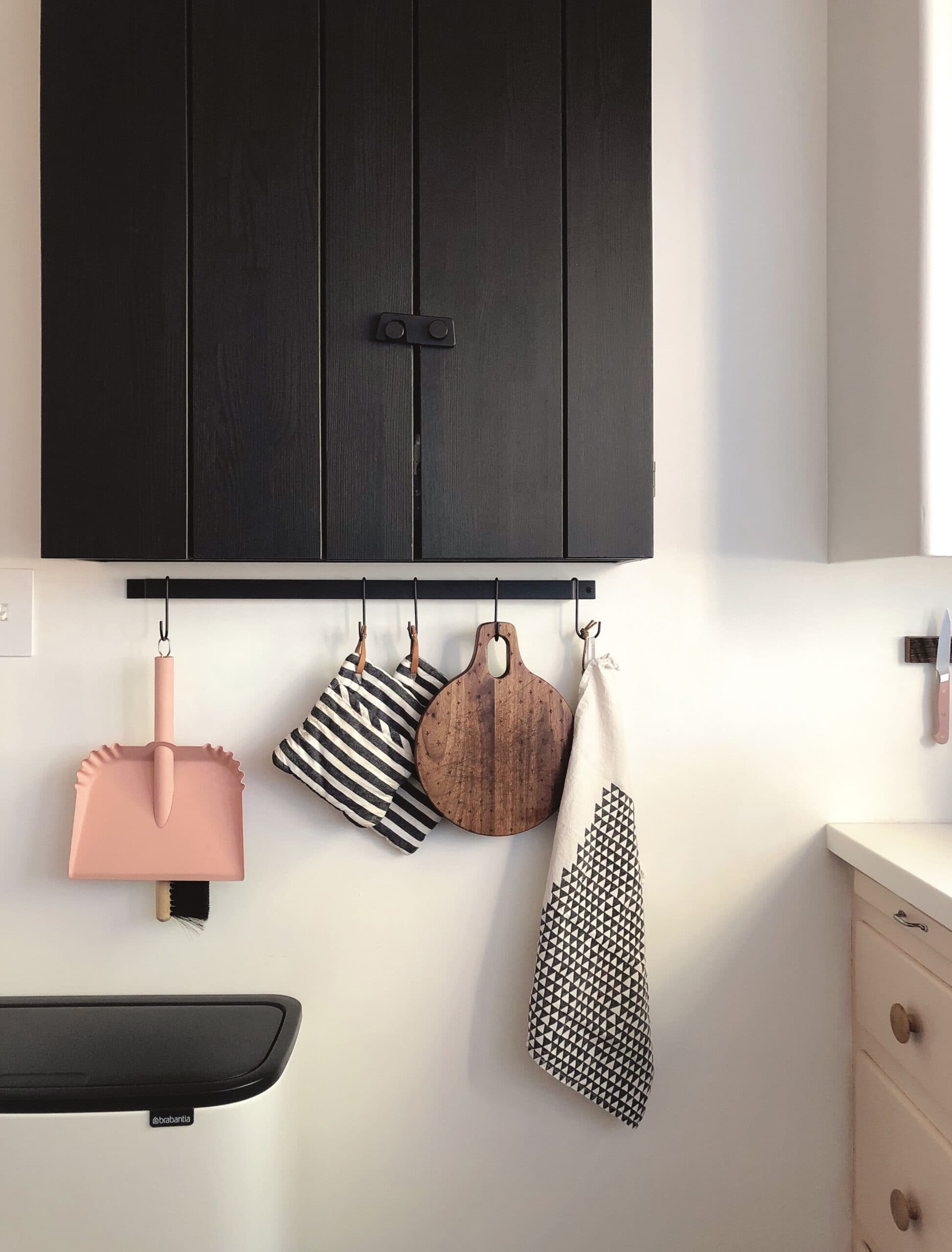 It's the spice cabinet! Hello! I love how perfectly it fits on this otherwise empty wall. It's like it was made for exactly this spot.
Also, that thing on the bottom left? That's a trash/recycling bin. You can see it better in the top photo! It's the Brabantia Bo Touch Bin, and it's AWESOME. I really wanted a trash can with an integrated section for recyclables, and I didn't want it to be stainless steel. When I stumbled on this one and saw that it's ON LEGS, I was sold. It's so nice to have a trash can higher off the ground, and I love being able to leave the top open while I'm cooking or cleaning. It's SUPERB.
✚ Cabinet: IKEA
✚ Iron hanging rail + hooks: Amazon
✚ Dust pan: West Elm
✚ Potholders: Target
✚ Cutting board: American Heirloom
✚ Tea towel: Bookhou
✚ Trash/recycling bin: Brabantia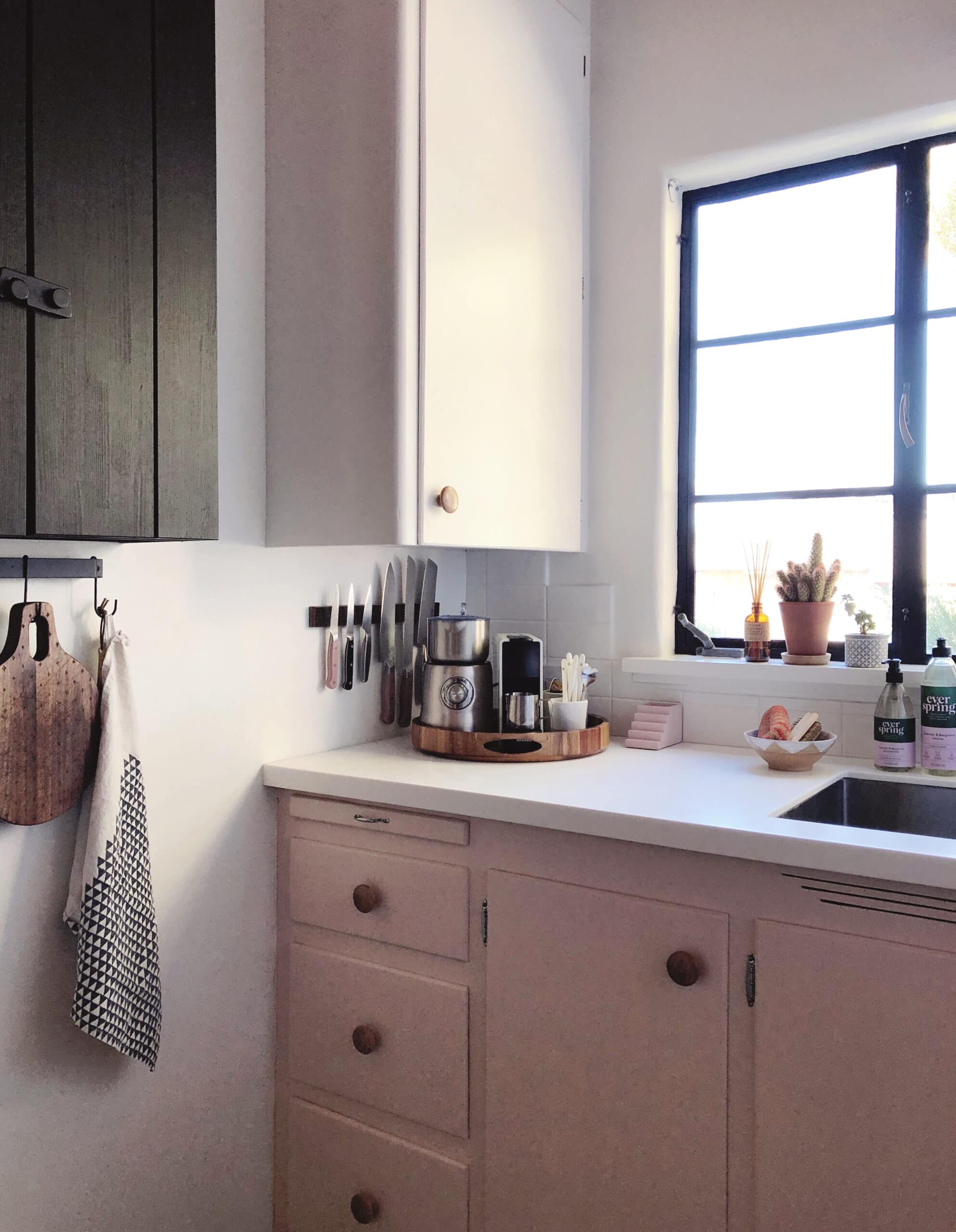 Here's the pick-me-up coffee station! You can get the details in this post. I still love my Nespresso machine and my Breville milk frother!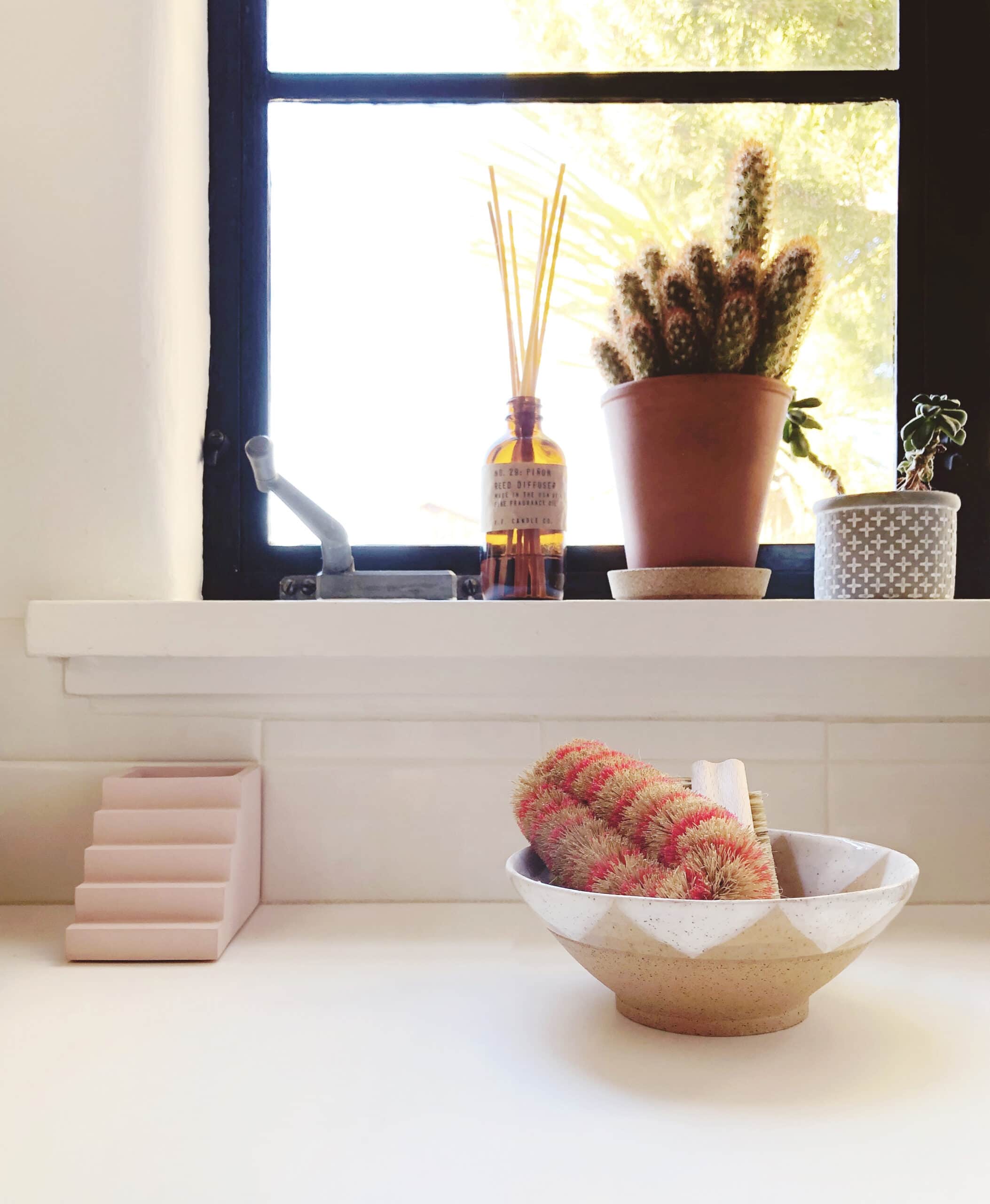 This is the area to the left of the sink, with a little pink concrete pen pot I use for sugar-esque packets and the most lovely of bowls for scrubbing implements.
✚ Pen pot/packet holder: DOIY
✚ Ceramic bowl: Geninne D Zlatkis
✚ Tawashi scrubber: HAY
✚ Nail brush: Garrett Wade
✚ Piñon reed diffuser: P.F. Candle Co.
✚ Plant pots: Target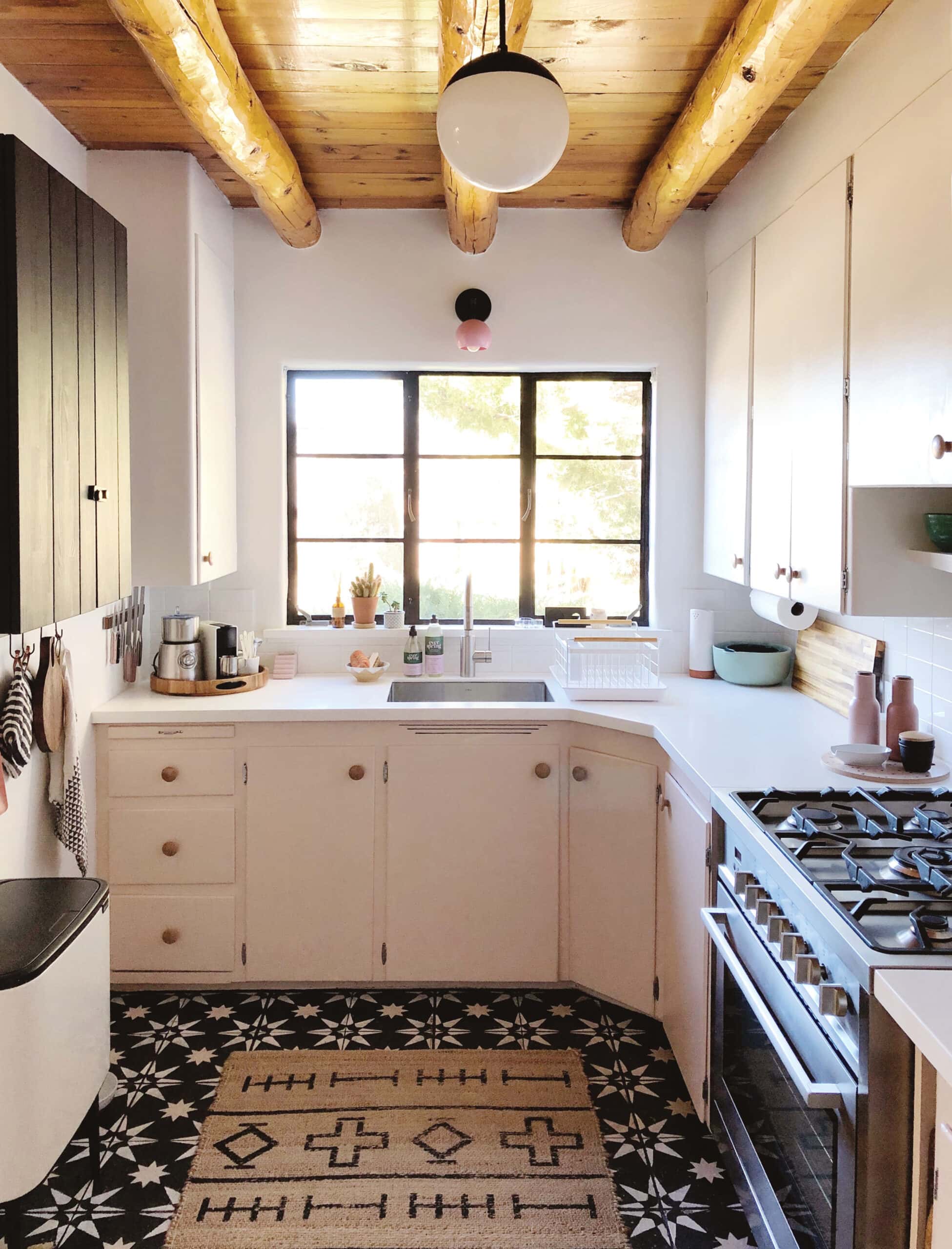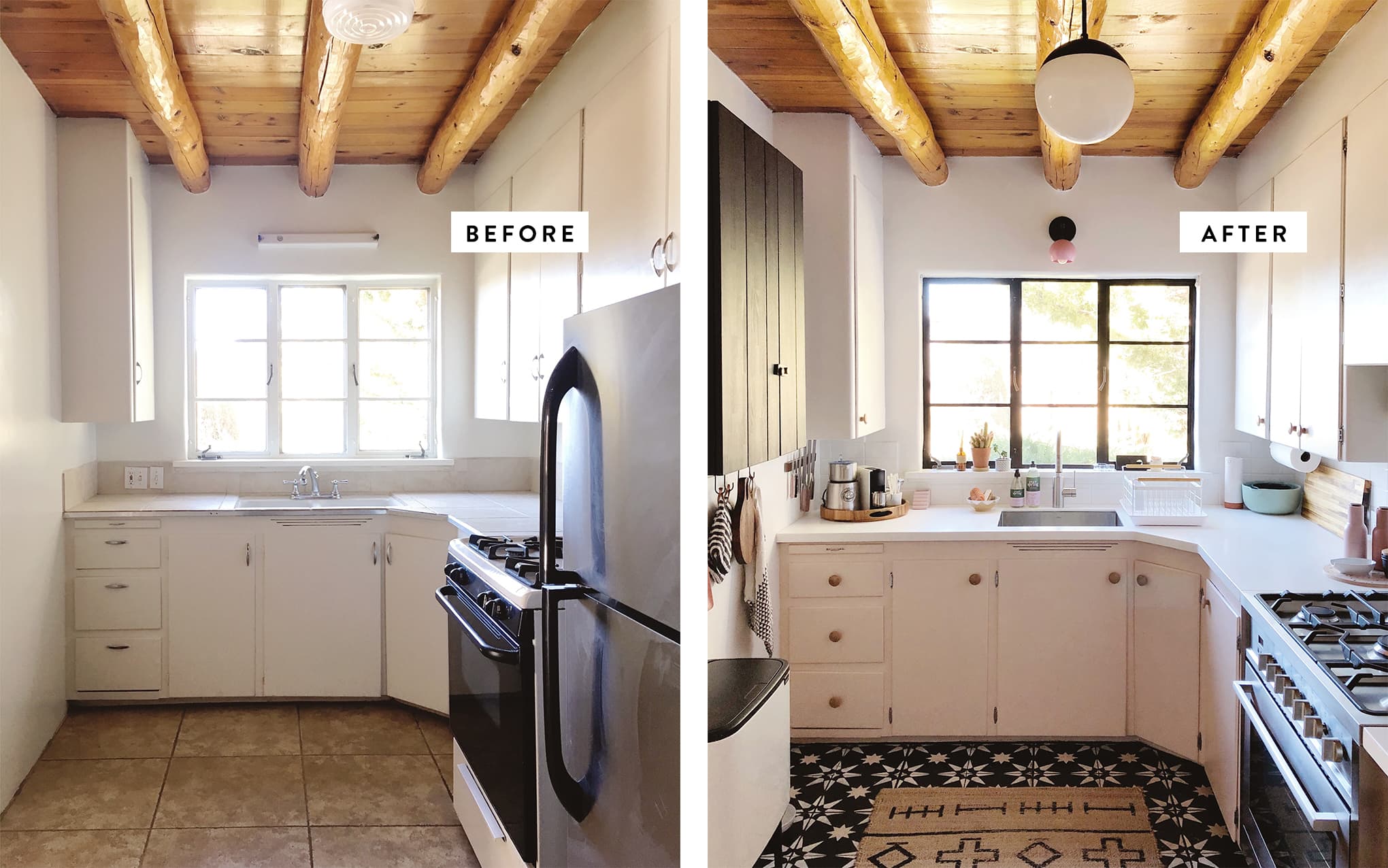 I love the kitchen. Truly. It's so functional and easy to be in. It's great to not feel like anything is in my way, or like I need to reorganize things in order to cook. The spots that were dead zones before are now in use in better ways. There's just the right amount of counter space. The sink RULES. The countertops still look brand new, and couldn't be easier to keep clean. It's all great. I'm so happy this all happened without ripping out the original cabinets—as simple as they are, they really make the kitchen feel like it still belongs in this 1950 house.
✚ Pink sconce: Sazerac Stitches
✚ Ceiling pendant: Wayfair
✚ Dish rack: Yamazaki
✚ Sink: Kraus
✚ Faucet: Kraus
✚ Countertops: LG HI-MACS (Nordic White)
✚ Floor tiles: hand-stenciled
✚ Rug: Rugs USA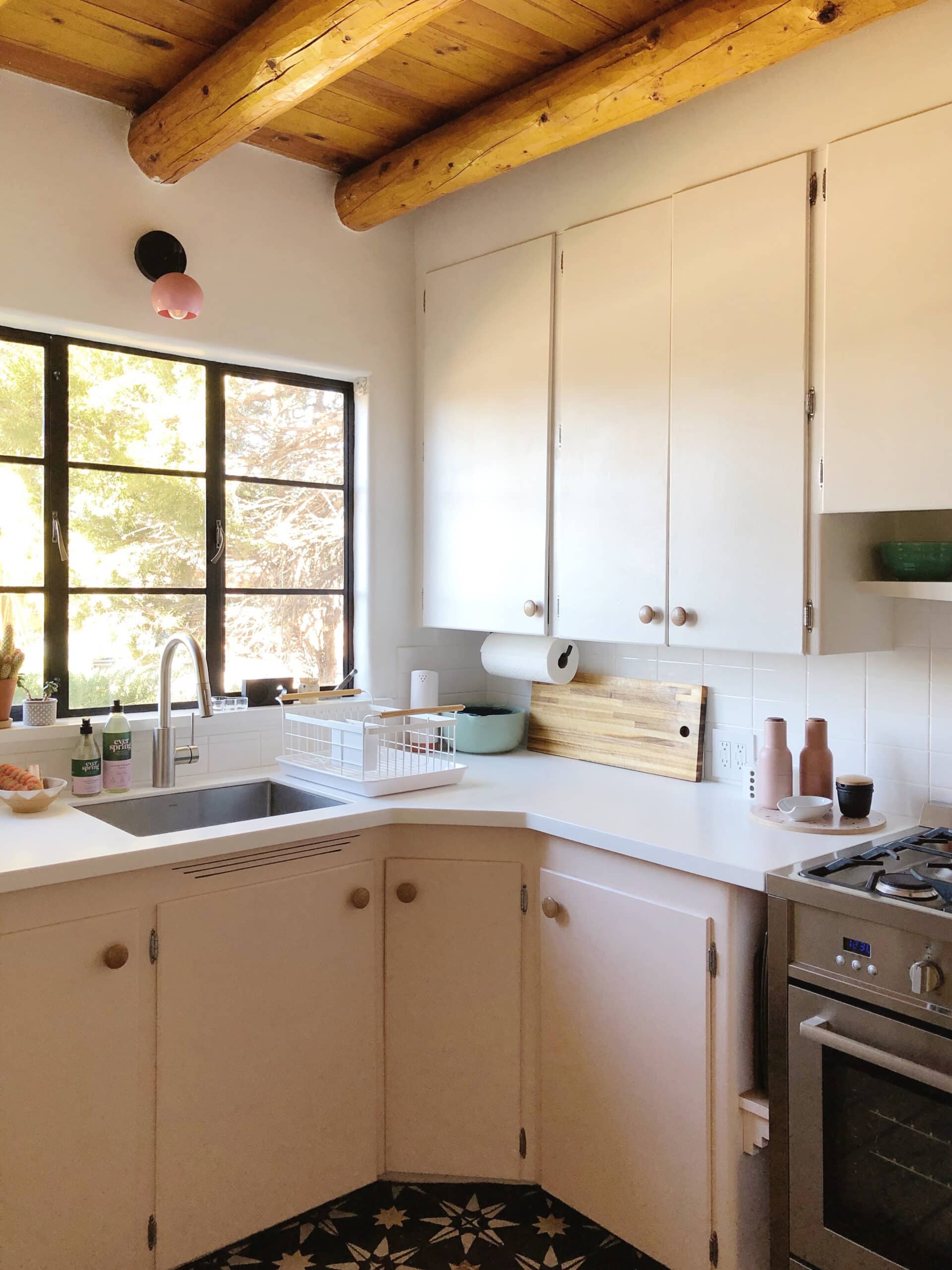 ✚ Paper towel holder: Earth & Iron
✚ Mixing bowls: Crate & Barrel
✚ Cutting board: IKEA
✚ Salt & pepper grinders: Menu
✚ Spice grinder: Food52
✚ Spoon rest: Martha Stewart Everyday
✚ Upper cabinet paint: Valspar Du Jour
✚ Lower cabinet paint: Farrow & Ball Pink Ground
✚ Range: Cosmo
✚ Kettle: Sori Yanagi
✚ Utensil crock: West Elm
✚ Cabinet knobs: Home Depot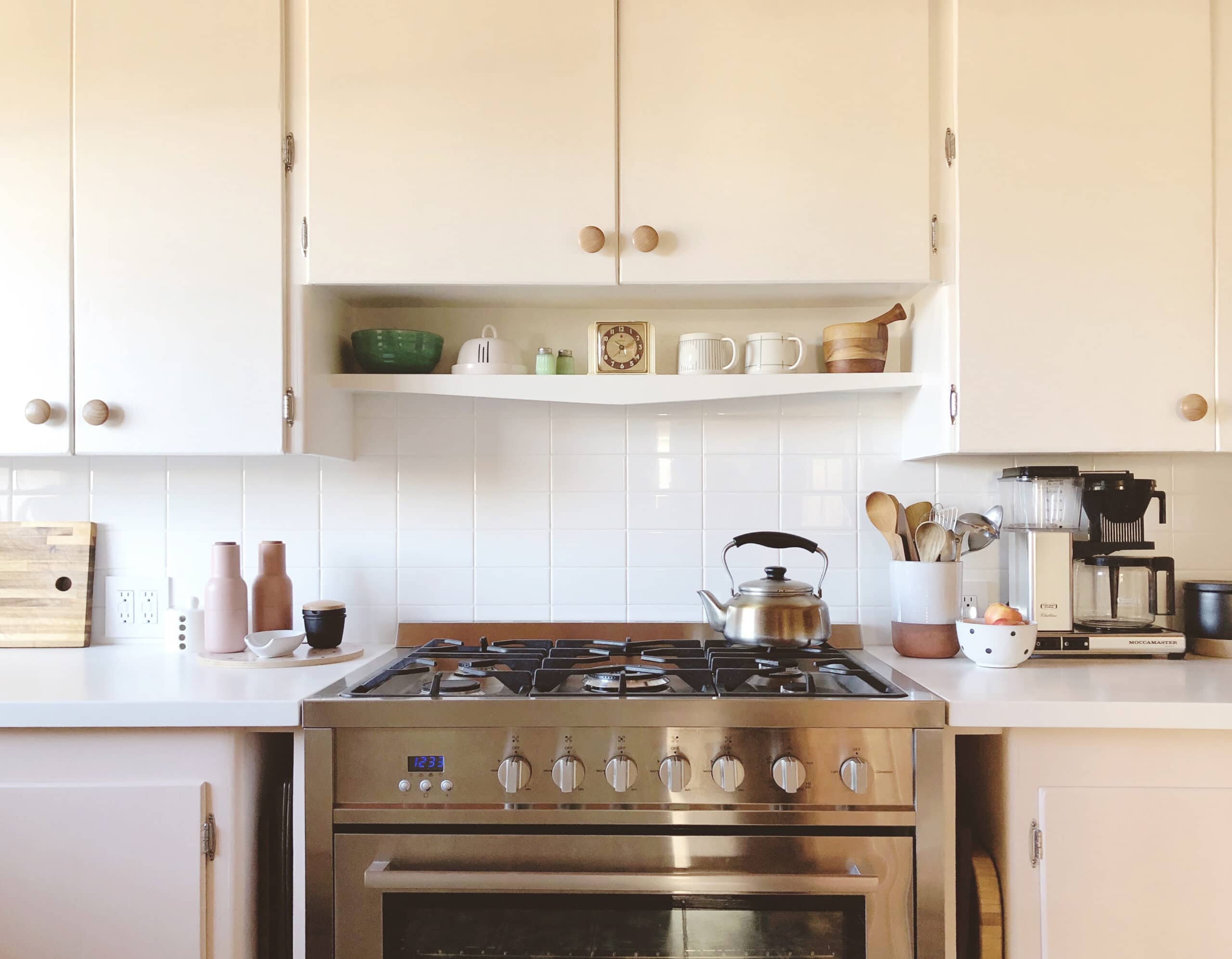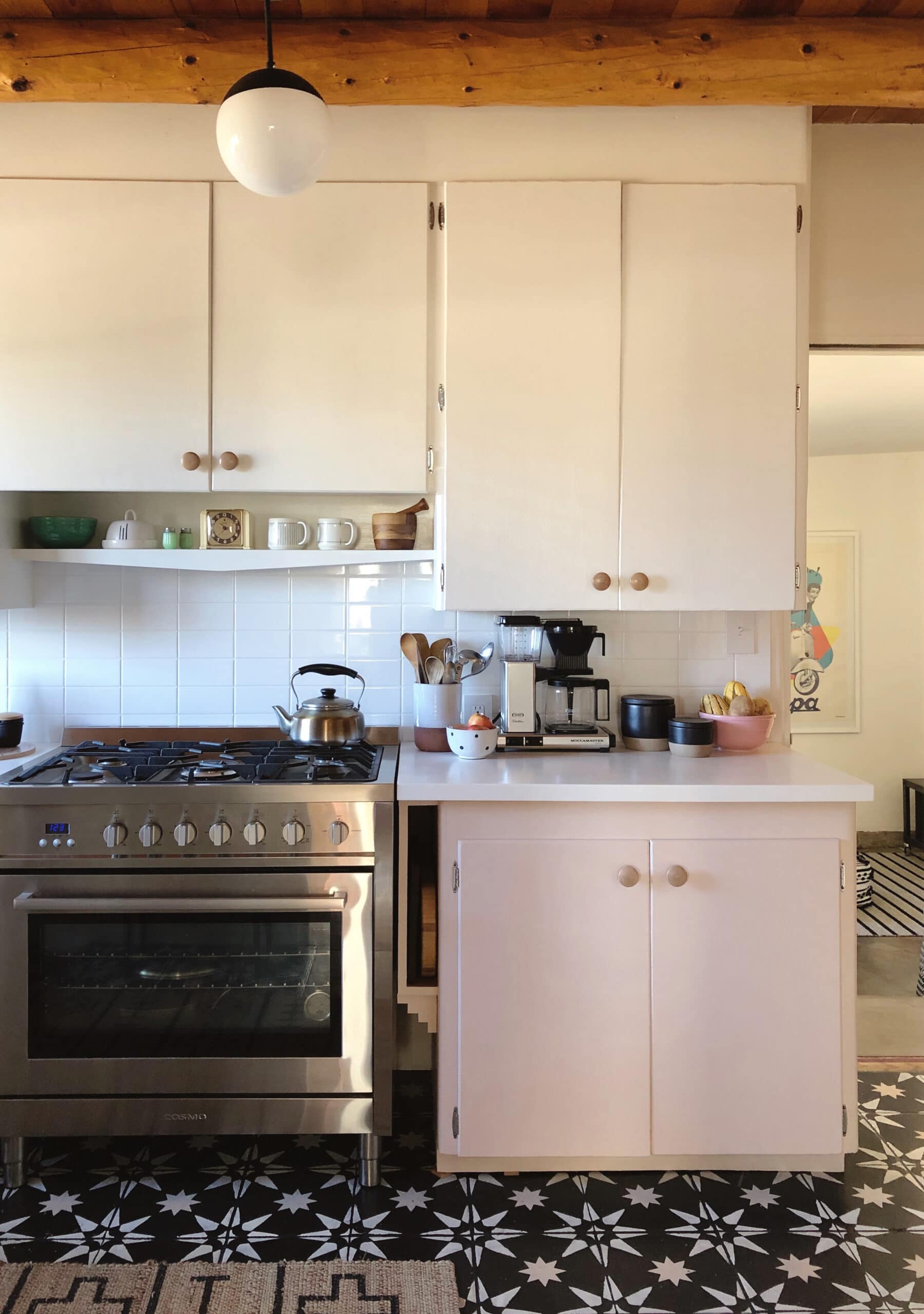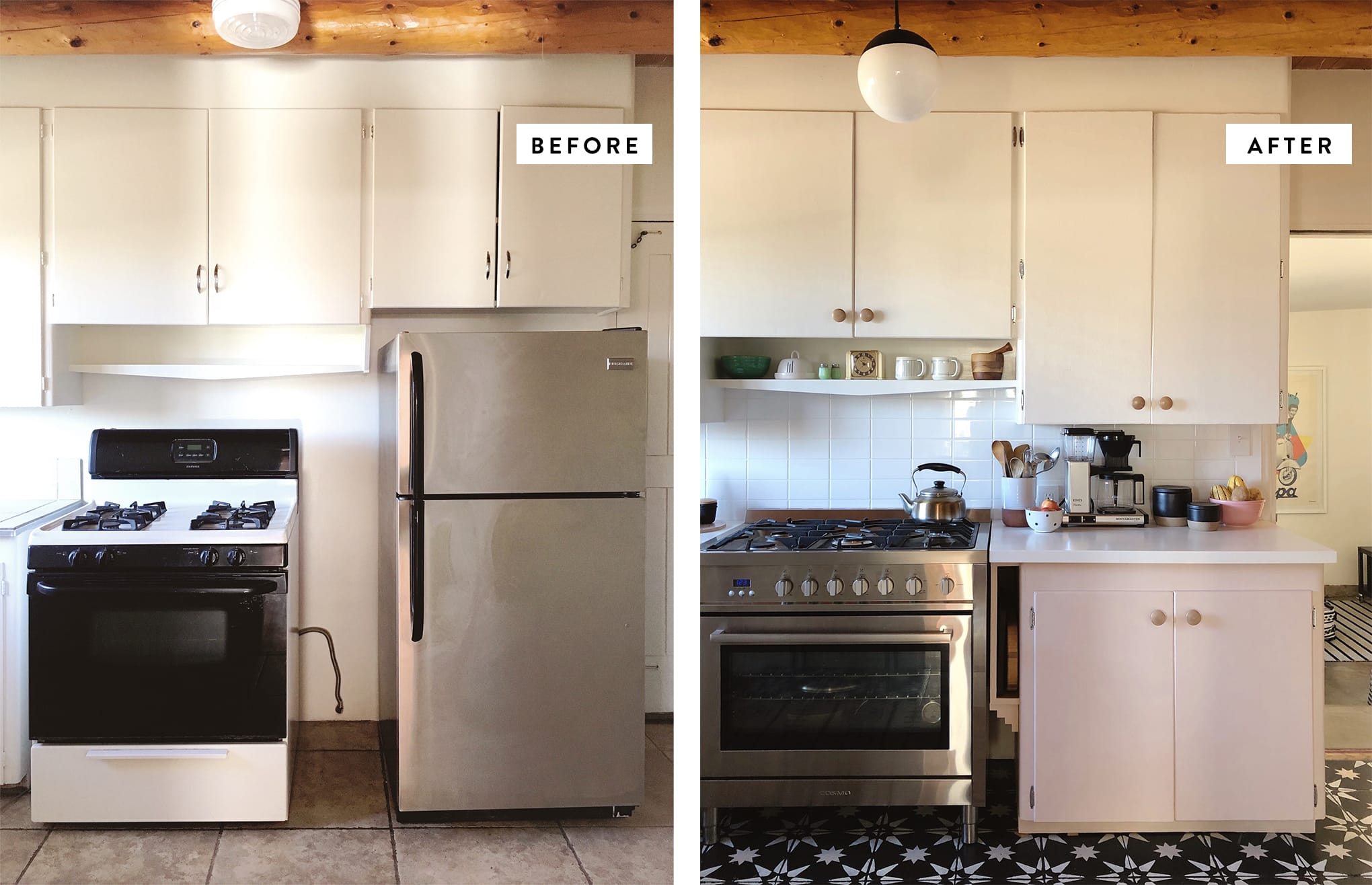 I still can't get over what a different it made moving the refrigerator out of this spot and building new cabinetry (and adding counter space!) in its place. I'm endlessly grateful for the job Manuel did matching the original cabinets—you truly would never know they hadn't been in the house forever. (My storage cubbies with their New Mexico flourishes are pretty sweet, too.)
✚ Butter keeper: Sandbox Ceramics
✚ Mugs: Clay Factor
✚ Coffee maker: Technivorm Moccamaster
✚ Coffee + sugar jars: Target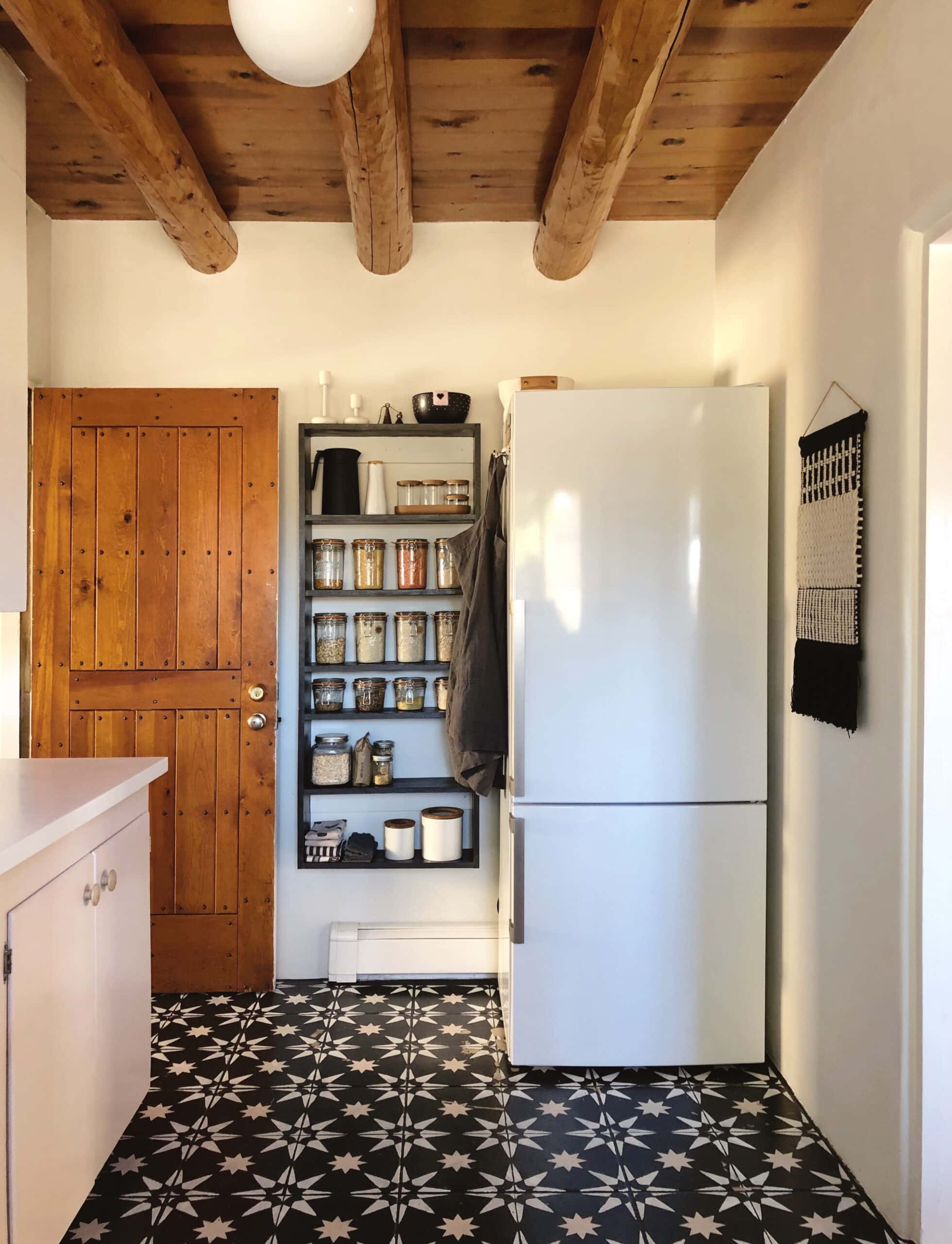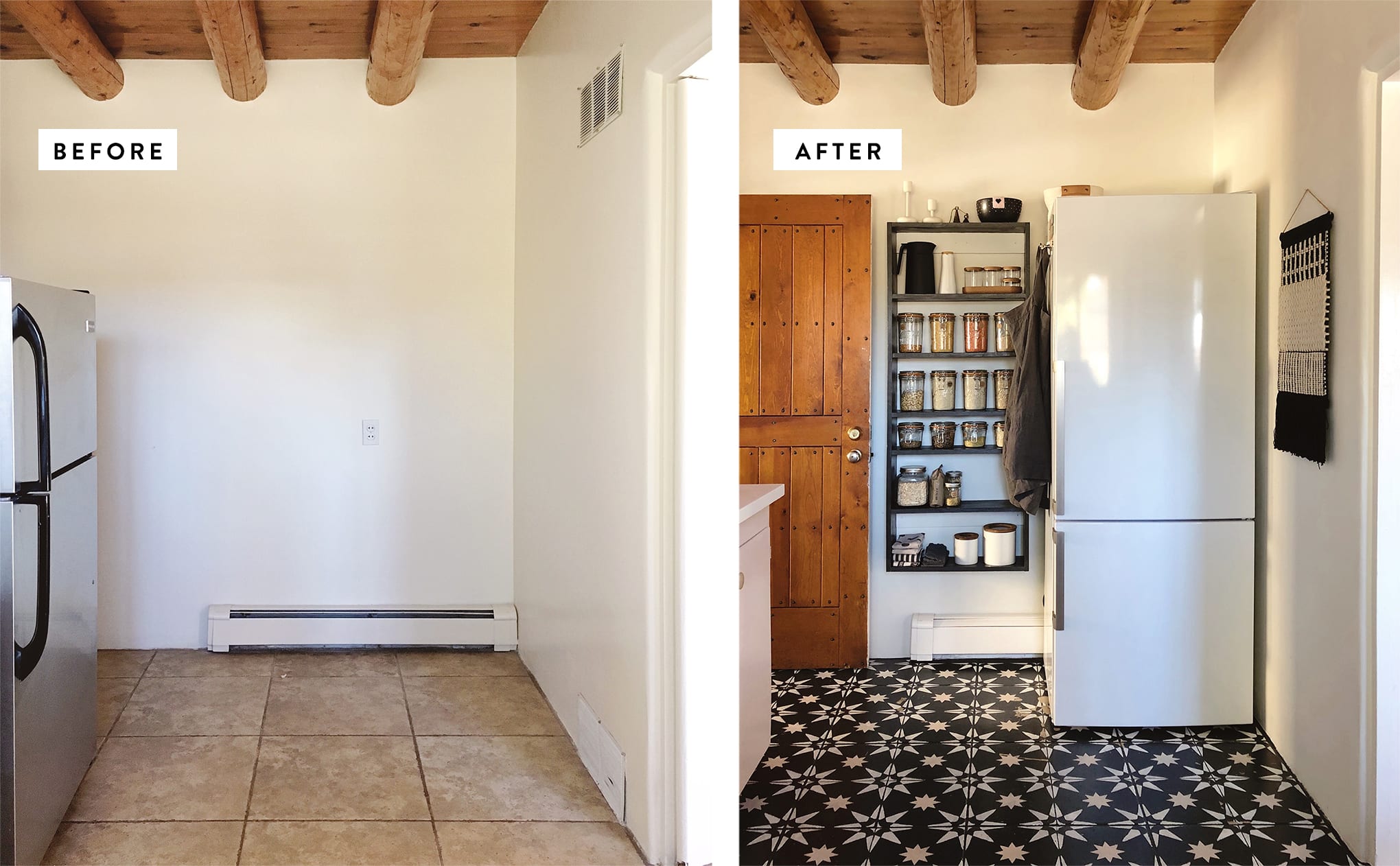 Getting a taller refrigerator with a smaller footprint and putting it in this formerly-dead space at the end of the room has really worked out. Trying to build cabinetry around it would've been a waste of time and space, but the finished sides on this fridge mean that it wasn't necessary. Building these simple shelves made up for the lack of a pantry, too—I even have room for more jars in the future.
✚ Refrigerator: Summit
✚ Storage jars: Le Parfait
✚ Thermal carafe: IKEA
✚ Candle holders: Iittala
✚ Heart bowl: Hella Jongerius
✚ Wall tapestry: Target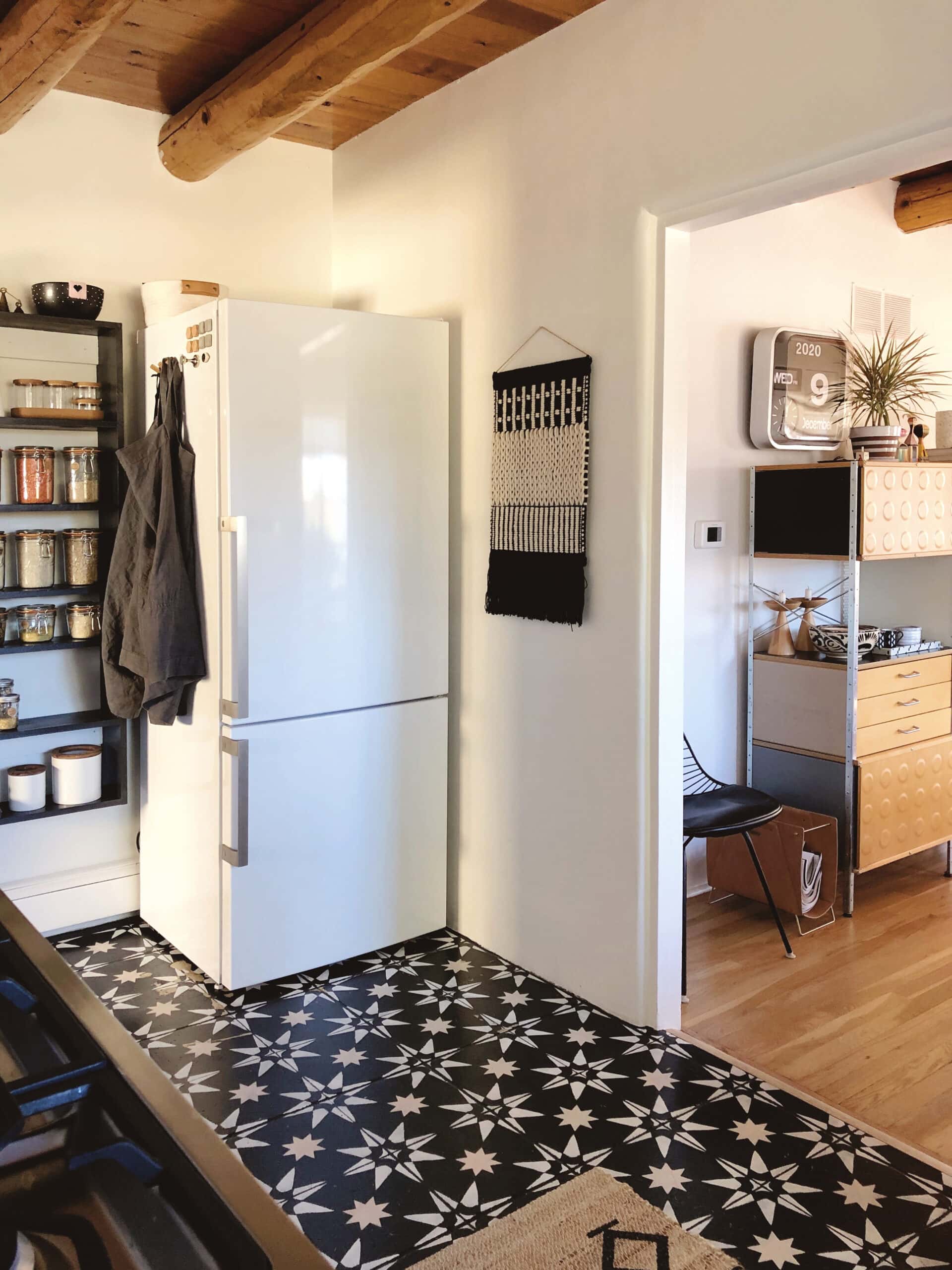 And that's the kitchen! If you have any questions at all about the process, expenses, resources, or anything else, please feel free to ask. As always, my primary wish in sharing projects like these is to help demystify renovation, and to empower others to turn their own homes into spaces that work FOR THEM and their families—even if you don't think you know what you're doing or if you're working with a shoestring budget.
For anyone coming into this project at the end: This is a kitchen in a pueblo revival-style house in Santa Fe, New Mexico, built in 1950 by Allen Stamm. I've posted a series of installments over the past year breaking down each step in the process—all of which are linked below. Thank you for reading!
Kitchen recap:
✚ It's time to meet the kitchen!
✚ Kitchen planning!
✚ Kitchen cabinets: Prep + painting.
✚ Painting and stenciling the kitchen floor.
✚ Kitchen countertop demolition.
✚ Painting the kitchen's steel casement window.
✚ Let's add some cabinets!
✚ Building cabinet cubbies for extra storage.
✚ It's time for the kitchen to get some countertops!
✚ Installing a stacked bond subway tile backplash.
✚ A new refrigerator! Pantry shelving!